Chisenhale Gallery is pleased to announce Cathy Haynes' new research project Stereochron Island, for the Chisenhale Gallery Victoria Park Residency 2013-14.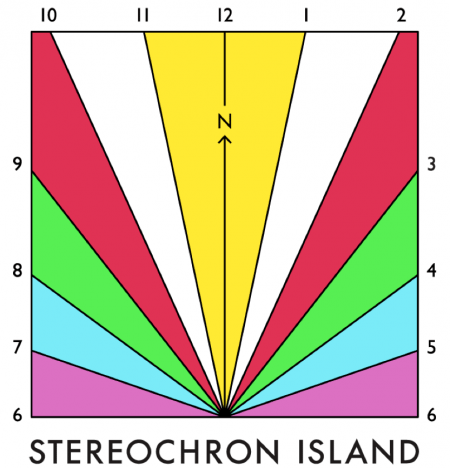 Stereochron Island takes its starting point from Victoria Park's history as London's first public park and builds on Haynes' previous project as Timekeeper in Residence at UCL Petrie Museum (2013).
Over the forthcoming months Haynes will present a series of public events and develop a new work for Victoria Park.
For Project dates please see below.
Haynes' project investigates the devices we use to make sense of the world, such as clocks and time maps. She aims to dismantle the divisions between fields of knowledge that limit our sense of permission to explore, question and take part.  Stereochron Island re-imagines Victoria Park as a fictional island state campaigning to liberate itself from the mechanical clock. Haynes observes that today many of us feel time-poor. Yet we have more time than ever before, thanks to extended life expectancy, labour-saving technology and the right to free time. She proposes that our time-scarcity results from a lack of fullness and variety in the kinds of time we comprehend, value, experience and craft.
Stereochron Island invites a collective investigation into capturing the other, rarer kinds of time that Victoria Park still protects from our struggle against the clock.     Local solar time in Victoria Park is approximately ten seconds behind Greenwich Mean Time, prompting a re-establishment of local time on Stereochron Island. Haynes invites specialists and Park visitors to map a physical experience of time through data from field studies, for example: the rhythms of birds and plants; plotting shadows and the path of the sun; and mapping our internal sense of time.
The events are accompanied by a website, Stereochron.org, drawing together factual insights, discoveries and images from the Victoria Park field studies, provoking participants to reconsider what time actually is.
Cathy Haynes (b. 1973) lives and works in London. She is an artist, curator and writer.  Previous projects and exhibitions include A Storm is Blowing, UCL Petrie Museum, 2013; How to Map a Life, Rongwrong Gallery, Amsterdam, 2012 and No Such Place, QUAD, Derby, 2010. From 2006-09 Haynes collaborated with Sally O'Reilly to make Implicasphere, a serial mini-publication distributed inside Cabinet magazine. She has been a guest contributor for The Human Zoo on BBC Radio 4, Robert Elms on BBC London, and theWeekly programme on Monocle 24.
The Chisenhale Gallery Victoria Park Residency 2014-15 is produced for the third year in partnership with Tower Hamlets Parks and Open Spaces Department. Previous artists-in-residence included Cara Tolmie (2012-13) andMatthew Noel-Tod (2011-12).
Stereochron Island Events
All events are free but booking is strongly advised. Please contactmail@chisenhale.org.uk to reserve a place.
Why the clock is to time what laminate flooring is to trees Wednesday 2 April, 7pm  Chisenhale Gallery, 64 Chisenhale Road, E3 5QZ Cathy Haynes introduces her research project, Stereochron Island. Drawing on ideas from anthropology to astrophysics, and the skill of telling time through shadows and birdsong, Haynes argues that the Park protects a richer and more layered experience of time than the 'mono' time of the mechanical clock.
Telling time by the birds. A dawn walk Saturday 26 April, 4.30am-5.45am Meeting point: Crown Gate, Victoria Park, E9 5DU How do birds tell the time? And how can we tell the time by birds? Peter Beckenham, ecologist at the London Wildlife Trust, leads a field study in Victoria Park to experience the most intense dawn chorus of the year. This event is for age 16 and over. It is a walking tour through uneven parkland.
Telling time by the trees and bees. A field study Thursday 8 May, 12.30-2pm The Hub Building, Victoria Park, E9 5DU It's the middle of the working week when, feeling time-pressed, many of us are out of the habit of taking a lunch hour. Tony Wileman, conservation ecologist at London Wildlife Trust, leads a walk tuning into natural rhythms in the Park to expand our sense of time. This event is for age 16 and over. It is a walking tour through uneven parkland.
Mapping Internal Time Wednesday 21 May, 7-8.30pm The Hub Building, Victoria Park, E9 5DU Our most common forms of keeping track of our lives – the CV and the social media timeline – plot 'career stages' and 'life events' along a straight line of standard units. Do they let us represent our most valuable experiences as we really live them? Cathy Haynes leads a workshop in experimenting with other ways of mapping time, taking inspiration from the novel Tristram Shandy, designer Otto Neurath and ancient Stoic philosophers. This workshop is for age 18 and over.
Making Midsummer Solar Clocks 11am-4pm, Saturday 21 June, The Royal Observatory, Greenwich Park, SE10 8XJ 11am-4pm, Sunday 22 June, The Hub Building, Victoria Park, E9 5DU Chisenhale Gallery and Victoria Park are collaborating with The Royal Observatory to run two day-long workshops over the Summer Solstice weekend led by Public Astronomer Marek Kukula. Explore the vital link between sunlight and time by spending Midsummer learning how to make clocks from the shadows of ordinary objects and how the movements in the solar system affect shifts on Earth. These two day-long events are for age 16 and over. They include moving about on uneven parkland.