Pearly Kings and Queens. Cockney songs. Community singing.  The Cockney Heritage Festival was well and truly launched last Thursday Night at Tower Hamlets Archives Library in Bancroft Road.  A celebration of traditional Cockney Pride washed down with brown ale, seafood  and helpings of pie and mash.  But is this all of what it means to be a Cockney in 2013?
This is one of the issues cockney Ray Sparra Everingham  wants to explore during the festival. The festival was his brainchild and he kicked off the evening by telling everyone how it all came about.
Ray was followed by 86 yr old Henrietta Keeper who sang  a cockney song passed down to her by her father.
Henrietta recalls how the whole family used to sing in The Ship in next to Hackney Empire.
Alongside the entertainment there were information stalls from the wealth of historical societies from across the Borough, and walls covered with archive pictures and photos.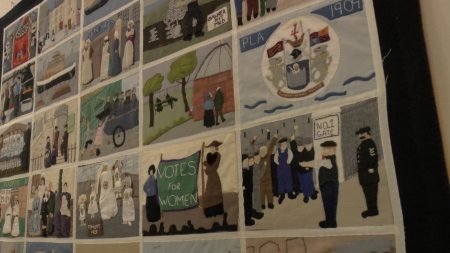 The night was rounded off  with a knees-up led by the Pearly Kings and Queens.
Cockney Singh – a young Sikh film maker came to the event to check it out and made an entertaining film which asks some questions about what it means to be a Cockney in East London today.
For another account of the evening  and more about how the festival came together Mike Brooke tells the story in the East End Advertiser.
The Festival was organized by the newly-formed Cockney Heritage Trust in collaboration with Tower Hamlets Local History Library and Archive.  You can find out about  the Cockney Heritage Trust on their Website,  where there's also a list of East End Facebook groups and Local History Groups and Societies.
Find out more about the festival events from the online catalogue
And here's some more of the evening's entertainment.
John Scott, Rhyming Slang comic and Pearly King of Mile End sang a song they recorded about a friend who died in a car crash.