Rain or shine, get yourself down to the Art Pavilion in Mile End Park for tomorrow's East End Canal Festival, celebrating 200 years of the Regents Canal.   Plenty of activities for the whole family.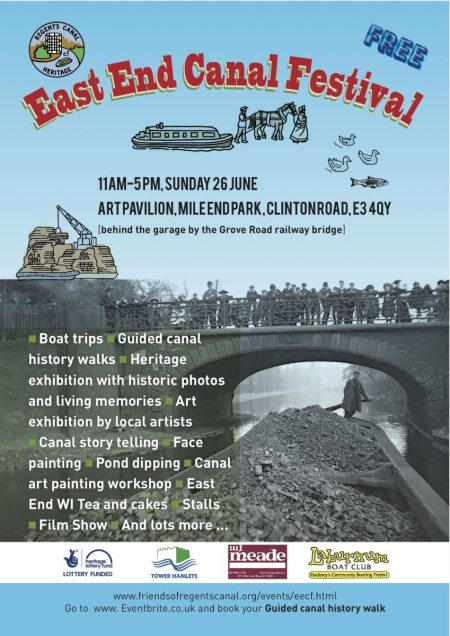 ALL DAY: Stalls, Exhibitions, Children's Activities, Food
BOAT TRIPS: Book at the Information Desk

GUIDED CANAL HISTORY WALKS: Book at the Info Desk.
To the Ragged School Museum: 12.00, 1.00, 2.00, 3.00, 4.00
To Victoria Park Bandstand Concert: 1.00, 2.00, 4.00

WORKSHOPS: 11.00-1.00, 2.00-4.00
Canal Art Painting
Mahogany Carnival Costumes
ENTERTAINMENT:
Throughout the Day Canalside
– The Village Butty
– The Record Deck
– Story-telling
Performances on the Island
12.00-12.45 Shkembe Soup
2.00-2.45 Shkembe Soup
CANAL FILM SHOW EVERY HALF HOUR
TALK:
2.30-3.00:"How the Canals were Constructed", Bob Philpotts, author
of 'When London Became an Island'.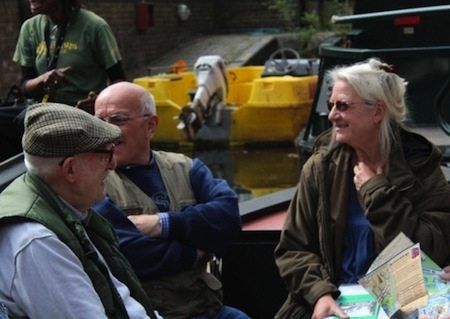 Festival Organiser Carolyn Clark in discussion with two of the Geezers.