Photo above: Building Men's Health. Art & Design Technology Teacher, Anna, with Geezers, Tony (left) and Charlie (right).
The Geezers is a group of older men who meet weekly in Bow. They also engage in a number of other activities in the community. Last year they ran a Men's Health Day. Building Men's Health is their new project to involve the younger generation in their work around the neglected issue of men's health. It is often seen as a weakness for males to talk and share about feelings and
personal health, contributing to the poor health statistics for men relative to women.
Bow School and the Geezers have formed a partnership around the neglected issue of men's health. After some initial concept meetings, the sculpture project was born. Inspiration was drawn from the iconic man symbol of the Prostate Cancer campaign.
The Building Men's Health project has involved 90 year nine pupils at Bow School, the membership of the Geezers, Naomi Mead and Simeon Tubi from the Bromley by Bow Centre, and two artists, Michelle Reader and Neil Irons. Great credit should be given to Jim Morris, Assistant Headteacher at Bow School, for driving and facilitating this project. The project is ongoing and will end with the unveiling of a 15 – 20 foot high sculpture outside Bow School, in Twelvetrees Crescent, in September.
Building Men's Health Stage One: 26th June 2018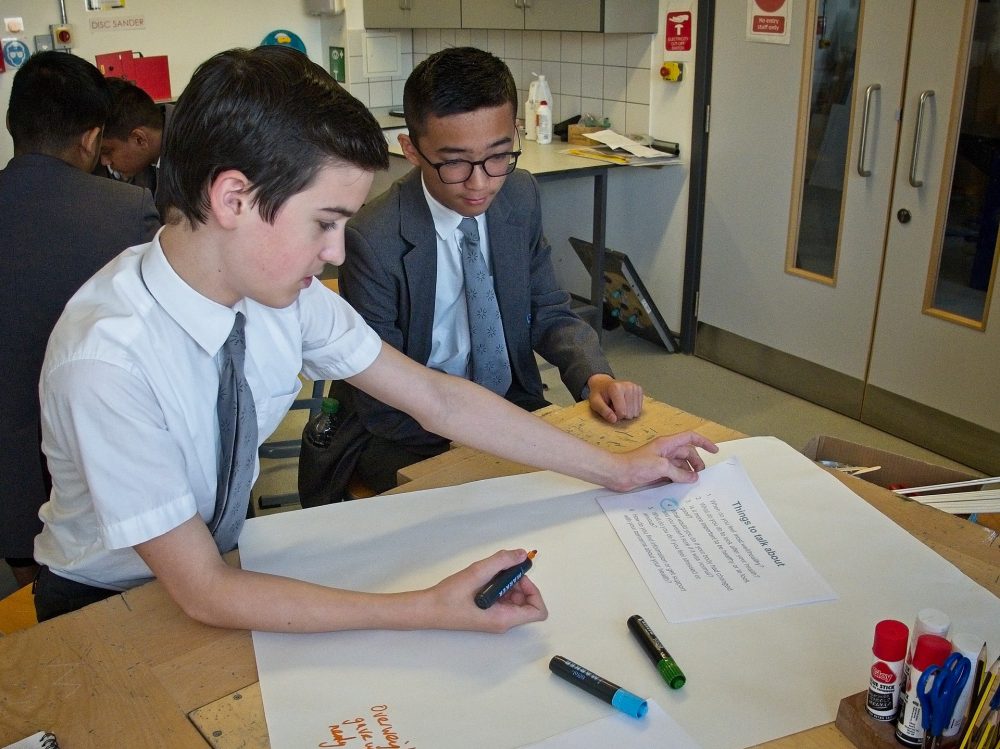 All the participants met up in Bow School to run three sessions during the morning with three different groups of boys who are all studying one or more of the following:
Art
Design Engineering Construction
Technology (resistant materials)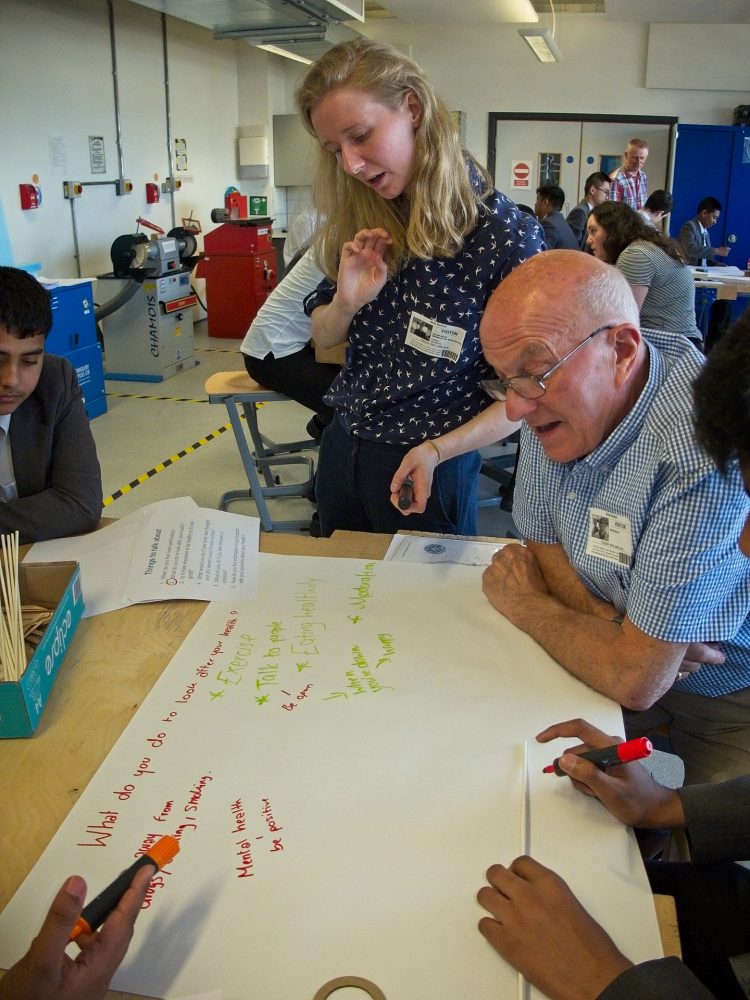 The sessions were introduced by Assistant Head Teacher, Jim Morris with a brief run-though of three big topics to discuss – prostate cancer, testicular cancer and men's mental health. On each table there were information sheets and a list of six potential topics for us to talk about. As you can see from my photos there was a lot of lively and creative discussion. The groups were working to come up with key themes and ideas for the finished sculpture.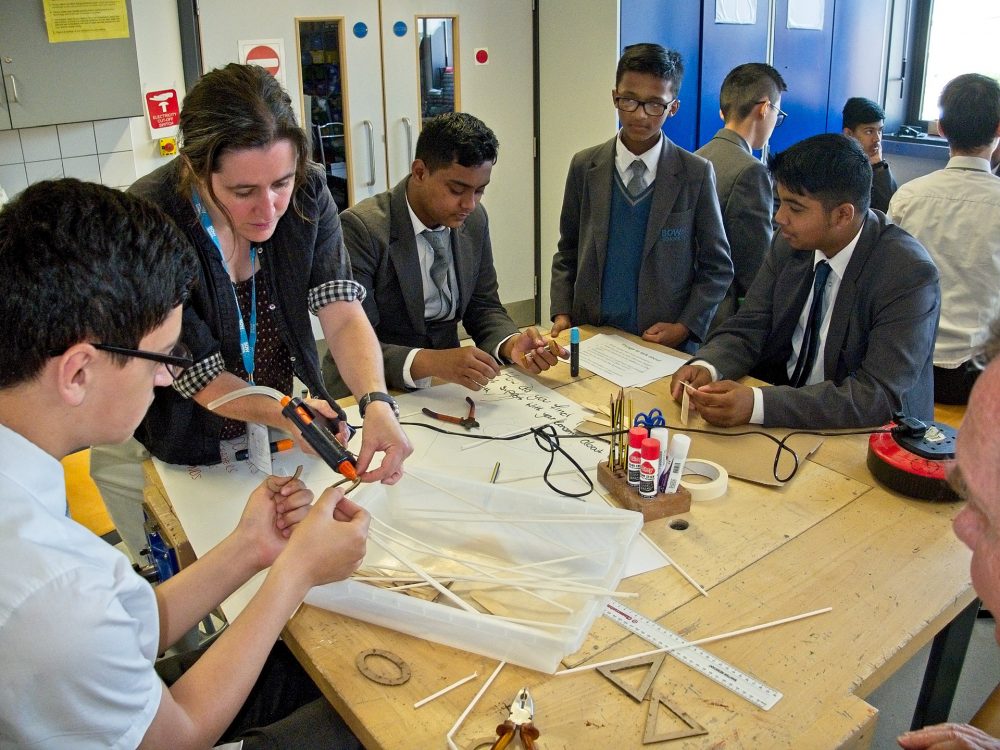 Jim Morris said: "We set out to achieve a number of things, which we have realised. Firstly, alertness – to raise issues about health. Secondly, for the boys to work together in a single gender group to discuss issues unique to them. Thirdly, to give boys the opportunity to work in an intergenerational and cross-cultural way, with members of the local community. Finally, to be creative!"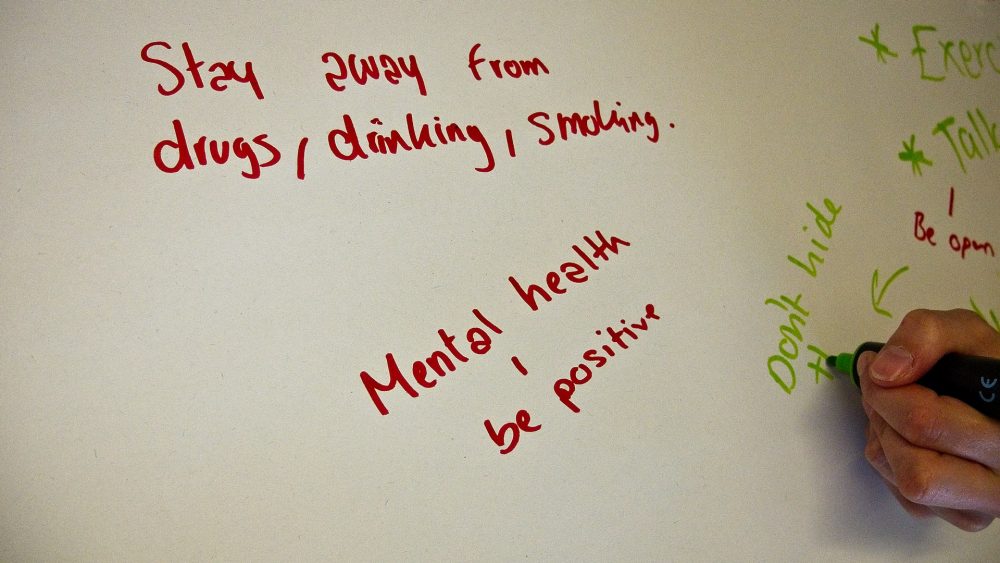 Building Men's Health Stage Two: 3rd July 2018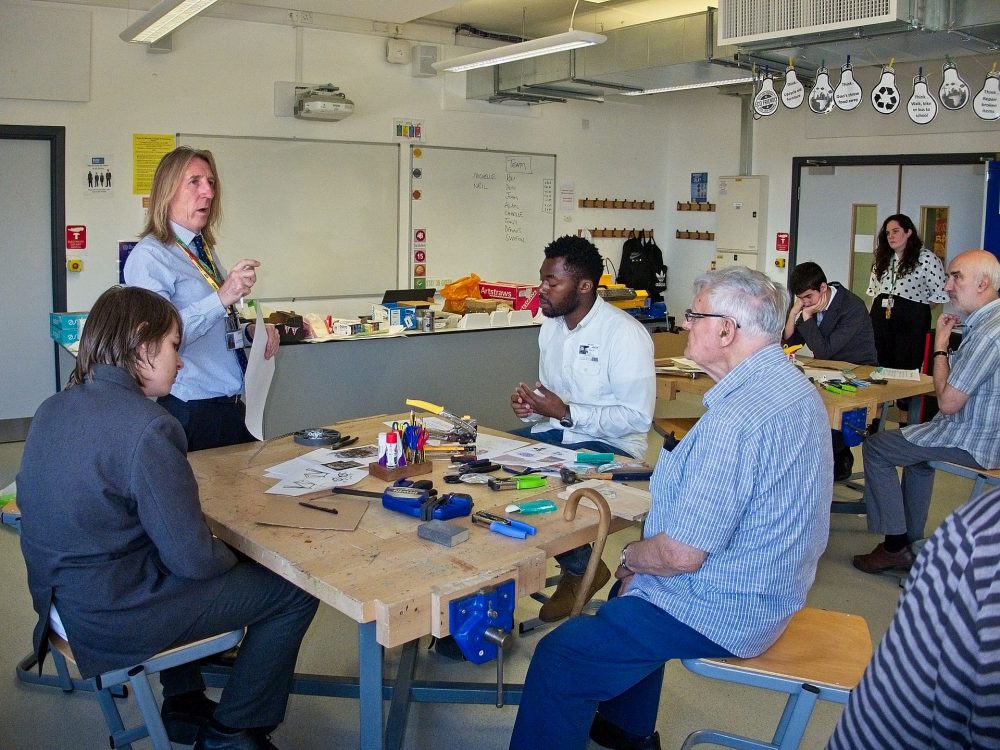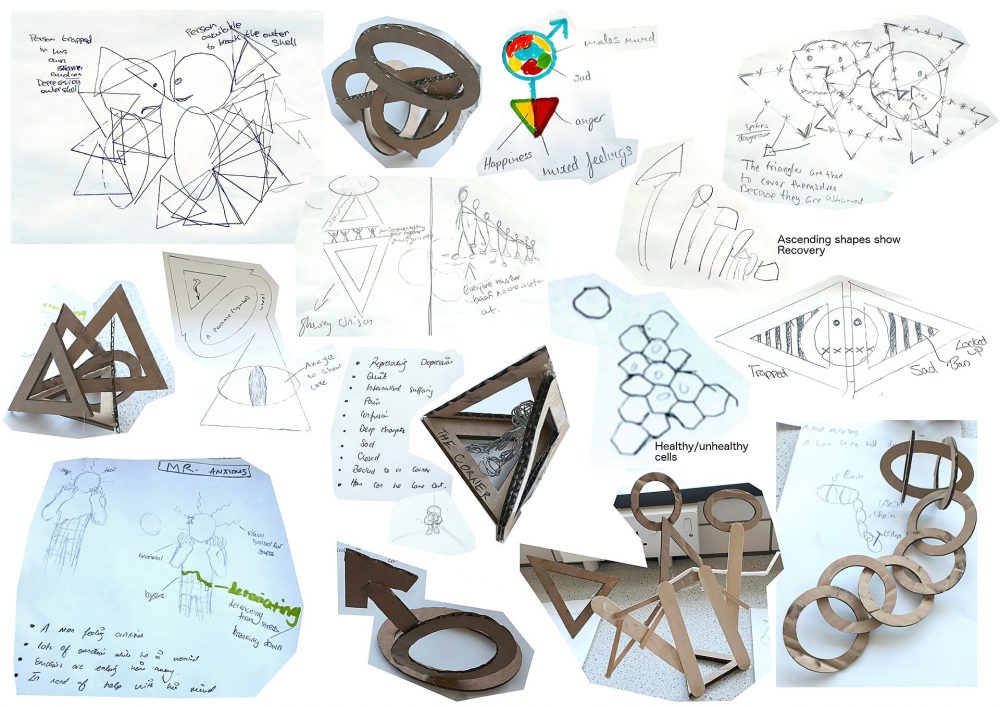 This time the pupils and the Geezers were working to create models and metal figures that will be part of the giant sculpture. After this session the two artists will now take the models and the ideas away to actually build the finished sculpture.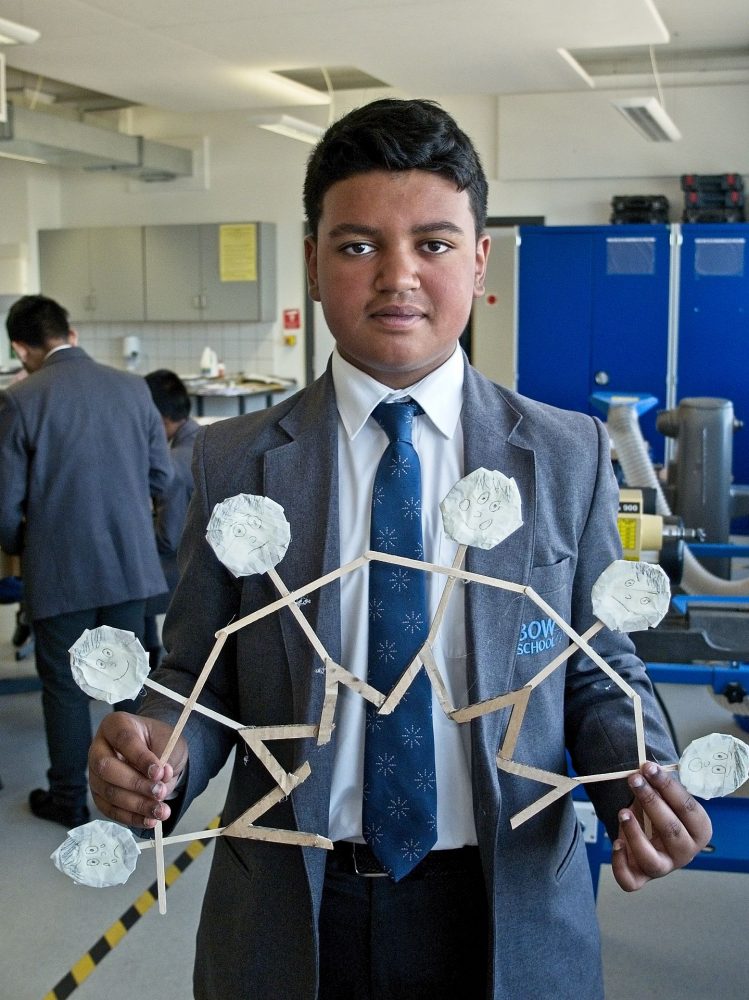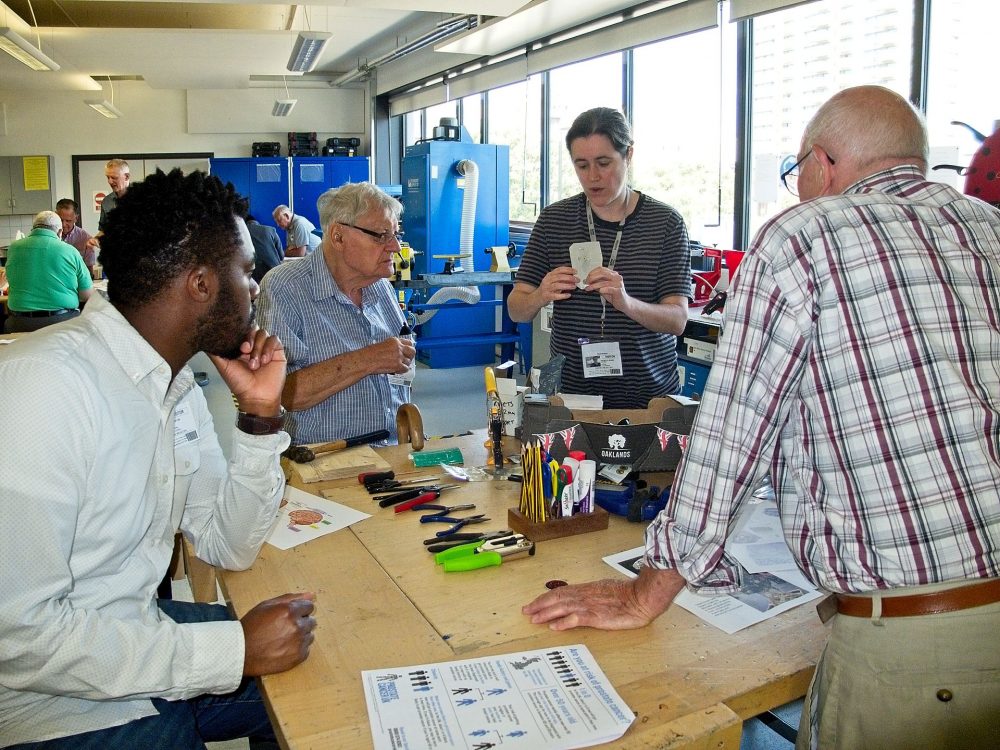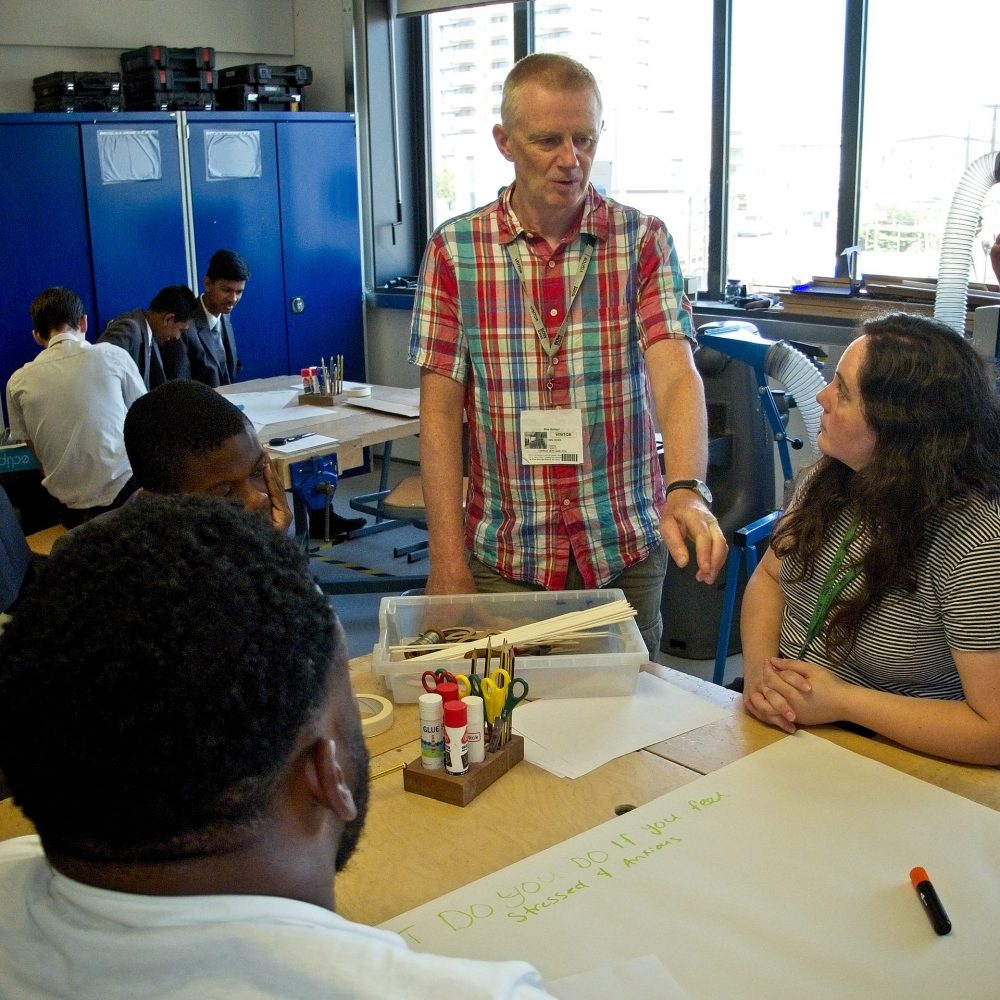 Neil said the sessions were "high volume, high intensity. The boys were working hard, quickly, producing over a hundred ideas, and now we will sift through the ideas to develop the final concept."
Neil Irons is a keep cyclist, and will be using old cycle parts in the construction of the sculpture. Michelle Reader reuses waste materials to create sculptures. She was telling us about a Jaguar she built for Unipart and BSkyB.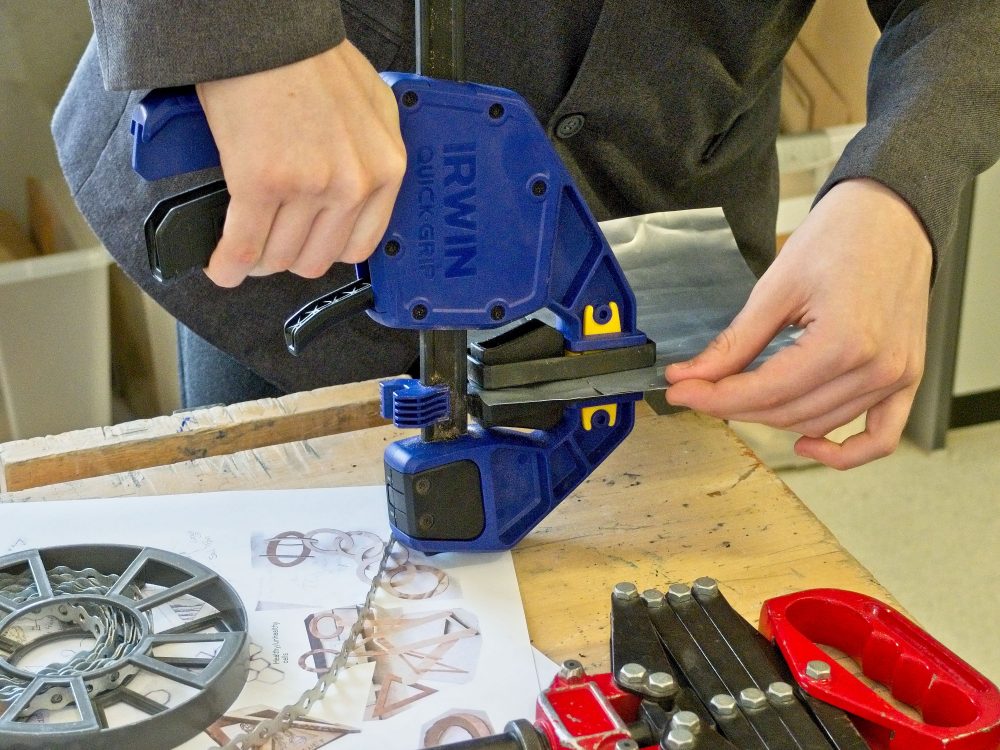 During this session the participants were cutting up old drinks cans and using other waste items in the creation of their models.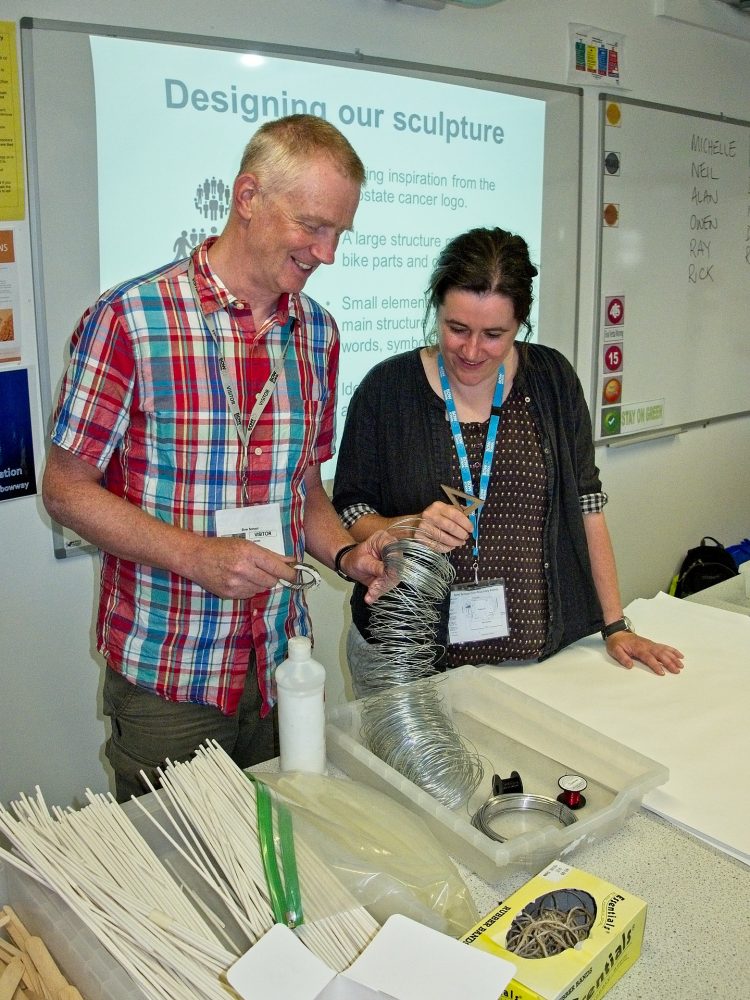 Further workshops will follow, creating component parts of the sculpture. Michelle added: "By getting people to explore ideas through different mediums, talking together, making together, freeing up communication, we are building common ground across generations."
I'll leave the final say to Jim Morris (Assistant Head Teacher Bow School):
"It has been great to work with everyone concerned in this project. The two artist bring a high level of skill to the creation of the sculpture and in doing so allow our students to work with professional practitioners in a real and collaborative way. The ideas that they have generated together have been varied and imaginative and show a thoughtful approach to the subject of men's health.
In addition to that we are very lucky to have the opportunity to work with The Geezers. They have been an active part of the workshops both in supporting the creation of ideas and managing the actual practicalities of the sessions. Their participation has made this a more significant project in as much as it provides the potential for our students to share conversations with grown men from the local community whilst they all work to produce elements of the design for the final sculpture. It is very possible that for some this would be the only chance that either group would have had to work in this way and as a result it has provided a valuable experience for all to break down the barriers that exist between people of different ages, upbringings and ethnic backgrounds."
The Building Men's Health project is supported by Action For Bow and the Wakefield and Tetley Trust.