About a hundred local people and fireman attended a consultation meeting held at Queen Mary's University on Tuesday May 7 called by the LFEPA (The London Fire and Emergency Planning Authority) to discuss their draft Fifth London Safety Plan.
The plan proposes a reduction of fire appliances, the closing of fire stations, and a  reduction of over 500 fireman through natural wastage.  The strategy was defended by Boris's Chairperson of the LFEPA – James Cleverly, and the London Fire Commissioner – Ron Dobson.  Their position was that cuts are required in line with the deficit reduction policies of the current government.  But these will not endanger lives or property because the success of LFB's fire prevention stategies in reducing fires mean less men and engines are required.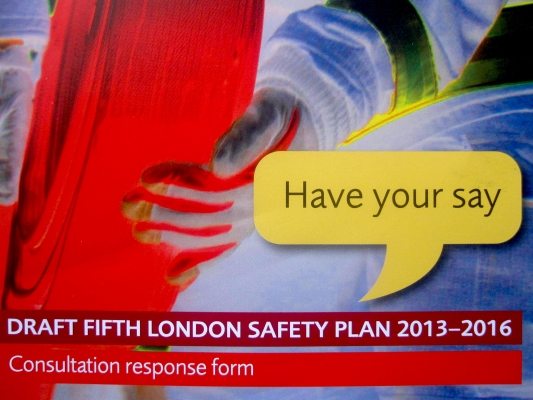 One by one the audience got up to praise the fire service and to question and condemn the plan.  They accused the mayor and his representative of failing to take into account the increasing population densities in the Borough, and the high and  increasing levels in deprivation, with its added risk of domestic fires.
In particular the audience was worried about the proposed closure of Bow Fire Station combined with the loss of an appliance at Bethnal Green.  Wouldn't this increase the response time to incidents and put lives at risk?   The Commissioner could  only give average statistics and was unable produce the response times for fire appliances to attend a fire in Bow.  The audience smelled a rat.
LOCAL COUNCILLOR JOSHUA PECK WAS THE FIRST ONE TO PUT THE QUESTION
ANOTHER MEMBER OF THE AUDIENCE RAISED IT AGAIN
MEANWHILE COUNCILLOR PECK HAD BEEN CHECKING OUT THE PROJECTED RESPONSE TIMES FOR BOW ON HIS IPHONE
Was this incompetence or a deliberate attempt to bury the facts?  It served to reinforce the audiences' perception of the consultation as a sham.  Next day we spoke to local resident Jackie Harris, whose father had served at Bow Fire Station during the war, about  how she felt about the meeting.
When Ray Gipson from Our Bow.com and the Geezers finally got to ask a question, it seemed that finally someone might be listening.  He pointed out that there were at least six old peoples' homes or sheltered accommodation in Bow.  Had this been taken into account in their planning?  Obviously not,  as the chair of the meeting took his name and promised to get back to him on the issue.  Watch this space!
Meanwhile the last word goes to local resident Jackie West
You can see  the whole of Jackie's interview in the OurBow.Com Archive.
In the history section  she recalls her father's stories about working in the Auxiliary Fire Service in Bow during the war.
You can watch the whole consultation online on YouTube.