Try your hand at community journalism on this eight-week course and help create The Insiders' Guide to Bow, a magazine-style guide to E3.
Through a series of practical workshops Walk East will walk you through the basics of journalism: how to research your ideas, carry out interviews, structure and write articles, and use photographs.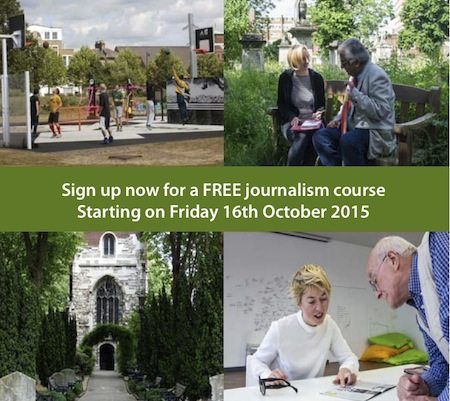 You'll  spend plenty of time out and about, meeting local people, finding out about community projects, discovering local heritage, and reviewing shops and cafes. The course will give you an opportunity to look afresh at Bow; you'll find some hidden gems and get new insights into the neighbourhood.
As we progress, we'll work together to create the Insiders' Guide to Bow, a 48-page magazine packed with articles, interviews, listings and behind-the-scenes photo features. All in all, it'll cast new light on life in the neighbourhood.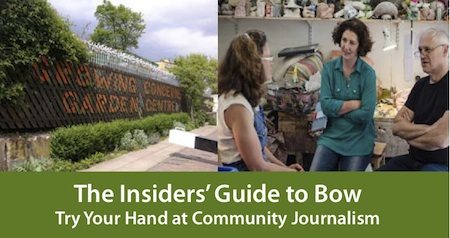 Who is it for?
This course is designed for people who volunteer or work for community groups and organisations active in E3. You don't need any previous journalism experience; our beginner-level workshops will ensure that everyone can make a contribution to the magazine. Just bring along your enthusiasm for exploring Bow and sharing your discoveries in print.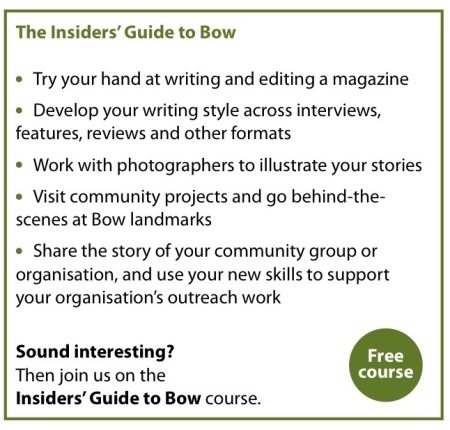 If you're a Bow resident interested in signing up but are not currently linked to a local community group or organisation, we'd still like to hear from you – we might be able to match you up with an assignment.
When and where?
The course runs on eight Friday mornings, from 10.00am-1.00pm, starting on Friday 16th October and ending on Friday 4th December 2015.
Sessions take place at Wrights Road Community Centre and also 'on location' around other areas within Bow. To make the most of it, you'll need to attend all of the sessions.
Some writing will be undertaken during the sessions, but you'll also need to set aside a few hours to work on your articles at home.