Geezer Barrie Stradling tells the story of getting his name on Our 'Wall:
Early in 2014, Millwall FC launched a project called 'Our Wall' where you could buy plaques/ bricks in a wall that they were constructing on the outside of the West Stand, The Barry Kitchener Stand.  They offered several sized bricks/ plaques that you could purchase, whereby you could inscribe whatever you wanted to put, and it would be part of this wall, this was done online and you could specify what wording you wanted to include on your own brick and you received an online proof for your approval before purchase.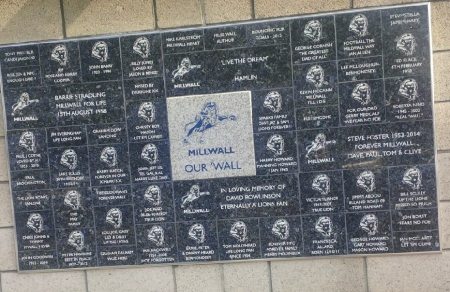 As you will see I opted for the largest available and was in the first wave of Our Wall.
'Our Wall' is effectively for those committed Millwall fans to be part of the New Den stadium itself.  I know there will be those reading this that feel all Millwall fans should be committed.  I get ribbed mercilessly each week in The Geezers about my supporting Millwall, all done humorously, I think!
As well as inclusion in the wall I have a Certificate featuring the Plaque and a replica of it at home as well.  A lot of those included in 'Our Wall' have been purchased either as commemorative stones for Millwall fans who have passed away or as gifts to Millwall fans to highlight particular birthdays etc.
I am the youngest member of The Geezers and one of the most recent members having joined about a year ago, however I have supported The East End team Millwall, formed in Millwall in the Isle of Dogs since I was 8, back in August 1966.
People have often asked me why as an East Ender I do not support West Ham United, in honesty Millwall are the nearest club to where I was born in Whitechapel / Stepney even though they are based in South East London, i.e. the wrong side of the river, also when I was young there was a large contingent of people, both in my family and neighbours who supported Millwall, as they were an East End team.
For information I have been a Season Ticket Holder at Millwall since the mid 1980s and regularly, along with all the home games also attend around 15 to 20 away games per season.