Artcatcher are back at the Art Pavilion in February with their annual much-more-than an Art Exhibition. This year entitled TRADITIONS  the exhibition looks at how familiar rituals are the common denominators upon which we build our individuality.  Katya Rosenberg who created and curates the event, explains more below.
As part of the programme surrounding the artworks there are a series of information and celebratory events.  Click here to see the full programme.
The Geezers and Bow Belles will be running an afternoon of traditional board games on the afternoon of Tuesday 7th of February.
The exhibition runs daily at the Art Pavilion in Mile End Park from 12.00 – 6.00 from the 1st to 19th February with an opening launch event on Thursday February 2nd, from 6.00-900.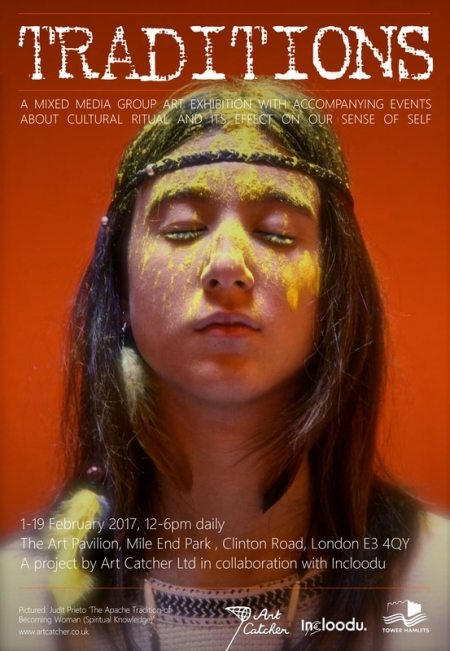 Kayta explains the thinking behind TRADITIONS:
Repeated, familiar ritual and thinking is the basis from which we can grow our individuality. It is the lowest common denominator which defines and ties together countries, cultural groups and families.
It provides a sense of self assurance and belonging and it can give us a language with which to communicate ourselves to our immediate surroundings and those who have been brought up differently to ourselves. It is the basis for humour, poetry and prose.
Many rituals have a long history and are therefore strongly guarded by those who practice them. Just like the human being itself, our species' rituals cover all facets of the human soul. They can be light-hearted, celebratory and all- embracing, with a strong interest in connecting with the other. Others might have developed to express a strongly patriarch cultural structure or the human need to feel in control over the forces of nature, often expressed by battling other creatures. Religious traditions can unite and uplift, sadly others literally exist to deny us or others a healthy sense of self.
Traditional thinking can be subconscious. We might be carrying out rituals very close in nature to others we find in other parts of the world and consider impossible to comprehend.
We must choose carefully what makes us 'us'.
As usual with exhibitions by Art Catcher Ltd, this project focusses strongly on a subject of cultural and emotional identity. It offers many playful entries to the subject to appeal to many ages and walks of life and draw us together. At the same time, a very serious undertone can be found by many of the artworks by over 40 participating artists.  An accompanying programme has been created not only to inform about and teach traditional performing and creating from a host of cultures, but to similarly provide a friendly, inspired and accessible platform for the community to meet and develop dialogue getting to know ourselves and one another and the different backgrounds we each come from.
Art Catcher Ltd has collaborated with Incloodu, an organisation providing inclusive festivals, to bring this project to life and connect with an interesting and diverse set of performers.
This exhibition is kindly supported by Tower Hamlets Council