Barrie Stradling's story on first becoming a Millwall fan
Geezer, Barrie Stradling, authored his 2nd book in 2004 called "I Was Born Under Cold Blow Lane". The title came from a Millwall Football Club chant based on the song in Paint Your Wagon which features the words: "I was born under a wand'rin' star."
Barrie Stradling was actually born in The Royal London Hospital, and grew up on Aston Street in Stepney.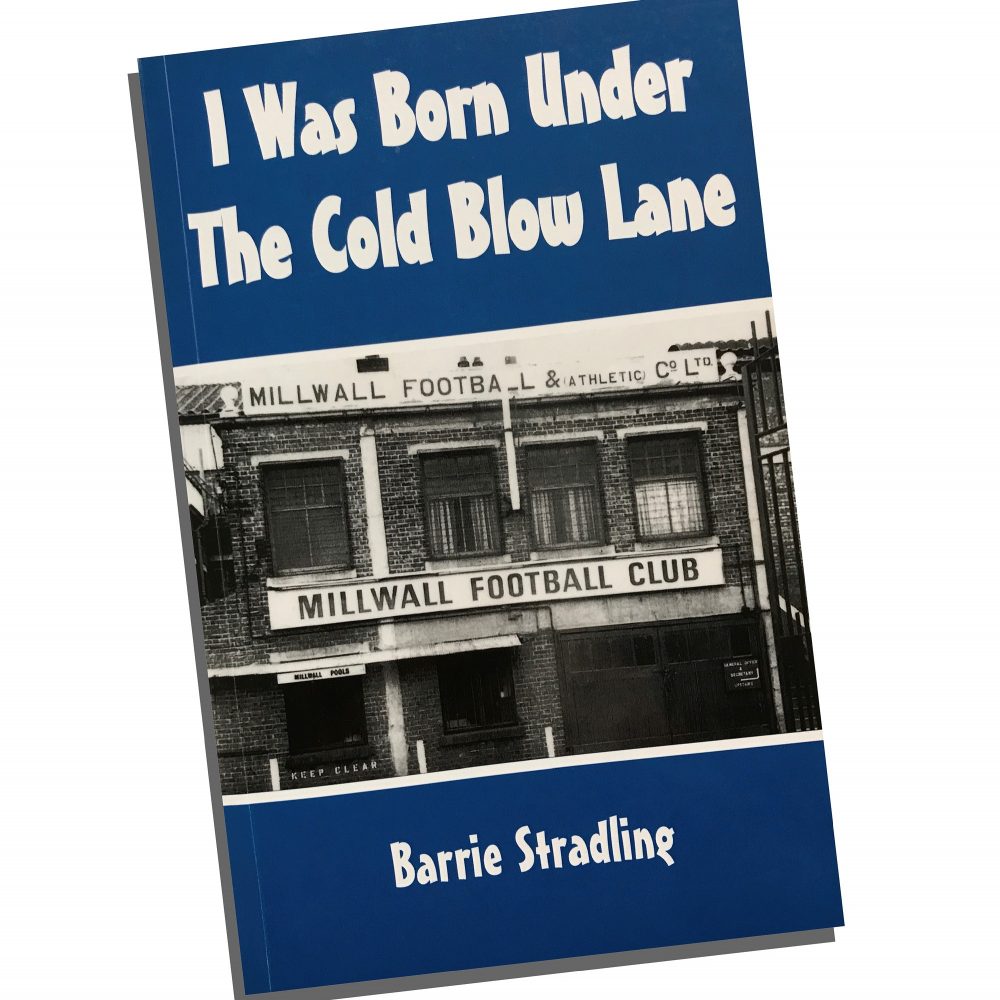 The book was described as: Millwall as a Sixties-style kitchen-sink drama, full of grim, bleak locations, down-to-earth industrial language… Truly football for the working-class man. Barrie said: "This was effectively a diary over 4 seasons, where I made notes at matches and transcribed the notes for the book based on them.
Barrie was taken by his sadly recently deceased cousin, Roy, to his first match at Millwall in 1966 at the age of eight. So he might as well have been born under Cold Blow Lane, the site of the Millwall football ground from 1910 to 1993. In Aug 2020 Barrie had been a passionate Millwall fan for 54 years.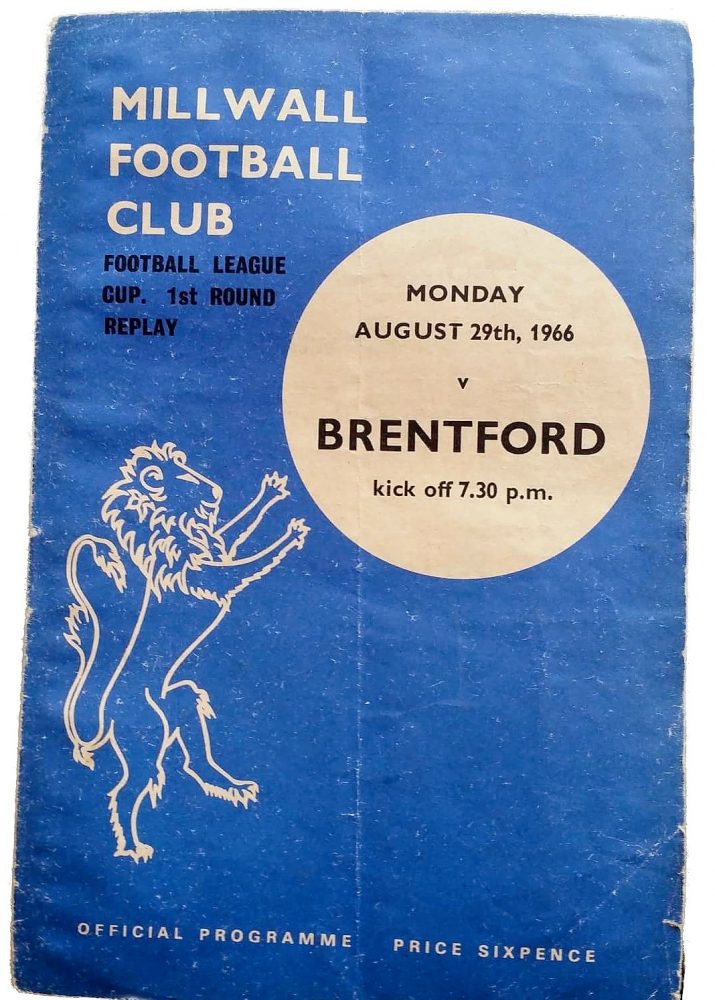 Although many people who Barrie went to school with were West Ham supporters, geographically Millwall was his nearest club. An uncle, a cousin and three neighbours supported Millwall during his formative years. Barrie said: "Once I had tasted the Old Den's unique atmosphere as an impressionable 8-year-old I was hooked." Although his father was a Spurs fan he used to take him to Tottenham Hotspur and West Ham matches where Barrie saw many football legends play: Gordon Banks, George Best, Bobby Charlton, Jimmy Greaves, Denis Law, Bobby Moore, and Stanley Matthews.
But Barrie said: "Every other London ground that I subsequently went to in my childhood years paled in comparison to Millwall's Old Den for passion, atmosphere, and of course hostility. Hostility to rival fans – but not to children, who were passed over the heads of the adults to the front so that they could better see the match! Barrie considered this to be an indignity and refused to be treated as a child. Football fans in those days stood to watch the game, and as a youngster he struggled to see. For the 31,480 crowd who packed in to see Leicester City's win at Cold Blow Lane (Jan 1969) Barrie managed to stand on a ledge at the back. He said that football grounds across the country at that time were primitive. Millwall had just one "grandstand", most people stood. Fans were not segregated and paid their entrance money on arrival.
On visiting away matches
Barrie's 1st book, published in 2000, Tuesday Night In Grimsby was subtitled Diary Of A Masochist, wittily summing up the frustration, craziness, and the sense of humour required to be a Millwall fan. Barrie said, "The title came from my being in Grimsby for a night match. I added the Masochist reference after thinking – 'what the hell am I doing here!'" The book came about because Barrie had read another book about Millwall, and the publisher had included a note saying that if you feel you could write something please send in a manuscript, so Barrie did.
Tuesday Night In Grimsby has a page where Barrie describes the toilet facilities at the old Millwall ground. Basically – a wall, open to the sky and occasionally flushed with rainwater. His books are full of humorous descriptions of life on the ground as a football fan. Barrie's cultural anthropology covers police snatch squads, the different ways chips are served around the country, football chants, and the behaviour of Homo de discipulis eius (fans).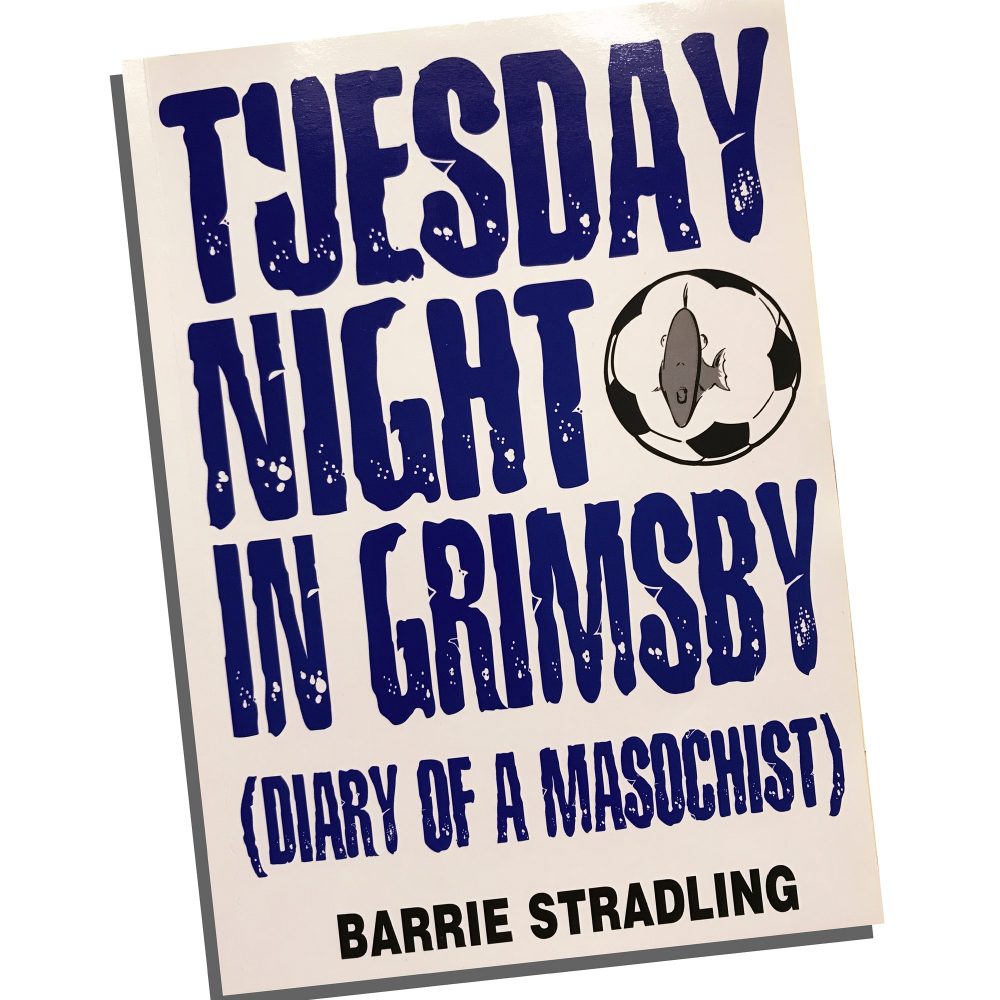 Barrie's books are about the adventures of being a fan, not commentaries on the matches themselves. Tuesday Night in Grimsby and I Was Born Under Cold Blow Lane were combined into one book in 2007, translated and published in Germany as Millwall For Life: Lebenslang Millwall. Lebenslang means life sentence!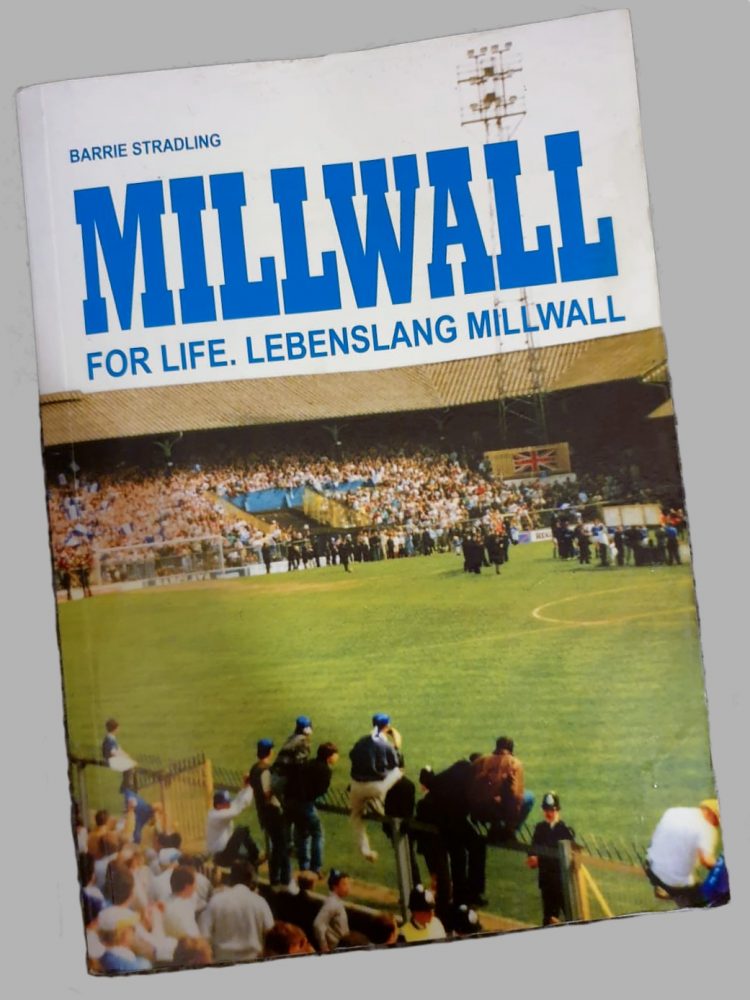 The third chapter of Tuesday Night In Grimsby is headed 'You couldn't make it up'. Barrie said, "I don't think you could experience such 'Mr Bean' moments sitting securely on your sofa glued to the Sunday or Monday Sky Football broadcasts somehow." I'll just give you an abbreviated version of one of Barrie's hilarious stories. At Rotherham in the 1990s the middle-aged lady at the refreshments stall, "…proceeded to give us a sexual history of her entire family, particularly her parents. She went into obscene and graphic detail about the quality and quantity of her parents' bedroom antics, cataloguing the contents of her knickers drawer, and giving us a 'blow by blow' account, if you'll pardon the expression, of all the sex aids that she'd bought her parents over the years… It certainly opened our eyes to the geriatric swinger scene in Yorkshire."
Barrie described what it was like to visit a town on an away match. He said the townsfolk will gawp in wonderment at the away team coaches with an expression they would usually display should a fleet of UFOs land on their front lawn. "… you'll see more police than during the miners' strike, mass stewarding, police helicopters circling overhead…"
Hooliganism
Barrie says that Millwall F.C. do sometimes have a well-deserved reputation for hooliganism, especially in the past. But he says that they are not the only club to suffer from this, and names West Ham United, Birmingham City, Leicester City, Wolves, Stoke City, both Manchester clubs, Leeds Utd, Bristol City, Newcastle United, and Middlesbrough in Tuesday Night in Grimsby (pub 2000). He said Millwall all too often get the blame for other people's sins by lazy journalists using convenient stereotypes. Then there are problems caused by poor decision making by clubs and irrational policing. Barrie's books are littered with examples.
After Barrie's first visit to Bristol City in 1984 the police decided let the rival groups of fans leave the ground at the same time. "Surprisingly it all went off in a Wild West style punch up in the park opposite the ground. How did that happen?"
At the 1985 FA Cup Quarter Final away match at Luton Town, Barrie noticed that there was little or no police presence. He couldn't understand why the game wasn't all-ticket, given that the match was an important one for Millwall, and that it was easy for Londoners to get to Luton. One of the turnstiles was broken and hundreds had got in (without paying?) before Barrie and his friend Steve K arrived. They went to an open terrace with fencing all around which Barrie thought should hold 5,000 – 6,000. More and more people kept arriving and the area became dangerously overcrowded. People were lifting children over the fence onto the pitch for safety and others were climbing over the side fencing to get to empty seating. Barrie said this was described as a "pitch invasion". He said: "naturally all the extenuating circumstances were ignored in favour of the 'riot' footage."
"I was actually there and whilst the riot and other misdemeanours did occur and were perpetrated by Millwall, the whole story, in its entirety is more sinister in my view, where people could have been crushed to death by trying to fit a very large quart into a pint pot, purely for financial gain."
On 21st March 2004 Barrie was at the Den to see Millwall win 4-1 against old rivals West Ham United. Barrie said: "The New Den Game had the largest British football police operation ever costing £270,000, with 1100 police apparently orchestrated personally by Scotland Yard. …the Millwall areas [of the stadium] were roaring like the Old Den and there were numerous police, including cavalry, in the four corners of the ground. To welcome our loathed neighbours we booed their team as they came out for the pre-match warm-up…"
Barrie said: "It was a windy day, although not as windy as West Ham's defence, epitomised by Christian Dailly, Hammers captain…who scored a cracking own goal…" Millwall supporters were soon chanting, "We Love you Dailly Oh Yes We Do!" Barrie said: "We also screamed 'Shoot!' each time he was anywhere near his own goal." Terrific fun.
But sadly despite less than 3,000 West Ham supporters attending the match some of them were intent on trying to spark off a riot. Here is what Barrie says in I Was Born Under Cold Blow Lane: "At 3-1, with West Ham's team wilting in the atmosphere, their goalie Bywater was sent off after clattering into Neil Harris, giving away a penalty in the process, at which point a couple of hundred West Ham 'Boys' in the North Lower attempted to invade the pitch. Presumably trying to get the game abandoned they surged towards the front of the stand, clashing with stewards and tearing up the massive anti-racism banner stretched across the front couple of rows behind the goal and then pulled up the segregation meshing. Millwall's 'Boys' in the West Lower greeted this attempt to get a riot started by verbally abusing them but not making any concerted efforts to get on the pitch…Eventually stewards, police riot police armed with shields and batons, and cavalry, encircled the Hammers."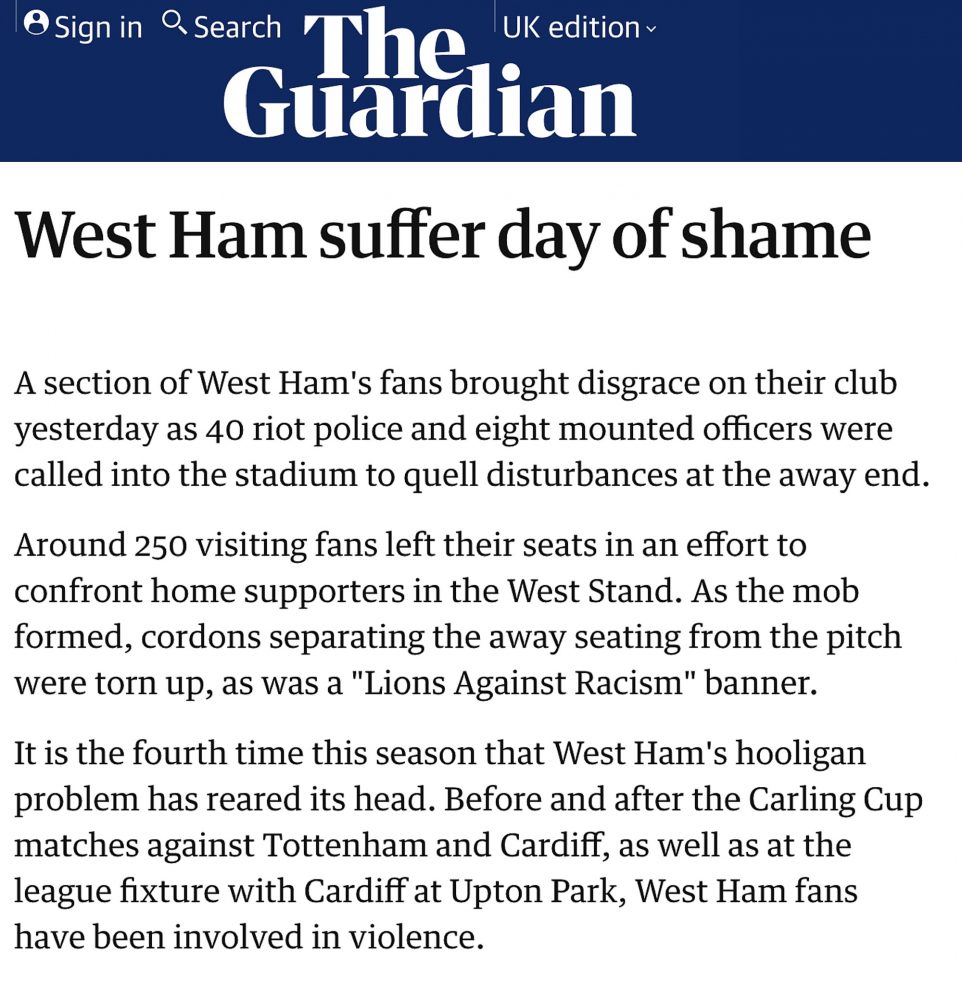 The ups and downs of Millwall Football Club
In 1849 J.T. Morton setup a factory in Aberdeen supplying sailing ships with preserved foods. He had a London factory near the Leadenhall Street meat market in the 1850s, and in 1872 established a big cannery and processing plant on the Isle of Dogs, where the Cascades is today. The Millwall Rovers Football team was founded in 1885. It was a working man's team rather than a factory team but was setup by tinsmiths from J.T. Morton's factory. They played their first season just north of Millwall Outer Dock, on waste ground alongside what is now called Tiller Road. The area of Millwall gets it's name from the windmills which were once positioned along the embankment just south of the Cascades. You can see them on a 1703 map put up by the Island History blog.
Between 1890 and 1901 they were playing at an athletics stadium where ASDA's car park is today. The club name was changed to Millwall Athletic. They could and did achieve crowds of 20,000. Big and impressive at that time. The growing popularity of football came about as working men won the right to have Saturday afternoons off in the 1870s-80s. This seems to have been achieved by negotiation, rather than a change in the law.
Around that time Millwall gained the nickname The Dockers, named after the work many of their supporters were engaged in. The club did not like the name. In 1900 Millwall knocked Aston Villa out of the FA Cup and the press called Millwall 'the Lions of the South'. The club settled on The Lions.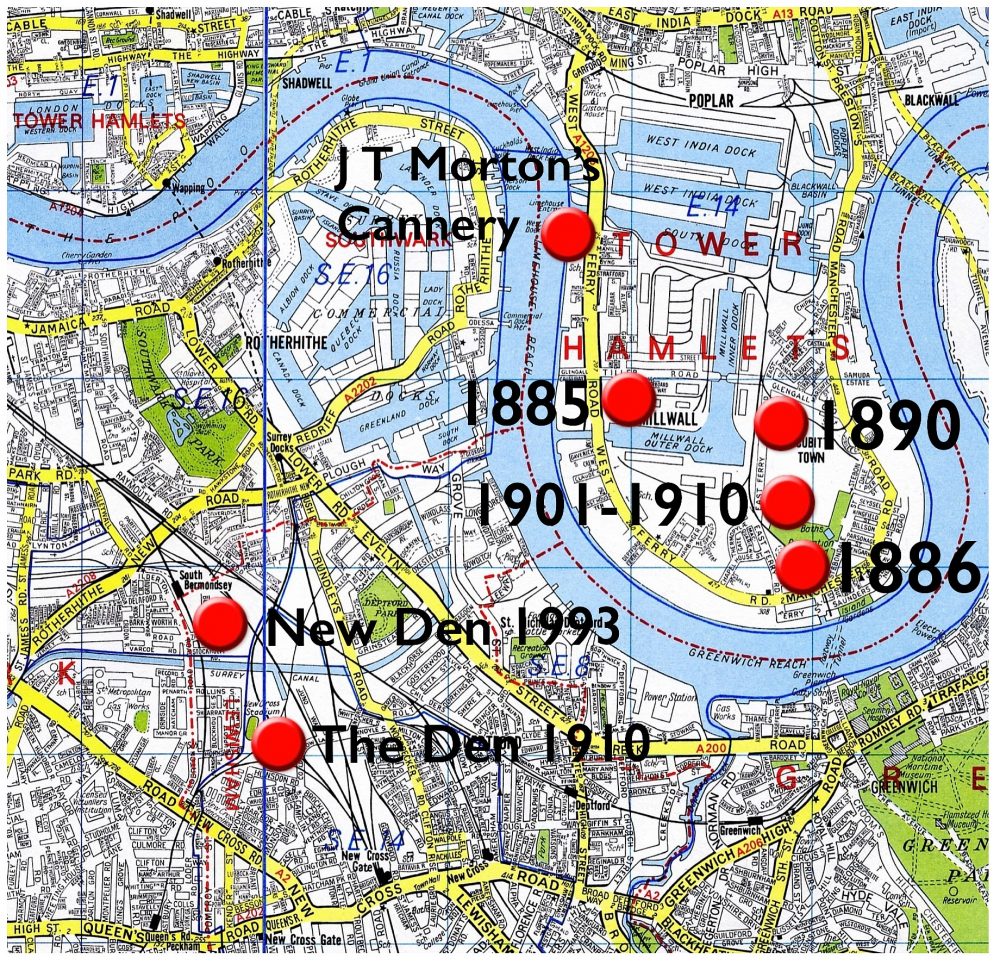 In 1910 Millwall Athletic moved from the Isle of Dogs to a site across the Thames at Cold Blow Lane NW of New Cross station. They were pushed out of the Island by the thriving industry and docks. The club stayed at what became known as the Den for 83 years. It was here that the famous Millwall Roar was born, intimidating opposing teams and fans alike. In 1937 a record 48,672 packed into the Den to watch Millwall win 2-1 against Derby County. Although playing in the third division, Millwall attracted big crowds, and had loyal supporters. The Den was severely bombed in WW2 and was rebuilt.
Sadly in 1958 Millwall become founders of the new Football League Division Four.
But then between 22 August 1964 and 14 January 1967 Millwall established a record of 59 home games without defeat (43 wins and 16 draws). During that time they scored 112 goals and conceded 33. An exciting time for fans, including Barrie Stradling. Lifelong Millwall fans like Barrie have enjoyed – perhaps that should be endured – a rollercoaster emotional ride as the club lurched between occasional success, and more likely failure!
In 1985 Millwall earned promotion to the 2nd division. Three years later in 1988 manager John Docherty lead the club into the First Division. But in 1990 they were relegated back to the Second Division.
In 1993 Millwall moved a quarter of a mile northwest to a brand-new stadium, the first new stadium constructed for a professional football team in London since 1937. This was the first new all-seater stadium built after the Taylor Report into the Hillsborough disaster (1989). It was designed to deal with crowding problems and had short and better escape routes. It has a practical 18,000 capacity.
This being a polite website, we'd better skip the chants section in Tuesday Night In Grimsby. But they should not be taken too seriously, it is just men having fun. One directed at incompetent forwards was "You couldn't score in a brothel". It should be noted that in the House of Commons gangs of MPs pre-agree phrases to shout at opposition speakers. Over there it is called heckling. Barrie said that during the 1990s a chant directed against Millwall supporters was: "Millwall are going nowhere!" Barrie said that is where they were wrong. Millwall were going into free-fall and financial administration!
On 21st Jan 1997 Millwall called in administrators "…to facilitate the reconstruction and refinancing of the company". They had built the new stadium, but it needed a first division income to pay for it. Soon after it opened the club was relegated to the 3rd division.
Mark McGhee joined as the new manager in 2000, and eight months later the club was promoted to Division Two.
On the 16th March 2004 Millwall played Tranmere Rovers in the FA Cup Quarter Final Replay. Barrie & co went by coach. He said, "Our coach was of the older vintage…It had a toilet but unfortunately it became full on the way up." Having arrived at the away end, the police forced them to drive right around the ground to the home car park!
Millwall scored two goals in the first half, but Tranmere pulled one back. Barrie said: "Millwall as per usual put us through the emotional wringer in the second half with a rear-guard action after having been cruising in the first half, which was made more fraught by [referee] Rennie's eccentric display. With injury time seemingly going on for an eternity we whistled cacophonously to try to get him to blow the bloody whistle…when the final whistle eventually blew we went ballistic." Millwall had just secured their first FA Cup Semi Final for 67 years. "We stood stunned at making the semis and Tranmere fans applauded us as they left the ground, so we returned the applause for their side's spirited display…It was strangely subdued on the coach, I think everyone was in shock. As our loo was broke we stopped at services in the Midlands…"
Millwall beat Sunderland 1-0 in the FA Cup Semi Final 4th April 2004 in front of a crowd of 56k. They had reached the FA Cup Final for the first time.
On 22nd May 2004 Millwall lost 3-0 to Manchester United who had played in the Final 15 times before. Getting there was a great achievement for Millwall. For Barrie and his friends it was one of the most important days of their lives. By playing this match Millwall qualified for the first round of the 2004–05 UEFA Cup – to play against Ferencvaros.
In Barrie's 4th book (published 2020), The 'Wall = Passion NOT Patience, he describes their trip to Budapest to play Hungarian champions, Ferencvaros, in the UEFA Cup 1st Leg on 30th Sept 2004. He and his group of friends applied for tickets in a club ballot. For this first and quite probably last European adventure, they had decided they had to go regardless. So against advice they booked their travel and a hotel before it was confirmed they would be getting tickets to the match. Barrie said that as the days passed, and with other fans saying they'd got theirs, he was getting more and more jumpy: "…[every time] I heard the rattle of the letterbox…I ran downstairs like an excited eight year old." They were successful.
When they arrived in Budapest they found their hotel, "was really quite posh", but it was in a very run-down part of town. That night they went off to try to find the stadium but were totally baffled by the tram network signage (in Hungarian), and the fact that the stadium, "looked more like some sort of industrial complex than a football ground, especially at night." Later they found "an 'authentic' Hungarian bar Not! called The Captain Cook."
When they did their ground recce the night before the game, they decided that certain places should be avoided as they were ambush spots where lone and small groups of Millwall fans would be attacked.
The next day they arrived in good time at the ground and found complete chaos. It turned out that Ferencvaros were a persistent trouble club. "We eventually found the away entrance where we then had to fight our way into the ground through heavy-handed stewards and riot police, in total we were searched 4 times before being allowed into the ground…The full majesty of the stadium came into focus once inside, it really was a tip…it was the equivalent of a very bad amateur ground, it would certainly not get a safety certificate in England.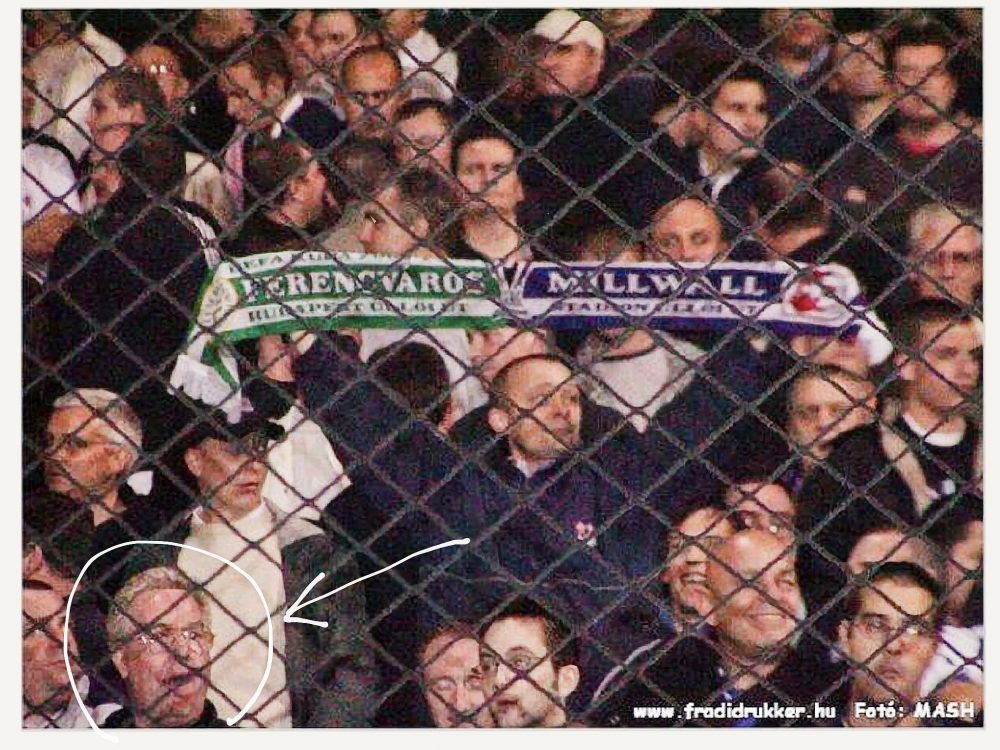 Millwall lost the game 3-1 to Ferencvaros (4-2 on aggregate).
"After the match as we were escorted right around the inside of the ground to the airport coaches by military style riot police whilst surrounded by Stewards, who all looked like WWE wrestlers and were apparently in fact the home team's hooligans, who many Millwall on the Route March commented that they had seen fighting with our visiting fans during the day." Eventually they managed to escape this forced march, as their hotel was in the opposite direction.
Back at the hotel they got cabbies to take them to a late-night bar and ended up in an apparently authentic Hungarian bar – called The John Bull.
On 24 May 2009 Millwall lost 3-2 against Scunthorpe in the League One Play-Off Final at Wembley. 47,661 Millwall fans attended. Millwall hold the record for the most fans at both the old and new Wembley stadiums.
On 13th April 2013 played in the FA Cup semi-final against Wigan Athletic who won 2-0.
The 2020/2021 season is Millwall's 4th consecutive season in the Championship League.
If it was not for Covid-19 Barrie reckons he would have travelled 150,000 miles visiting Millwall away matches. Having to date visited 608 Millwall away matches he is writing from some experience. On 5th December 2020 Barrie was one of the 2,000 lucky Season Ticket Holders chosen to go to watch Millwall play against Derby County at The Den. Millwall lost 1-0. A small piece of normality in the crazy COVID-19 era.
Barrie's Books
Barrie Stradling's two earlier English books are out of print, but you can buy them second hand. His 4th book: The 'Wall = Passion NOT Patience was published at the start of 2020. This is available both in Kindle and Paperback from Amazon. Barrie says: The 'Wall = Passion NOT Patience was written to show the reality of Millwall, not the media perception.