Ever tried a ukulele?
From 7pm every Monday the Queen of Hoxton hosts a free Ukulele Jam. They say: "For ukers of all abilities we sing and strum our way through over 50 songs in an evening.
"If you or your friends have never played a Uke before just borrow one of our house Ukes for the night. One of our helpful members will show you the basics."
The Queen of Hoxton is at 1-5 Curtain Road, EC2A 3JX
Crossrail delayed again
There have been problems building Britains railways right from the early days. It's just in the nature of these projects. When the Metropolitan Line was dug under Farringdon Road in the 1860s there were floods of water and sewage during its construction. Then a cemetery collapsed into it. The naysayers in the press had great fun. But by 1864 the first sections of the line were carrying 12,000 passengers a year. It was a huge success despite the smoke and the sulphurous fumes.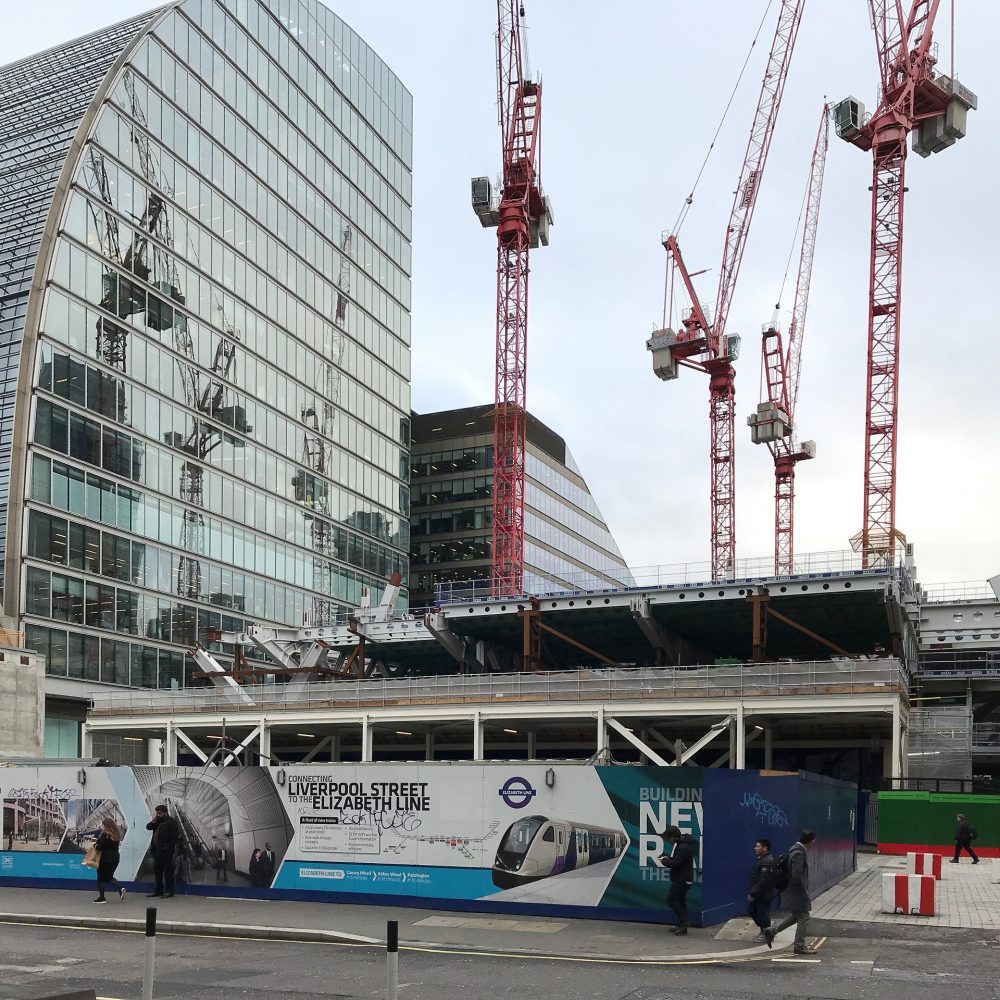 I took the photo above 5 days ago. It shows the Crossrail station called "Liverpool Street" which is actually on Moorgate. As you can see it's not ready yet. I've since listened to a podcast on the Londonist which confirmed that the problem is that a number of the stations aren't ready. It's now thought it will not open fully until the end of 2022.
When it finally opens Crossrail will be great for us in the East End. It will take 45 mins direct from Whitechapel to Heathrow Terminal 4, and just 10 mins to Bond Street. It will help ease overcrowding on the Central Line.
Filming on the Roman
I'm advised that filming will take place from 8am to 8pm in and around Impulse Shoes at 579 Roman Road, on Friday 17th Jan 2020. This on the opposite corner to Iceland. Filmmakers Bad Wolf say that they'll have a cast and crew of 65. Parking bays at the top of Cardigan Road will be reserved for them as well as the north side of Roman Road between Libra and Armagh Roads. Obviously they have permission for all of this, so residents might have to follow instructions when they shout ACTION. But it should be hugely entertaining.
Bromley by Bow Centre at 35
Back in 1984 Andrew Mawson arrived as minister to a church with hardly any congregation. They decided to open the buildings up for the use of the local community. A children's nursery, dance school, community cafe and art studios and workshops soon followed.
In 1997 the Healthy Living Centre opened, and the Centre took over Bob's Park.
You can read stories of people connected with and transformed by the Bromley by Bow Centre here.
All that work and more continues today. For example, on Mondays and Wednesdays they offer Energy and Welfare Benefits Advice as below.