Tower Hamlets Transport Strategy
Tower Hamlets Council are to be congratulated for sharing with residents a 48 page pdf full of data called Travel in Tower Hamlets. This needs reading very critically. Page 5 is headed 80% of trips by Tower Hamlets [residents] are made on foot, by bike or using public transport. This sounds pretty good to me. There's not a lot of scope to reduce that by any significant amount. Page 13 is headed Tower Hamlets has the second lowest car ownership rate in London boroughs.
There are a lot of assumptions being made in this document that it is possible for the few people who are driving to walk or cycle (public transport requires walking at each end and navigating stairs). Page 17 starts with "…Tower Hamlets has huge potential to achieve mode switch to sustainable modes." Not if you have difficulty walking any distance, are carrying stuff that's big or heavy, or you have multiple children and pushchairs with you, or are travelling to a destination that is not easy to reach by public transport. These reasons for using a car, and I'm sure there are many more, are NOT listed in the Transport Strategy Survey just released online by Tower Hamlets. We're all going to have to fill up the "other" boxes on their form.
This is a big step forwards on the previous "consultation". This isn't going to be an easy problem to solve.
Met Police Firearms Command event Weds 7th Aug
The Metropolitan Police Service Firearms' Command will be at the Whitechapel Idea Store (E1 1BU) between 6-8 pm on Weds 7th Aug 2019. This Community Police Academy event is designed to show people what they do, and how they would respond to a terror attack.
Read more about the Police Firearms Unit – SCO19 here, and their history starting way back with flintlock pistols here.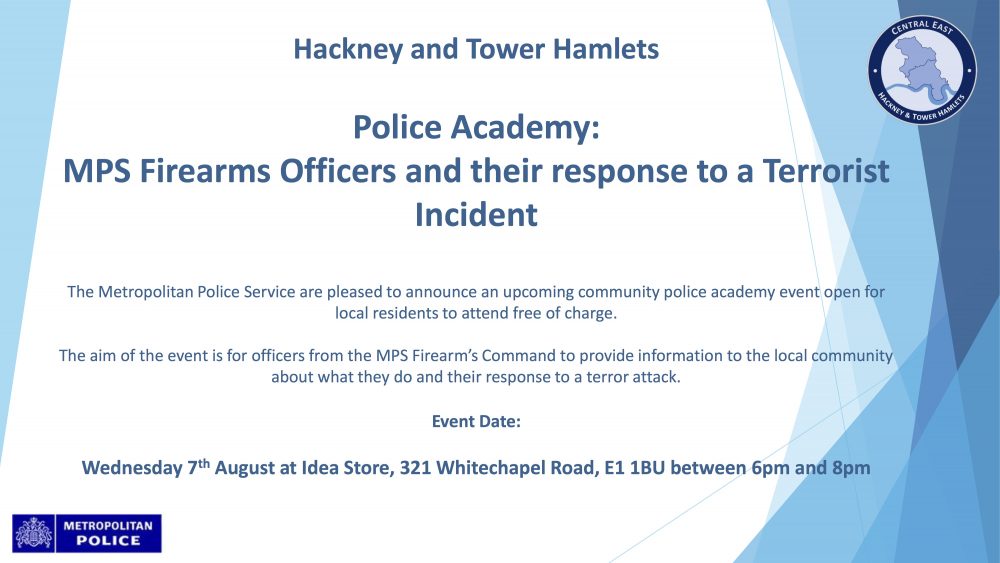 Lots on at the Bromley By Bow Centre
The centre was founded 35 years ago by Andrew Mawson, and others, with the aim of transforming the local community. They opened up the church and it's buildings for local community use. Take a look at the Bromley by Bow Centre August calendar of events.
Here's some samples of the tremendous work that they do:
Tues 6th Aug 2019
Employment 7 Skills drop in service – 10-12 am and 2-4 pm.
Digital inclusion advice drop in 10 am – 12.30 pm. A huge list of help is available ranging from Universal Credit to online banking.
Jewellery Making & Arts and Crafts 2.30-4 pm.
The Bromley by Bow Centre is at St Leonard's Street, London, E3 3BT.
35 Pubs in Tower Hamlets to be listed
Last week The Docklands & East London Advertiser ran an article which said: "Tower Hamlets Council has identified 35 venues – almost a third of the borough's pubs – it wants to list as assets of local importance." Read the full article in The Advertiser here.