The London cabbies favourite presenter Robert Elms will be interviewing Geezer Ray 'Mr November' Gipson and artist Louise Gridley on his BBC Radio London show on Monday about their saucy 2016 nude calendar, the Pun.
Tune into BBC Radio London 94.9 fm between 1.35 – 2.00 pm
and hear the story of how the calendar came about, how the guys felt about baring their all for the camera and their strong feeling about the loss of local pubs in Bow and the impact on their community.
You can buy a calendar by clicking here. All profits go to working with elderly people in East London.
News of the puntastic Pun is spreading far and wide on the web. Its been covered as far away as Suffolk in Artists Louise's home town in the Bury Free Press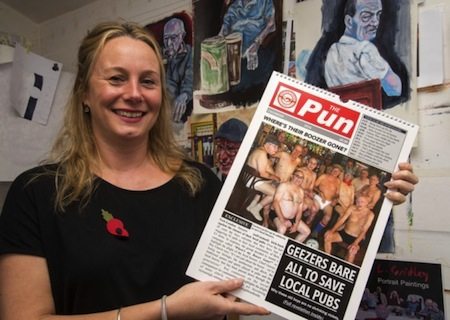 in the article Louise explains why she shot the Geezers in the Pub – " I wanted to centre the photoshoot concept around the traditional pub games and flag up part of our heritage that we are sadly losing"
and nearer by its been featured in Made in Shoreditch and the RORD website as well as the Morning Advertiser.