Geezers' member Barrie Stradling reports on The Geezers trip on Tuesday 18th October 2016 to Royal Hospital Chelsea.
15 Geezers members plus Kate Angus from Link Age Plus went on a trip to Royal Hospital Chelsea.  We arranged to go in a Mini Bus with a volunteer driver David from Community Transport.  I live near to their depot so I met the driver to guide him to our base in Parnell Road.
We arranged to leave our base at noon, one thing that we had not allowed for was that there was an Olympic / Paralympic Medal Winners Parade in Trafalgar Square on the same day, also Tower Bridge was closed for repairs from October – December 2016.
Ordinarily we would have gone via The Embankment which would have left us plenty of time to make our 1.30pm meet with our guide at Royal Chelsea Hospital, however due to the two things listed above we took a different route via Kings Cross/ Euston, and arrived shortly after our allotted time due to traffic etc.
When we arrived, we were told where to park our 17-seater vehicle and met our Chelsea Pensioner Tour Guide Dave Thomson in the grounds of a large estate.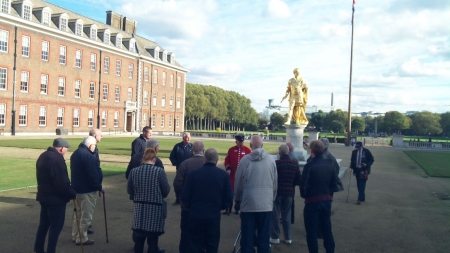 One of The Geezers Ricky Ayliffe had recommended the trip as he used to work there.  I will be honest when you hear 'Hospital', you think just that it will be like a Hospital, far from it, whilst it has an Infirmary, Hospital and Hospice on the site, this is only part of the Royal Chelsea Hospital estate.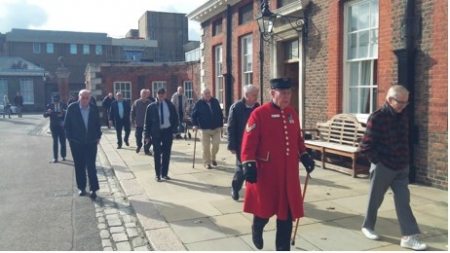 Our Guide led us around the various areas in the Estate, on the first part of our tour he took us to a room where we were shown a short video about what Royal Chelsea Hospital is like, with anecdotes given by male and female pensioners who live there.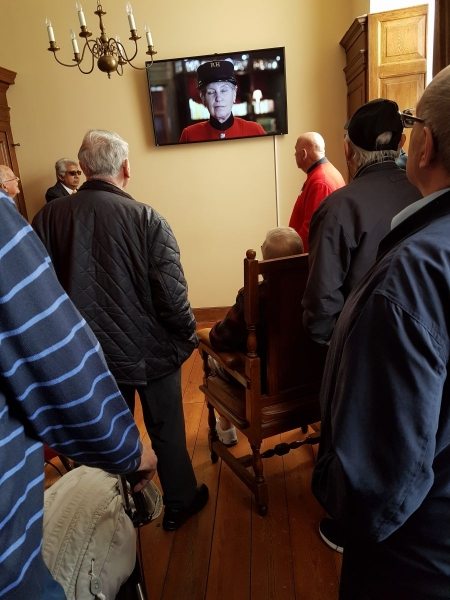 We then went in to the Chapel, which apparently was Margaret Thatcher's personal Chapel as she lived nearby, our guide said she was also a large benefactor from her own funds to the Royal Chelsea to the sum of donating a million pounds to help maintain/ renovate the estate.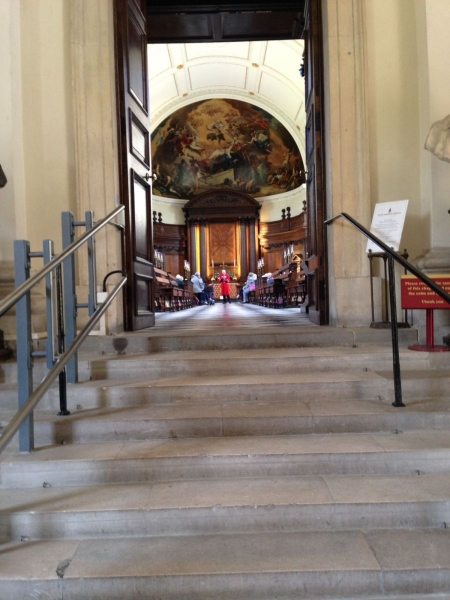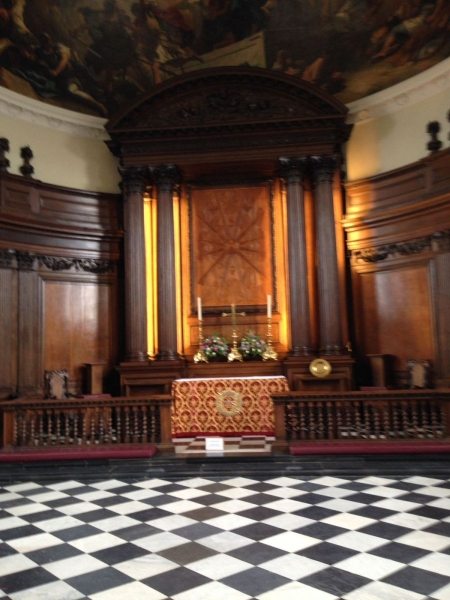 To get in to the Chapel you had to use some stairs, due to this there was a stairlift, which one of our members John Wiggett who has mobility problems could use. How it worked was that John sat on a wheelchair aided by one of the staff members, which then went up the short ride to the Chapel itself, the same applied when he came out of the Chapel and descended to the entrance.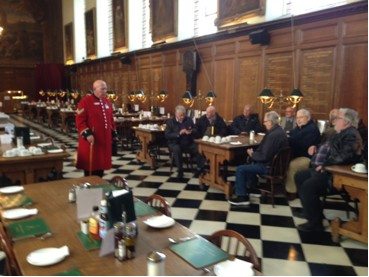 We then went in to the Great Hall where the Pensioners had their meals, and it highlighted all the battles that the British Army had been involved in, since the 1660s to the present day, this was a not inconsiderable list as you will appreciate! The battles where all shown on wooden panels which ran the length of the sizeable hall.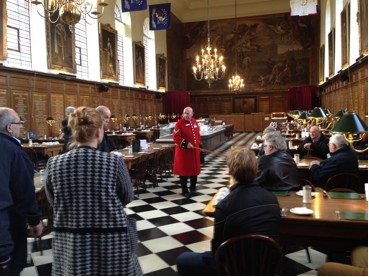 We also explored the grounds of the site where there were various statues and plaques highlighting the history of the British Army and the Royal Chelsea Hospital, which for reference is a charitable trust under Royal Governance, that Parliament has no say over at all, we were informed.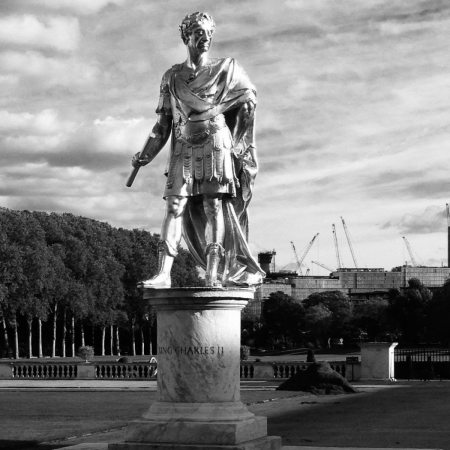 We then went in to the Museum which highlighted the history of the British Army and the subsequent Pensioners who resided in The Royal Chelsea Hospital.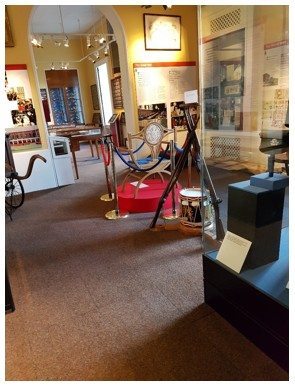 We also went in to the Souvenir Shop that was part of the same building as the Museum.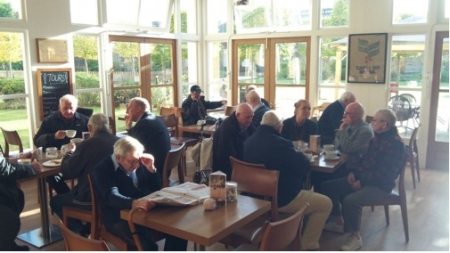 We finished our trip in the Café onsite, where we had some snacks and Coffee/ tea.
Our tour was around two and half hours, once we left the Café we boarded our mini bus and headed back towards East London, this time via the Embankment/ Tower Hill area, which meant we hit rush hour traffic and arrived back at Appian Court around 6pm.
It was a very informative and enjoyable day, our Chelsea Pensioner Tour Guide Dave Thomson, had been very very informative and witty on the tour and we all learnt a lot of information that I am sure that we had previously been unaware of.
I would personally recommend that everyone visits the Royal Chelsea Hospital. Please check out the photographs that I have included in this article, which were taken by 4 of The Geezers during the trip.
Also, check out their website www.chelsea-pensioners.org.uk.
Some of the Facts
It had been an excellent day, where the Tour Guide related numerous facts about the Hospital –
It was finished in 1692 although founded in 1682.
It had been designed and constructed by Sir Christopher Wren.
The Officer class could not just come directly in to become a resident from Sandhurst, etc they had to have served 12 years in the rank and file to be able to apply.
There was a specific dress code that related to where the Pensioners were, and their first redcoat was referred to as a Deadman's coat.
Women had not always been eligible to become Chelsea Pensioners
The age requirement is 65 years upwards.
The oldest person that had lived there Joe Gritt, I believe, our guide said one day he looked around the great hall and said 'look at this place it is full of old men!' whilst he himself was over 100!! He was still active until his passing at 103.
To gain acceptance the applicant had to have 4 interviews on separate visits – with a GP, Chaplain, Matron and Adjutant.
The Applicant had to have served in the British Army.
All the food etc that is consumed by the Chelsea Pensioners on the site is freshly made there.
Margaret and Dennis Thatcher were both buried in the grounds of Royal Chelsea.
There are 320 Chelsea Pensioners of which 40 are women, the average current age is 82 years old, some were sprightlier than others, with the average age on entry being 74 years of age.
Harold Wilson wanted to close the site and re-house the Pensioners in flats, this was stopped and he never gained any acceptance for anything that he actually did for The Royal Chelsea Hospital.
The original living quarters for each pensioner was 6ft x 6ft, that was later enlarged to 9ft x 6ft, the video that we saw of the present accommodation highlighted that the residences were now very habitable and far roomier as had been completely modernised.
The 320 pensioners for whom it is presently home is far less than it had when it was established.
© Barrie Stradling 2016