The Geezers along with artist Lucy Schofield will be delivering a Where's my Boozer Gone? session at St Augustine's Tower in Hackney, between 2.00  and 4.00 on Tuesday April 14th, as part of  Artcatchers latest exhibition 'I Dreamed I Saw Saint Augustine'.
They will be exchanging experiences about the rapid disappearance of the local pub in the area and its loss to the local community.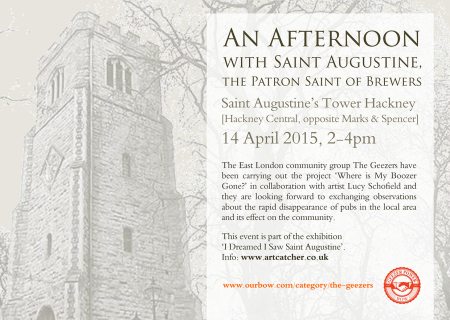 This follows their successful pub installation and WMBG? event at Artcatchers recent exhibition – 'Misbehaviour', at the Art Pavilion in Mile End.
'I Dreamed I Saw St Augustine'  is a mixed media group exhibition with work by artists from Britain, Europe and the US, responding to the life and work of St Augustine of Hippo, and the history and structural character of St Augustine's Tower, Hackney's oldest and deeply awe-inspiring building.
Click here for more information.