Who wouldn't want to visit a biscuit museum!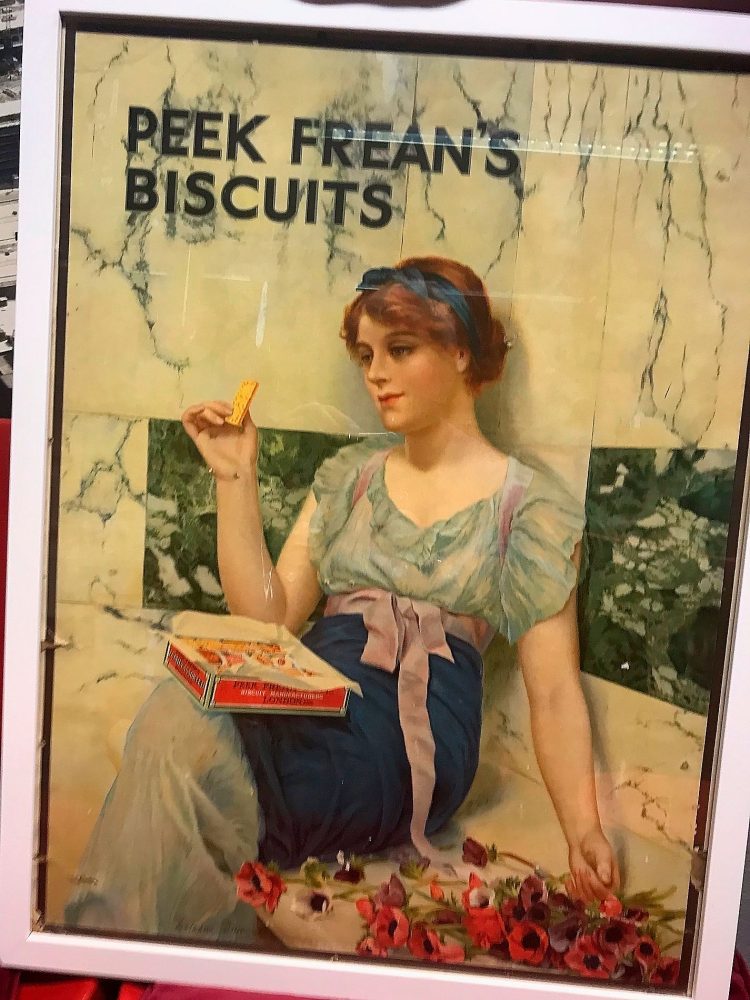 Geezers Chair Eddie Snooks, although an East London boy, has always remembered the sweet aroma of the Peek Frean biscuit factory in Bermondsey. His mum and dad worked there in the 1950's and when he found out that the Geezers would be able to visit the museum it really took the biscuit. (SORRY)
A short history of Peak Freans
Peek Brothers and Co. was founded as a tea import business in 1821. In 1857 James Peek's grown up sons said that they did not want to join the family tea importing business. He suggested that they started making biscuits. Soon after one son left to go to America, the other died aged 20. By chance one of Peek's nieces had married a ship's biscuit maker, George Frean. Peek, Frean & Co. Ltd was registered in 1857 and based half a mile south east of Tower Bridge. John Carr was brought in as the manager in 1860. The business took off like a rocket. In 1861 they started exporting biscuits to Australia. In 1870 they landed the sale of 470 tons of biscuits to the French Army for soldiers fighting in the Franco-Prussian war. These biscuits were hard "ship's biscuits" which were designed to survive long voyages without going off. They've been around for hundreds of years – long before mass produced canned food became available from the 1820s. They were dunked in stew/water/beer to soften them. When the siege of Paris ended in January 1871 the French government ordered 11 million sweet, soft "Pearl" biscuits to celebrate. These were enormous orders for a family run Bermondsey business.
In 1865 John Carr bought 10 acres of land nearby at Drummond Road, Bermondsey and exchanged it for a stake in the business. This became the site of the greatly expanded factory. It's where you'll find the Biscuit Museum today.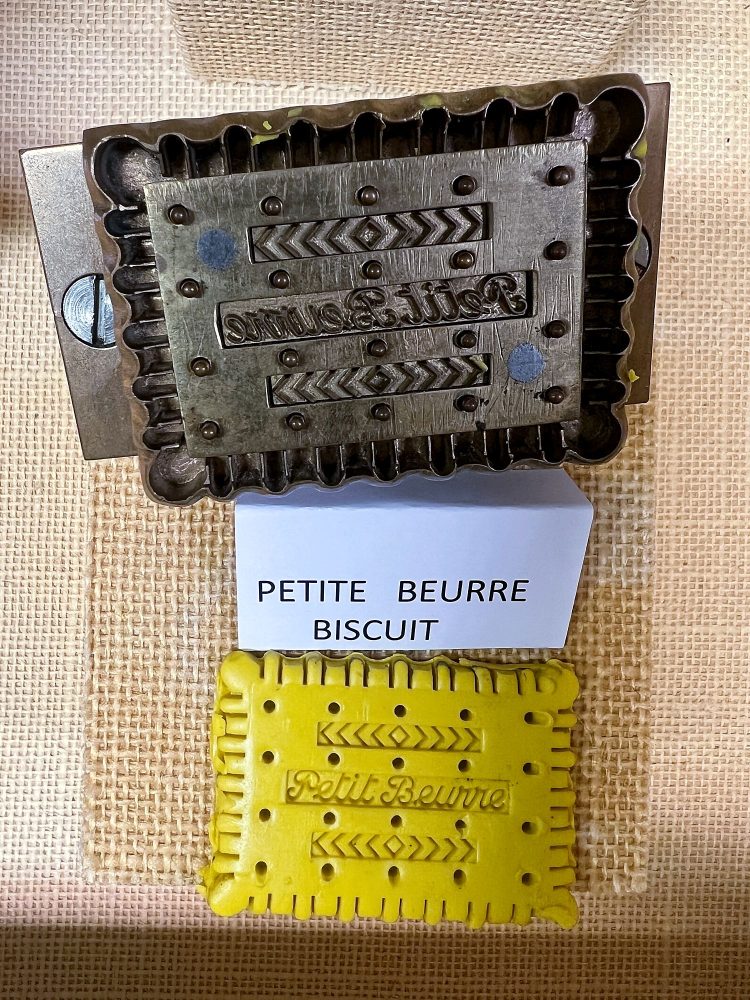 John Carr was an engineer and designed biscuit cutters. He invented the Garibaldi biscuit in 1861. It consisted of a layer of currents squashed between two layers of oblong perforated biscuit dough.
Peek Freans went on to manufacture hundreds of different types of sweet biscuits including the custard cream, and a chocolate coated biscuit. They'd become luxury items sold in exquisite tins. They started making Christmas pudding in 1887.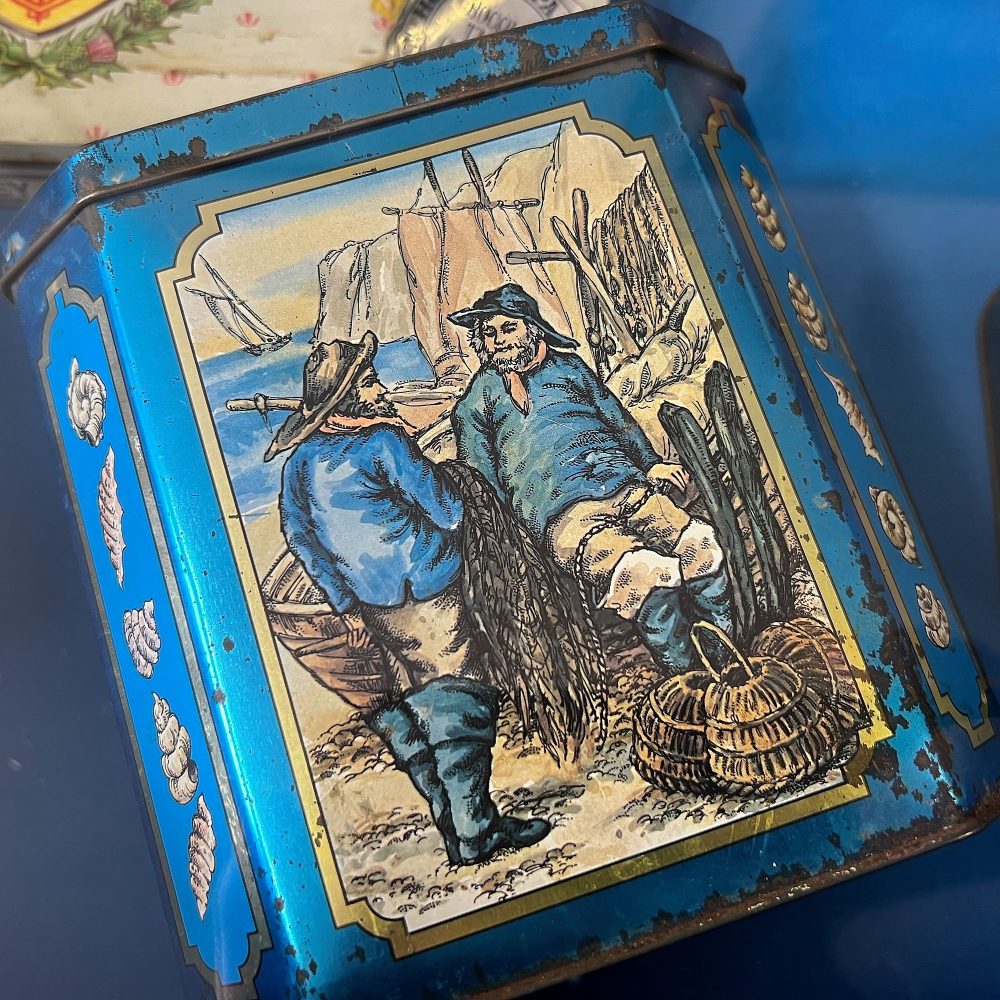 After over 60 years of mergers (1921 with Huntley & Palmers) and takeovers (1982 Nabisco) Peek Freans was ultimately owned by Kohlberg Kravis Roberts & Co (KKR), a New York based investment company. The factory in Bermondsey closed in 1989, but the brand lives on. I believe Peek Frean factories in Canada and Pakistan are still producing biscuits.
The Geezers visit the Biscuit Museum
We were met outside the gate by local historian Gary Magold. Gary told us that the railway viaduct we were walking alongside was built for the London Bridge to Greenwich Railway which opened in 1936. It first started running from Spa Road Station ⅓ of a mile from the Biscuit Museum, which was London's first railway terminus.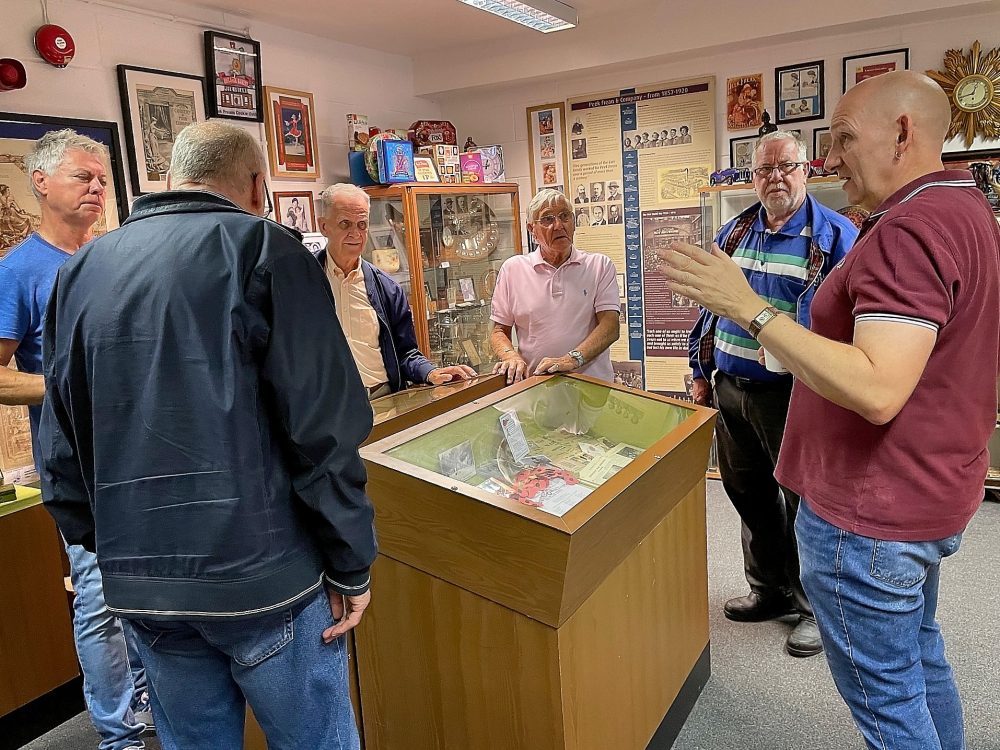 Once inside we found ourselves surrounded by cases of biscuit moulds, advertising and biscuit tins. The walls of the museum are adorned with long service certificates and various awards given to staff. Rows of chairs had been set out in the centre for an introductory talk.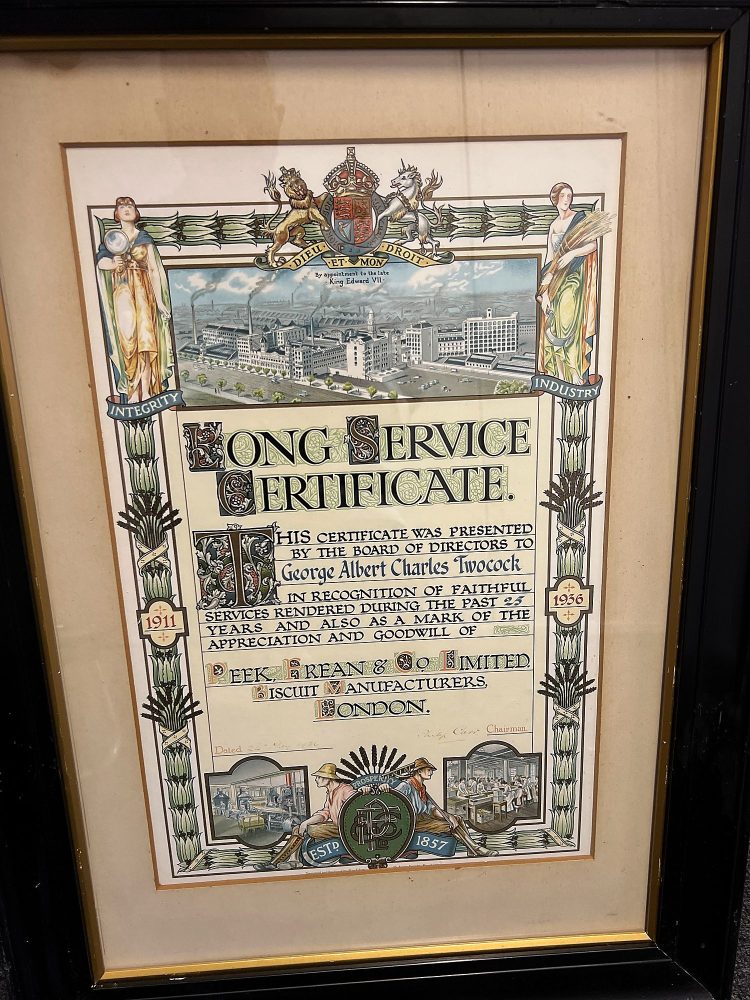 Gary told us that he was born in Bermondsey, and walked past Peek Freans on his way to school. He was fascinated by it and watched all the lorries going in and out. His grandparents had a flat opposite the factory, and he said everybody knew somebody who worked there.
When the factory closed he thought that you couldn't have another bit of Bermondsey just disappearing as though it had never existed. He, other locals, along with people who had worked there set about collecting what artefacts they could. The company gave them a bequest.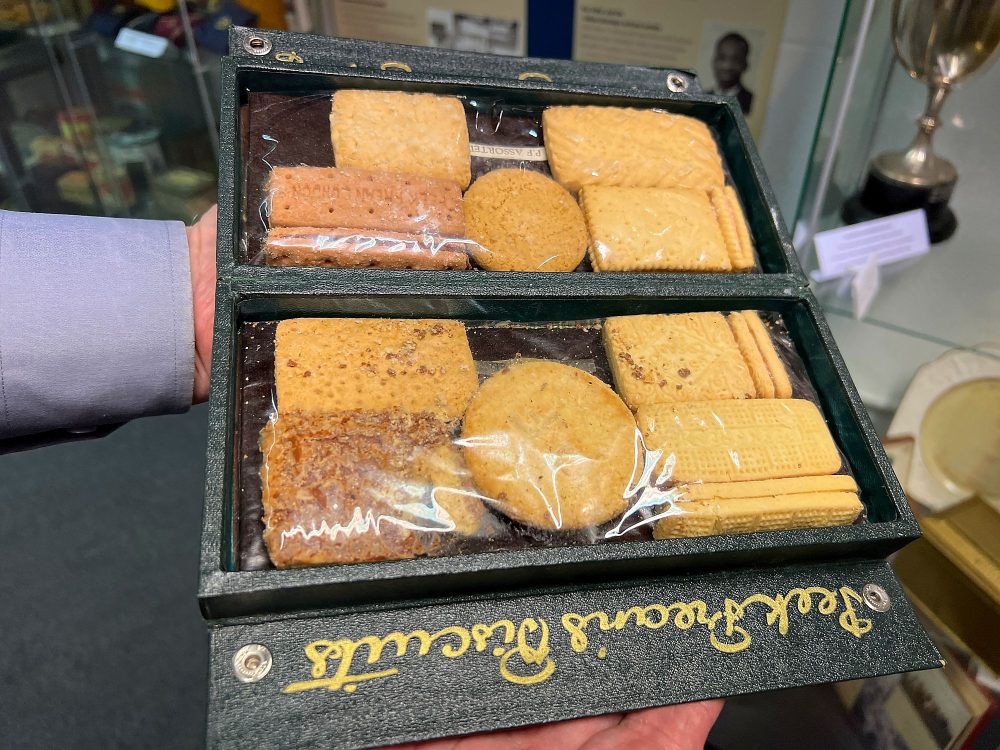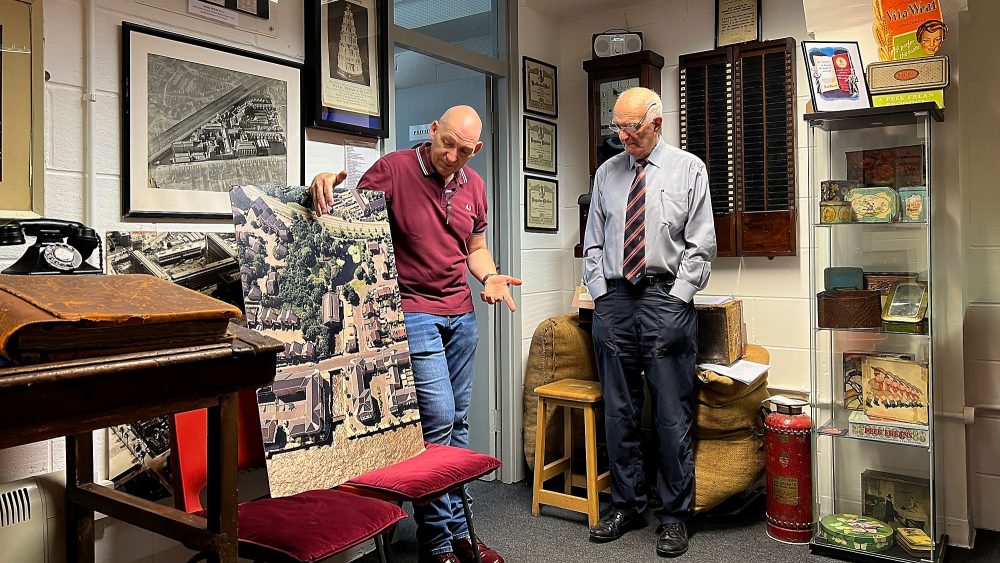 Gary introduced Frank Turner, who he described as his living exhibit. Frank had started work at the factory as a police officer in 1960 after he'd come out of the Royal Air Force. He soon transferred to the company fire department, eventually becoming its chief officer.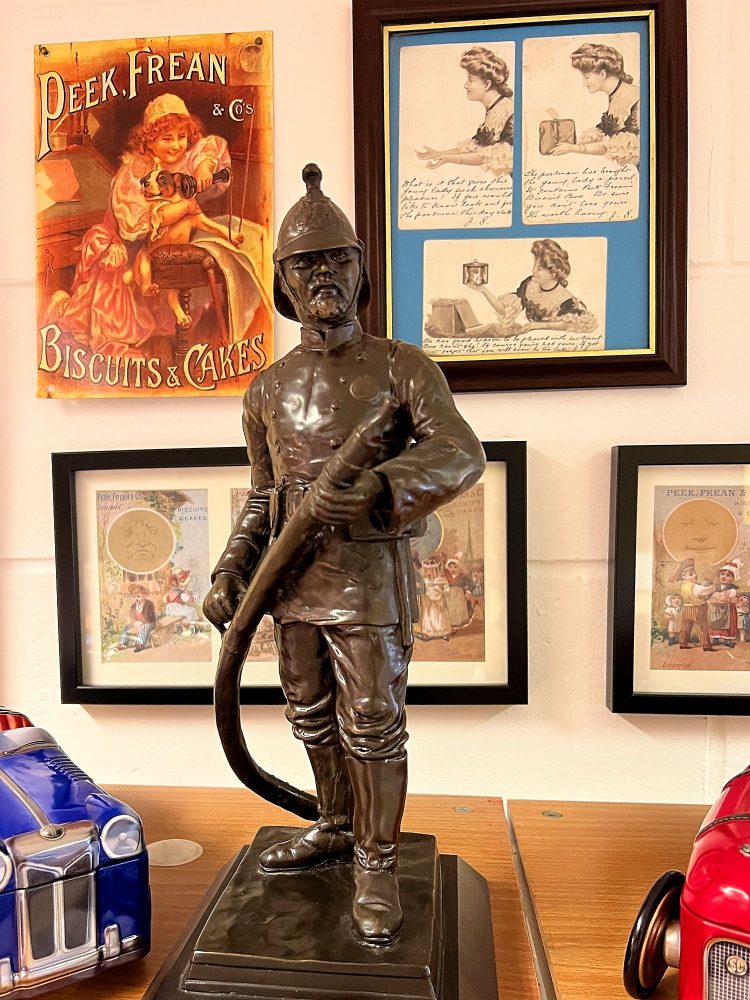 Baking biscuits required a lot of coal fires. Frank explained that the factory buildings were too close together to be able to get a fire engine into the site. Instead they had rooftop tanks containing a total of 90,000 gallons of water, fire hydrants dotted about the place, plus high pressure water mains.
He said that in both jobs, unlike most people who worked there, he had access to all areas of the factory. A useful background for somebody setting up the museum. Frank, like Gary, has been a key player in preserving the company's history. He'd worked there for almost 30 years.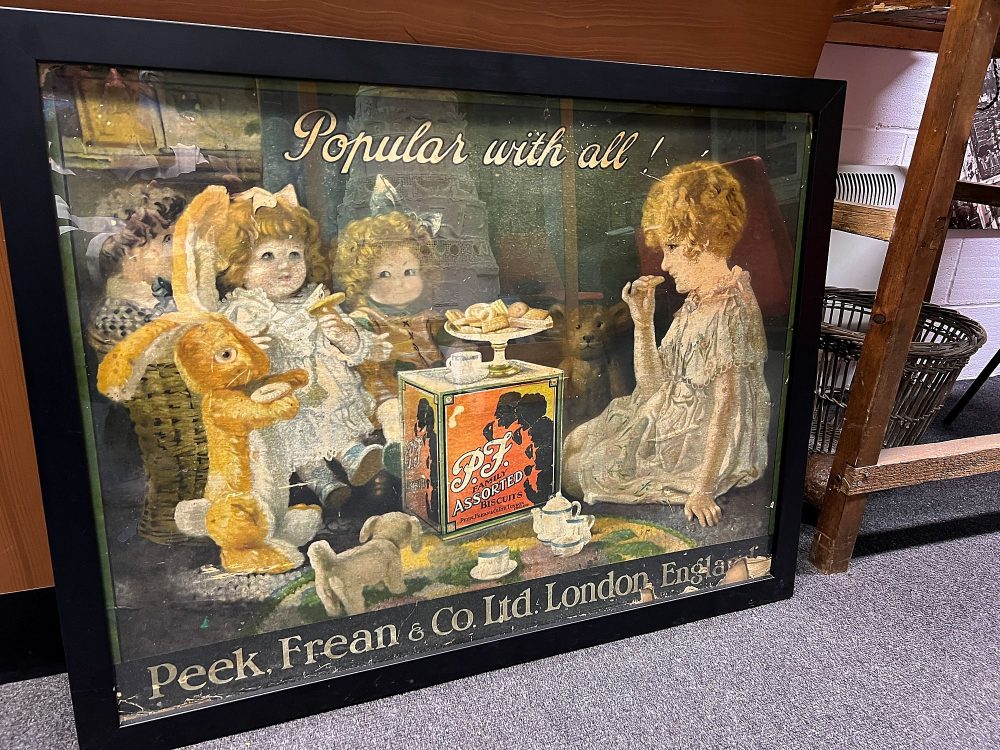 They first set up a small display on Peek Freans in the Pumphouse Museum in Rotherhithe. A Lottery grant in 2004 greatly expanded the section with interpretation panels and display cases. The Pumphouse Museum was forced to close in 2010 when the Council withdrew funding.
Gary Magold and Frank Turner managed to save the assembled history of Peek Freans and Workspace generously offered the use of a three-room unit on the Biscuit Factory site. They've since been expanding the collection through donations and buying stuff on eBay.
In their talk to the Geezers Frank said that Peek Freans had its own doctor in 1889 and later a dentist. The athletics and dramatics society were both formed in 1908. Its first cricket team dated from 1868. Obviously, they had a football team. From 1934 they had a women's cricket team. Frank played hockey for Peak Frean across many years, including several away matches in Holland. These were serious teams in their own right – not just works teams.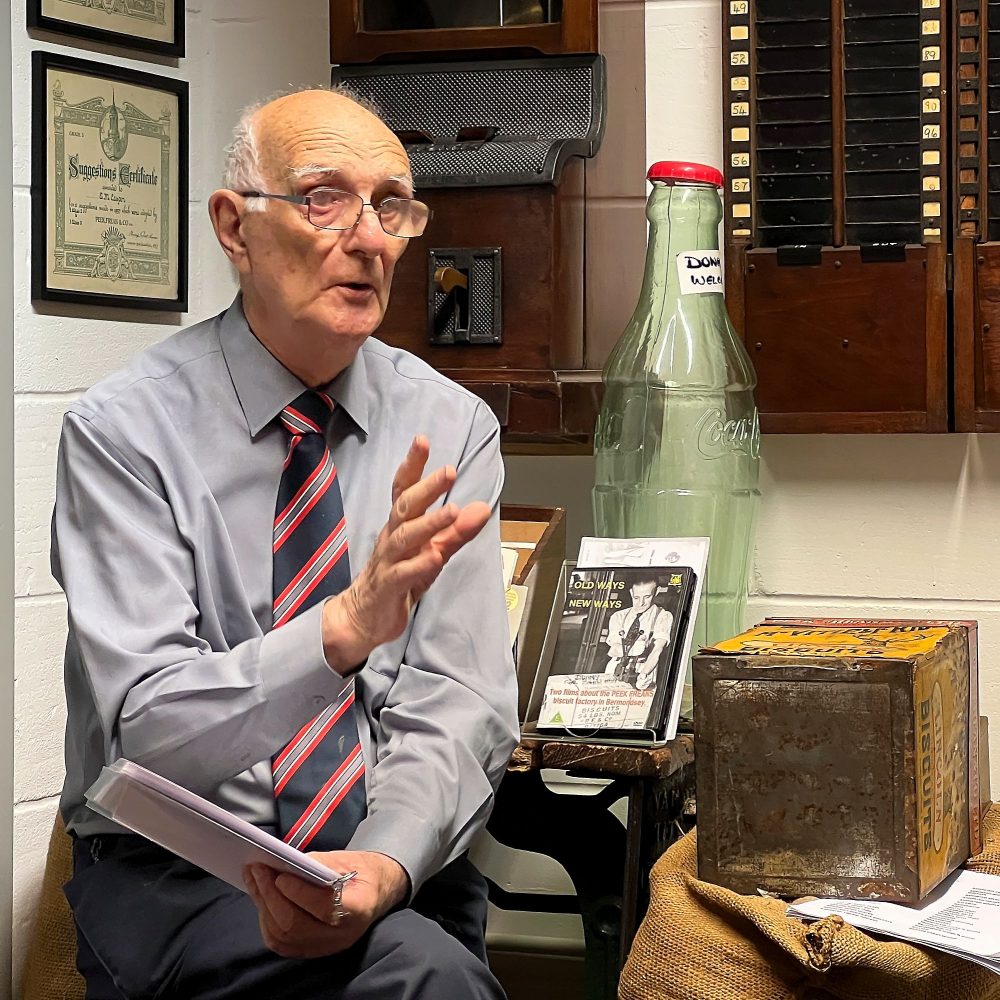 Gary and Frank could answer questions on any aspect of the company. They really know their stuff.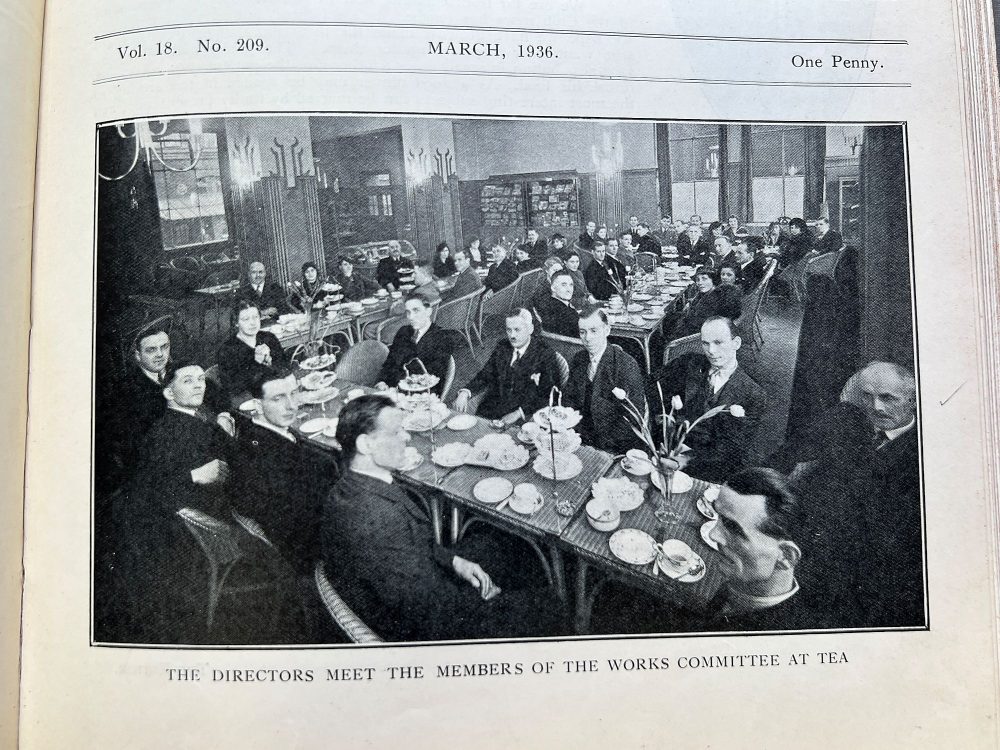 Given that this seemed like quite an enlightened company I asked if the company was founded by Quakers. Gary said he thought that it was the Quaker background of the owners that made the factory such an excellent place to work with its fantastic sense of responsibility for the social and physical needs of its workers.
Gary said that Peek Freans was the first factory in London to be supplied by electricity. I later read that in 1891 the London Electric Supply Corporation opened Deptford Power Station supplying the UK's first AC power. Their cables ran alongside the railway, so this would make sense.
After the talk we looked around the museum. I asked Frank questions about the tins and he pointed out one of a toy castle.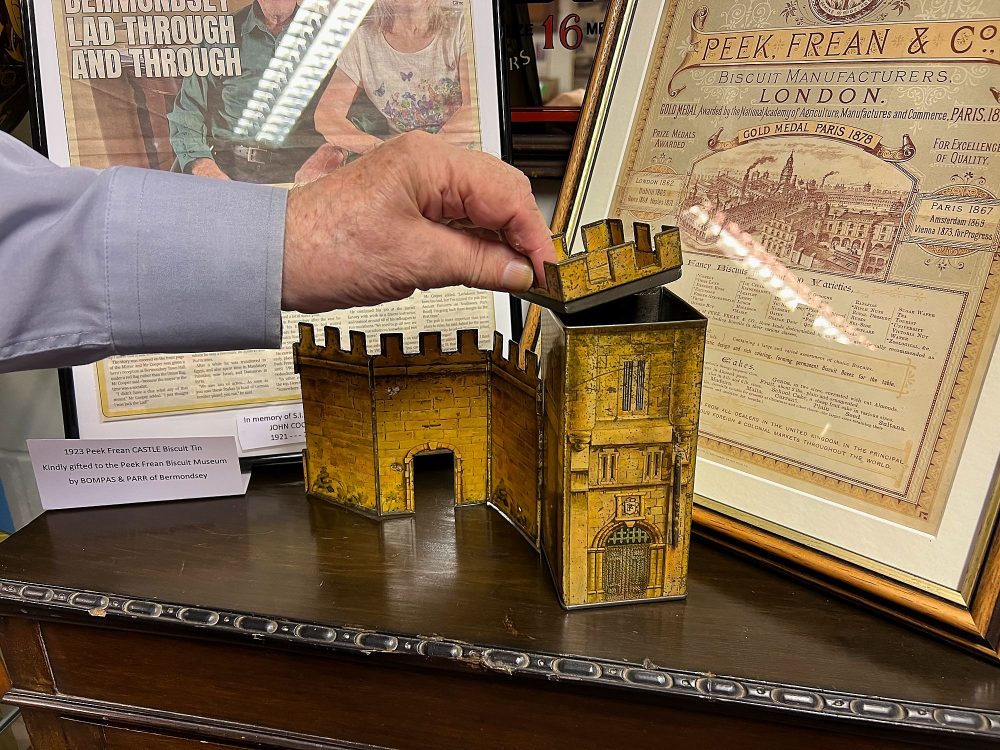 Then Frank took me into the office and pulled out the book below.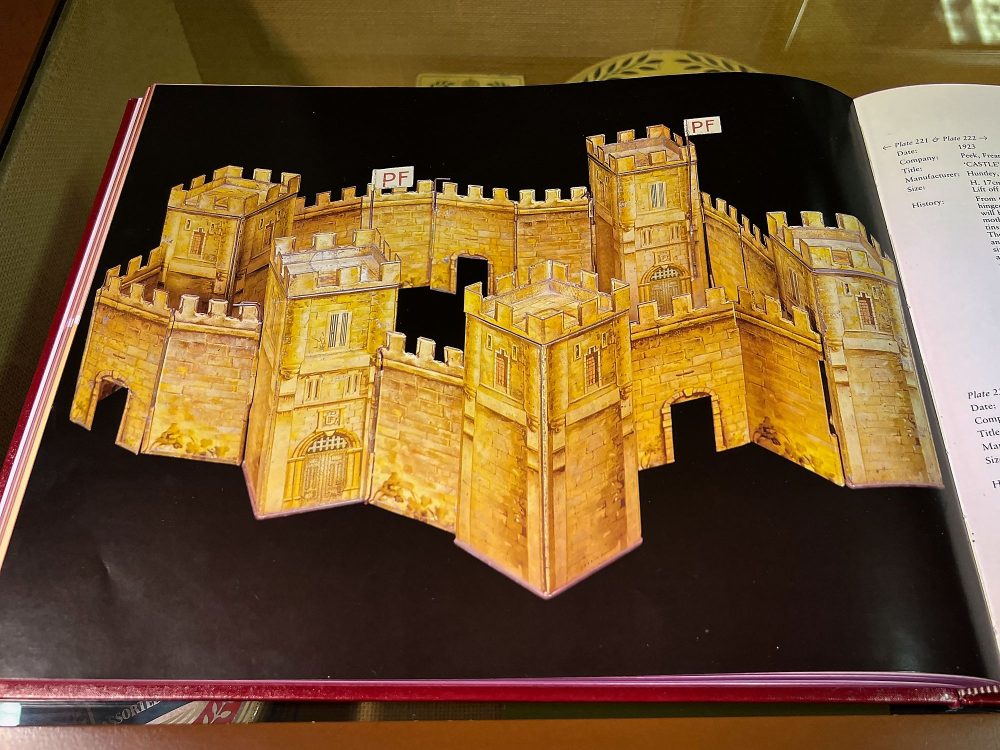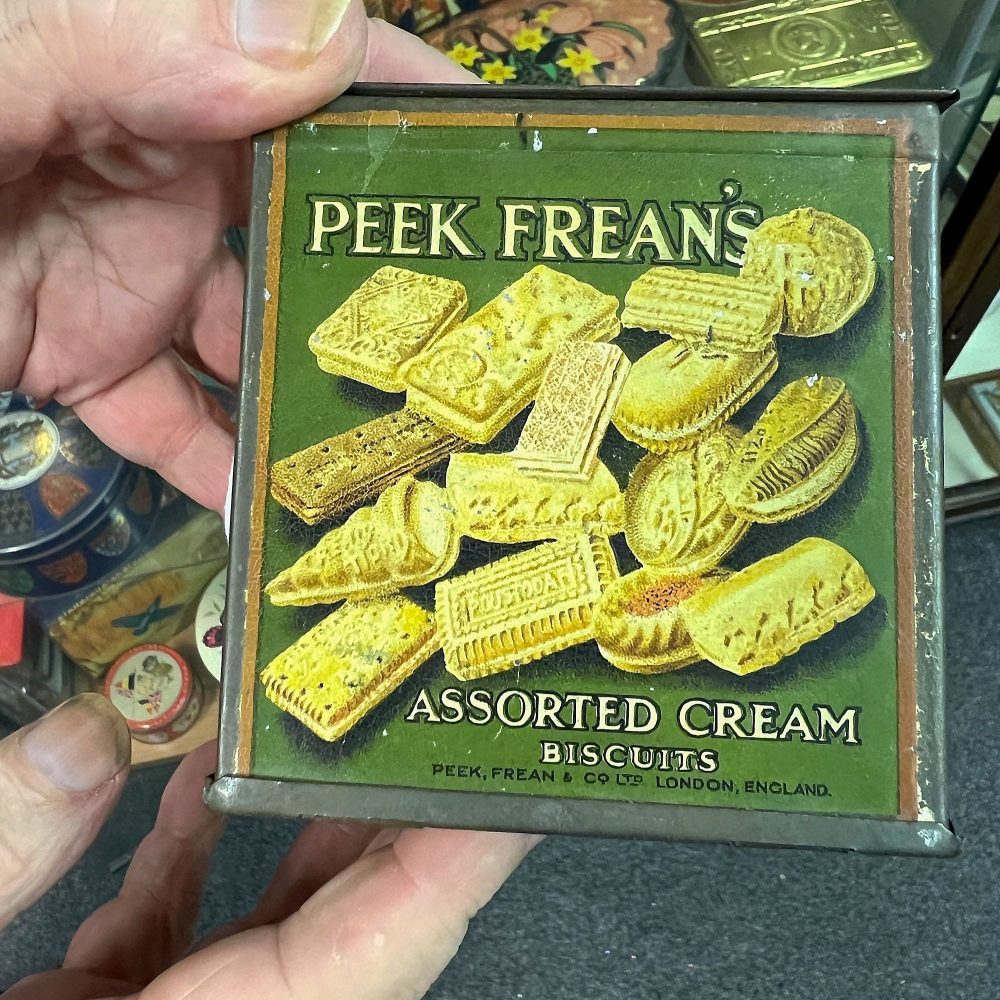 I asked Frank if they had any photos of the manufacturing process. Yes, were photo albums of them in the office cupboard.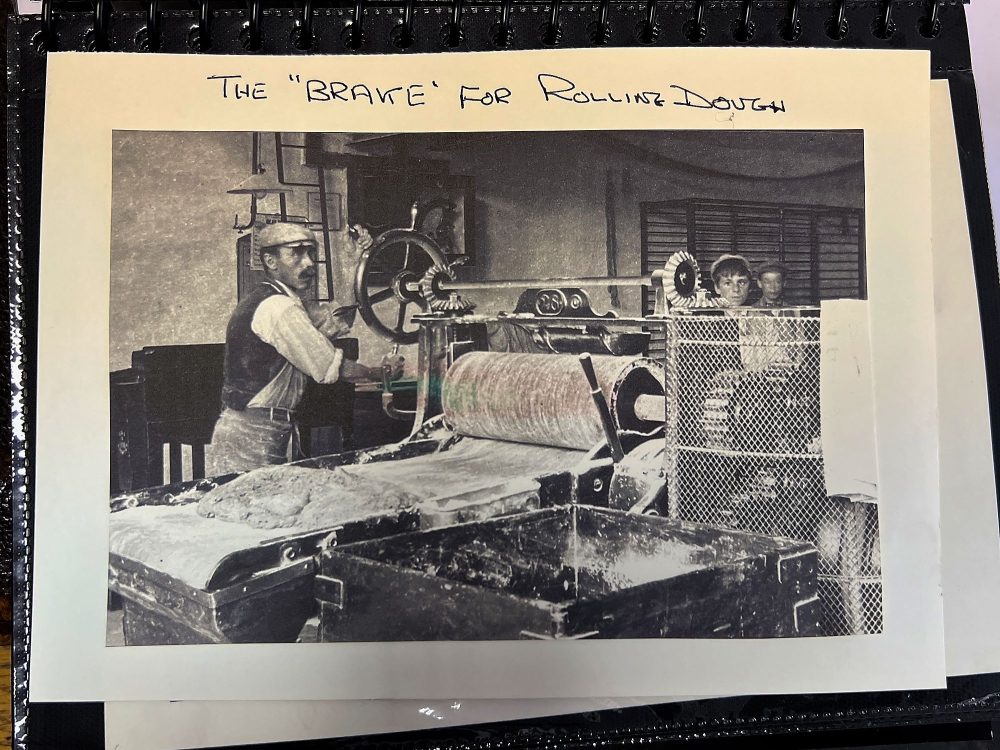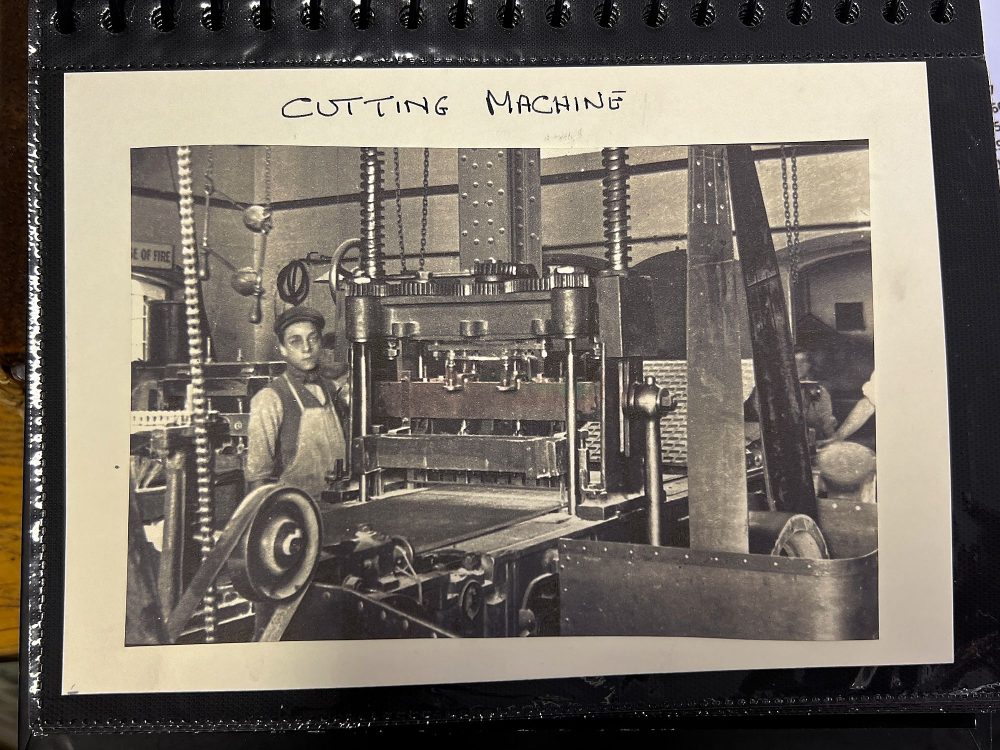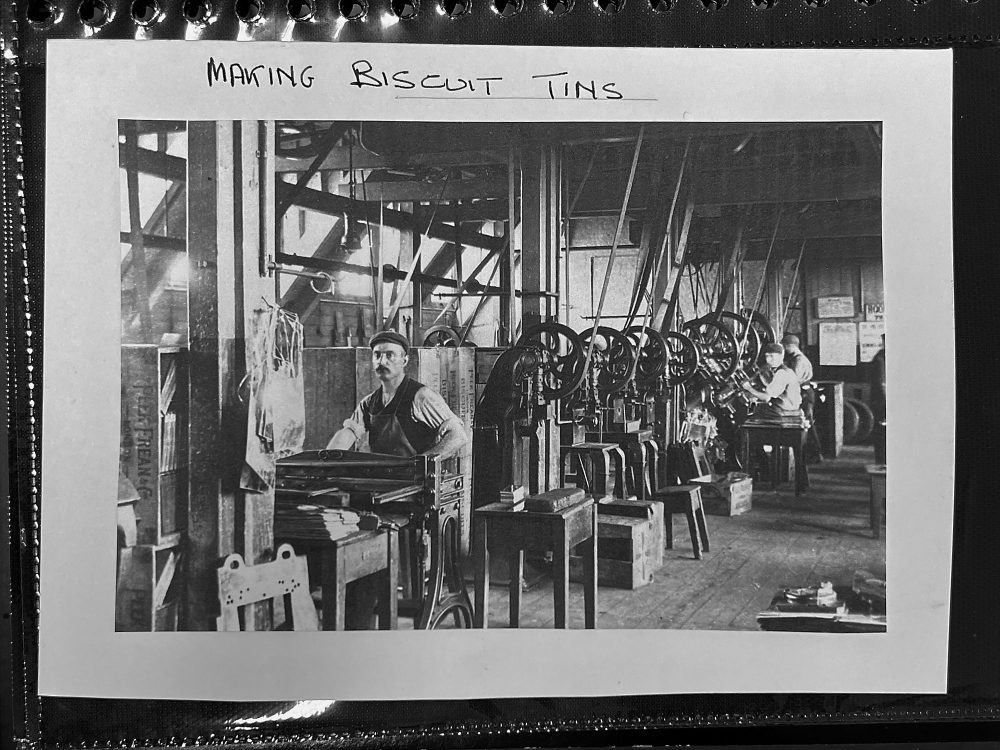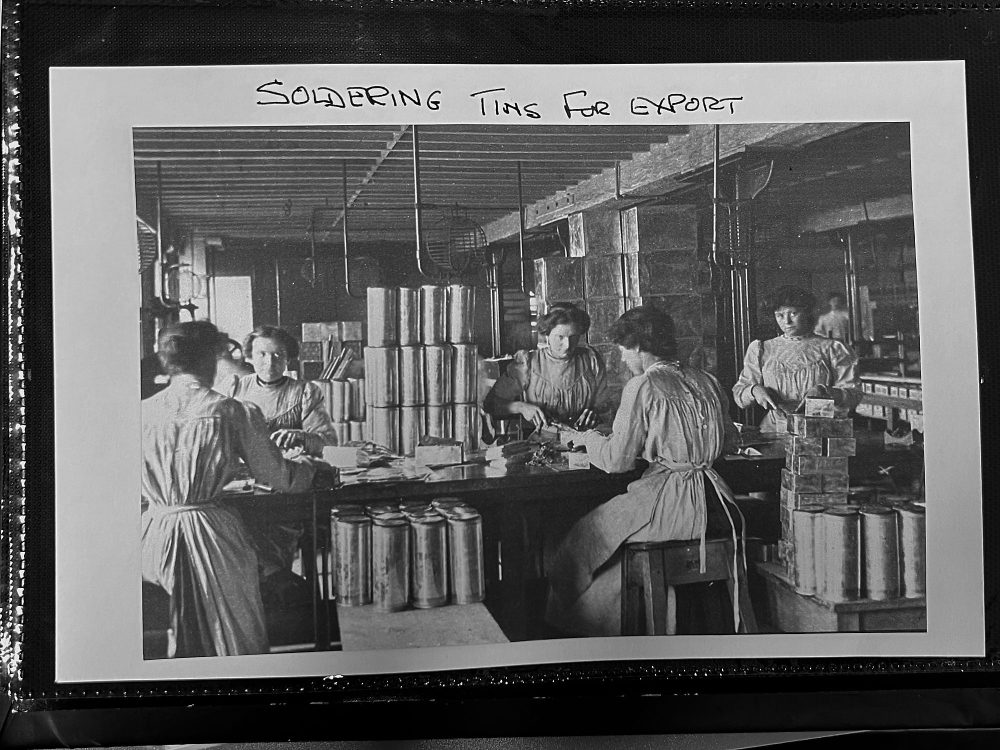 This is a fascinating museum, I can thoroughly recommend a visit. Entry is free but by appointment. It's about 8 mins walk from Bermondsey Station and 15 from Canada Water.
Peek Freans Biscuit Museum is at 100 Drummond Rd, London, SE16 4DG. It's open by appointment only – email here.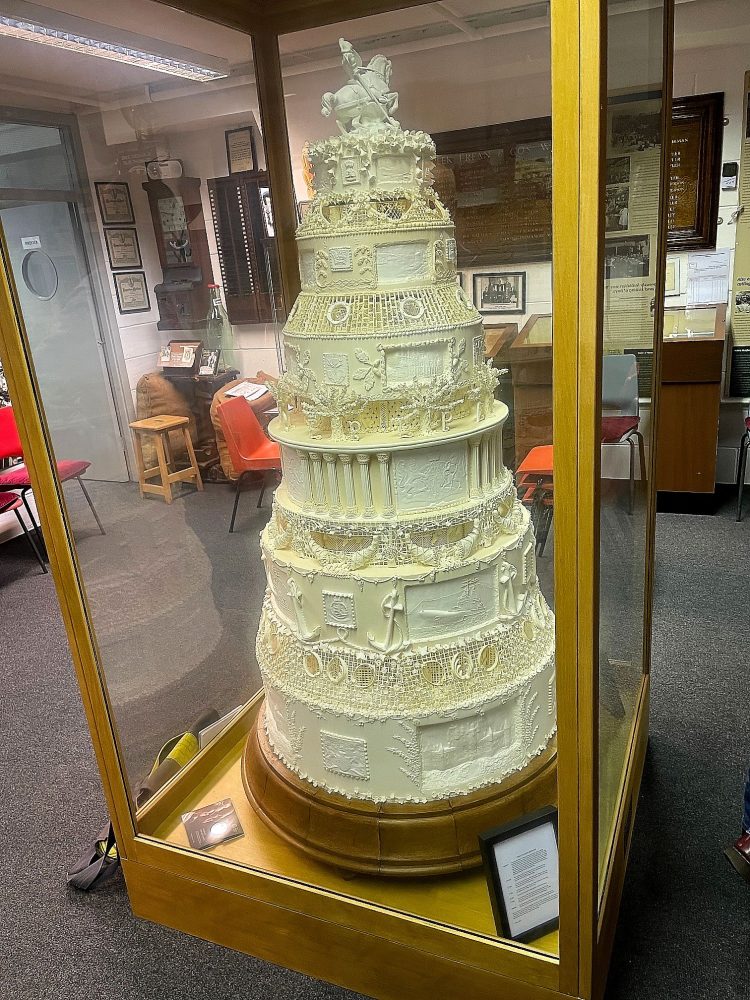 The Pub Crawl
After we left the museum we walked up to the Thames Path where we discovered a set of bronze sculptures known as Dr Salter's Daydream.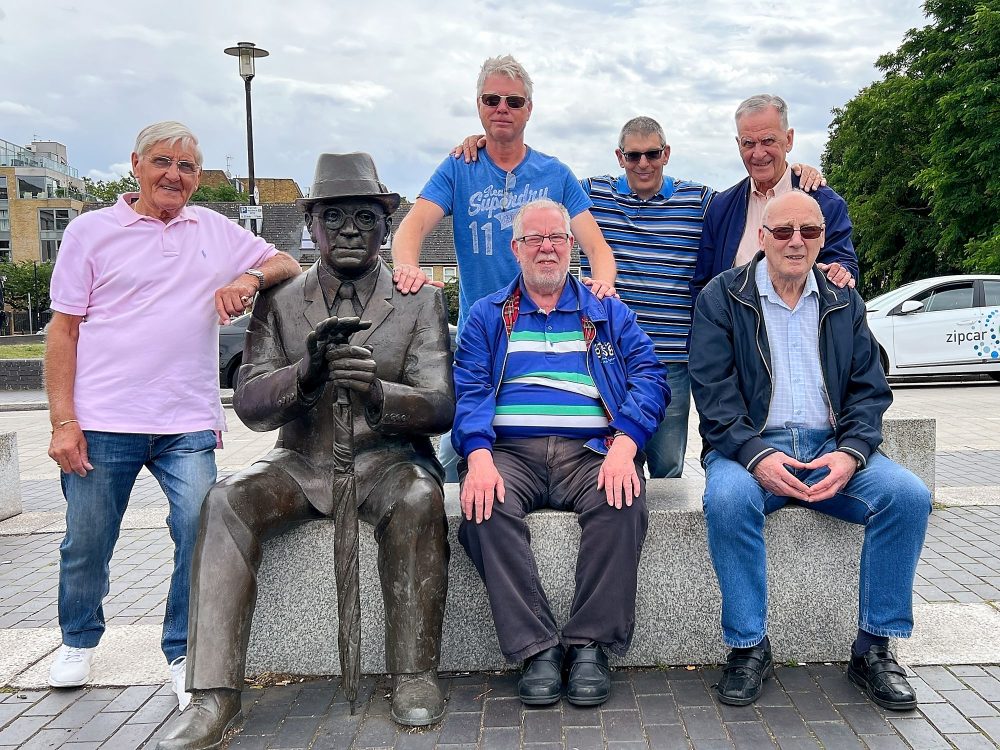 Dr Alfred Salter qualified as a doctor in 1896 and moved with his new wife, Ada, in 1900 to deliberately set up a medical practice in Bermondsey, a very deprived part of London. He offered free medical services to those who couldn't pay. Both he and his wife became active in local politics to try to improve the awful conditions local people lived in. From 1924 – 1945 he was the Labour MP for Bermondsey West.
The sculptures, by Diane Gorvin, were commissioned by the LDDC.
The Angel
Our first Thames-side pub that we came to was the Angel.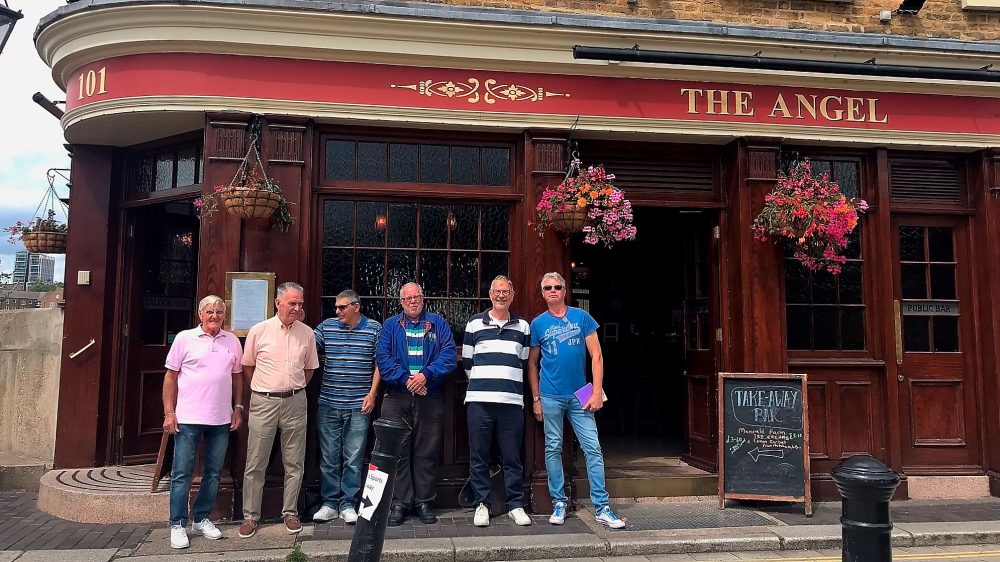 Eddie Snooks said: "In the words of a famous South London boy – did you Know that the Mayflower, the ship that took the Pilgrim Fathers to the new world sailed from Rotherhithe in 1620 on the first stage of its epic voyage?"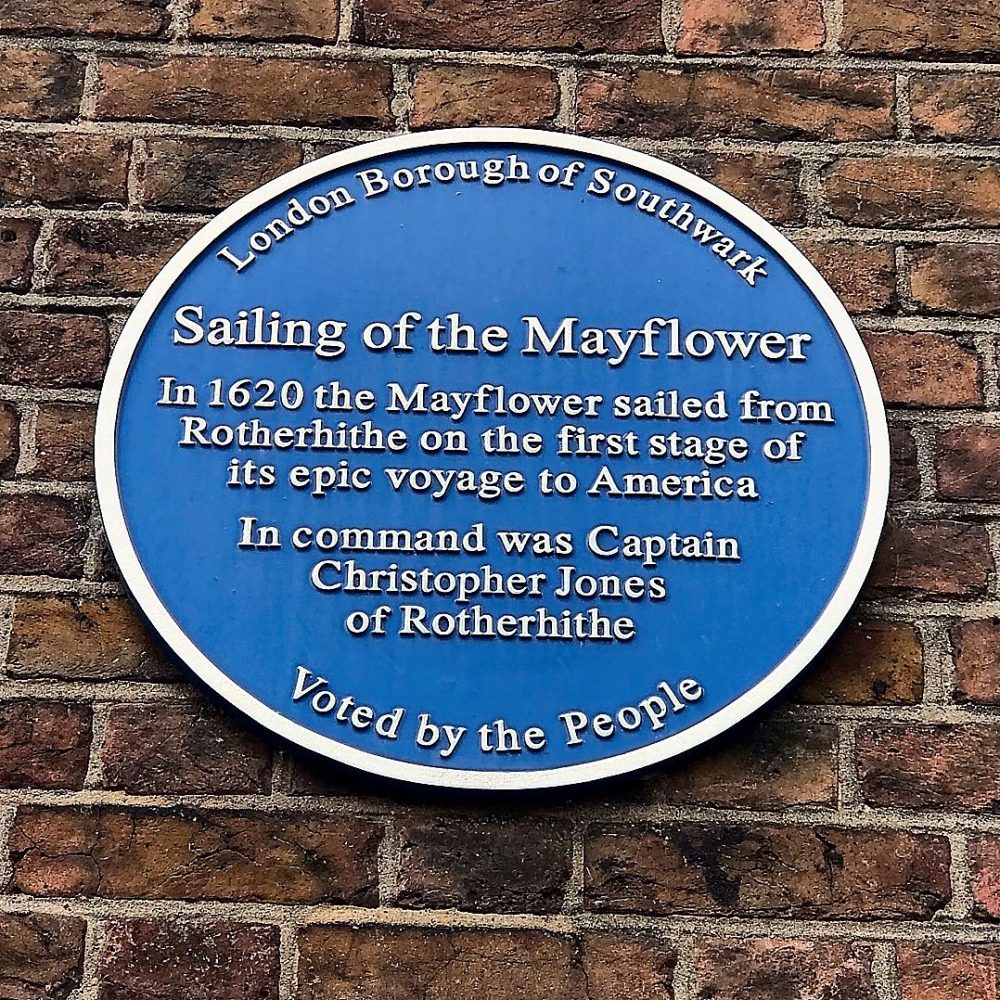 The Pilgrims chose to separate themselves from the Church of England. After an awful 10 weeks at sea, 130 people in the Mayflower, a 90 foot long somewhat secondhand cargo boat, reached what is now called the USA.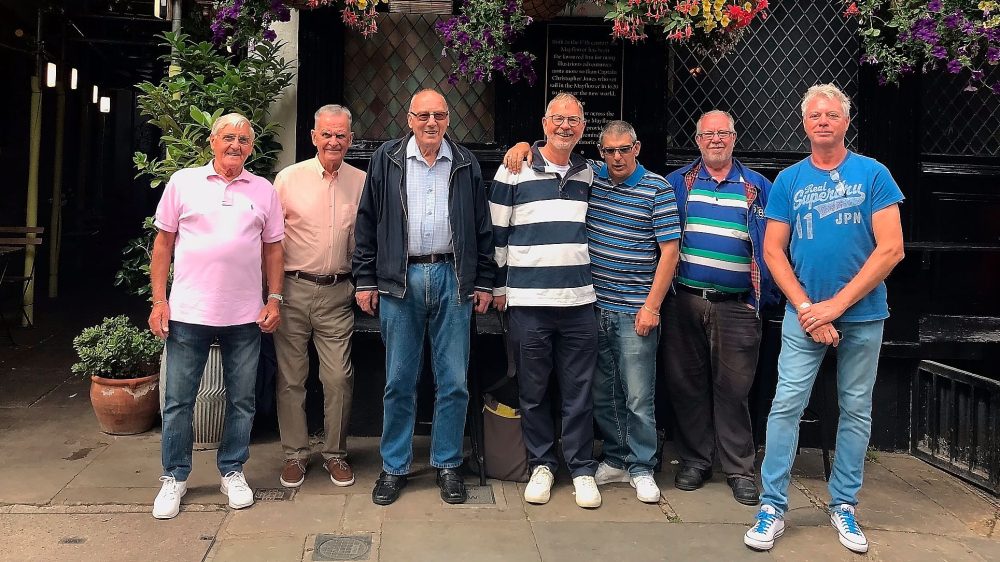 Eddie said: "To celebrate this fact that not a lot of people know, the Geezers popped into the delightful Mayflower pub where we watched a Thames barge sail go past."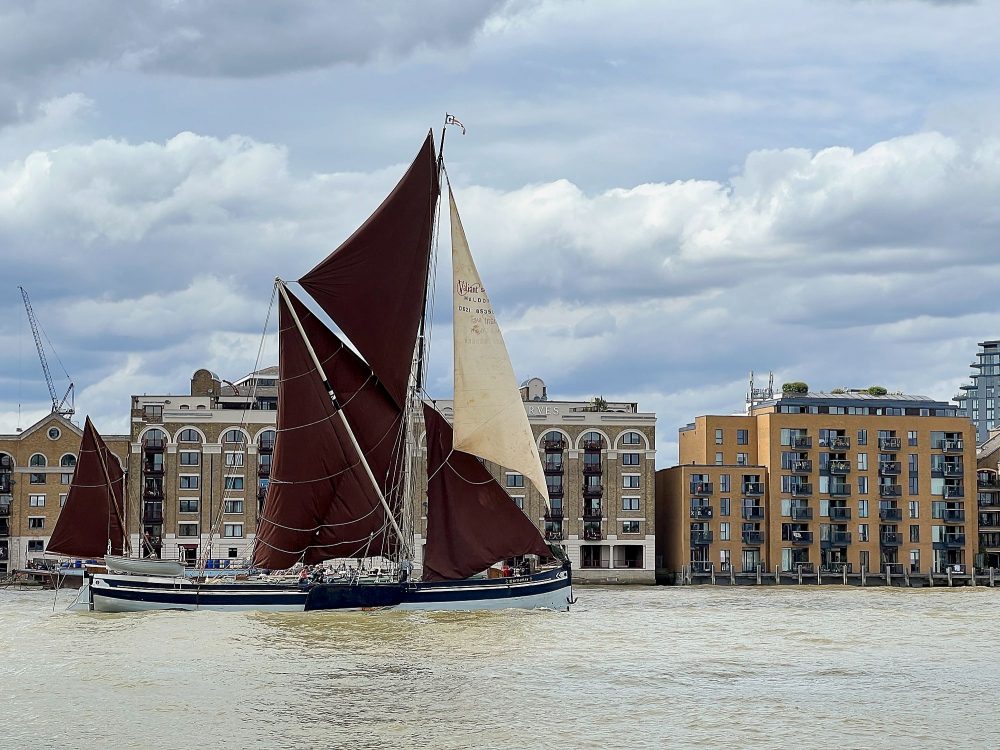 "St Mary's church is opposite the pub and tucked away in the graveyard you will find the tomb of Prince Lee Boo 1764-1784 whose sad story is really worth a read.
"The Final stop on our South London odyssey took us to The Ship a lovely pub for locals, that had a nice crowd of people in it playing cards. Despite its name The Ship isn't on the river but inland and the Geezers thought it was just how a pub should be."
---
If you know of any elderly men who live in or near Bow, London, E3 who might benefit from joining the Geezers Club please make contact through this website. We have space for some new members.