All families on Circle Housing's estates across London including those around Bow and Victoria Park are invited to a meeting at Islington Town Hall on April 25.  Meeting starts at 7pm.   Tenants are angry at their London social landlords' "unaccountability" and are trying to  stop a merger with housing organisations around the country which would end all local management.
Cllr Marc Francis quit Old Ford's management board in February in protest at the merger which he discovered would mean the local housing association being wound up.
See our report here.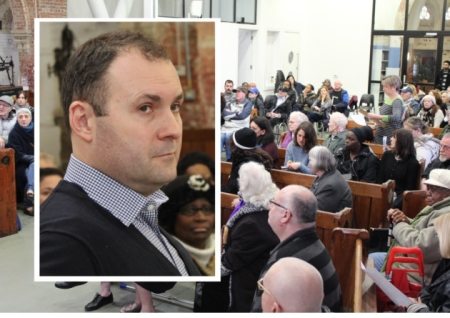 Marc said: "Putting former council housing under ever-bigger organisations has failed after 10 years.
"The Housing Regulator was forced to step in last year and downgrade Circle Housing because it failed to look after its residents.
"The planned merger means closing local housing offices like Parnell Road—the nearest to the East End would be in Kent!"
Tenants have started a petition calling for a debate in Parliament to try and stop Circle Housing's planned merger that effectively closes down local housing associations it controls such as Old Ford Housing in London's East End and shutting neighbourhood housing offices.
It follows a meeting last month when Old Ford tenants and Tower Hamlets councillor Marc Francis called for housing associations to be able to opt back under local authority control where social landlords were failing.
"You'll witness the extend of dissatisfaction and misery caused by Circle's unaccountability, which we hope to stop," one organiser said. "We're providing help with tenants' rights over maintenance and repairs, complaints and compensation."
The petition calls for Parliament to bar Circle's planned merger in June with Affinity Sutton, which would create Europe's largest social housing group managing 500,000 properties up and down the country—replacing local management such as Old Ford Housing.
Circle gave an assurance in 2015 to make sure maintenance failures would not recur, after dumping its contractor which had been heavily criticised over gas repairs. It had "acknowledged problems" after launching a recovery programme and was "committed to local scrutiny and local panels", it said.
Circle's merger with organisations in the South East and Midlands is to cut costs, it stressed, because of £50m in government rent supplement being taken away.
But critics planning the meeting on April 25 insist there is already "growing dissatisfaction by tenants and the public in general" about the direction the organisation is heading. The meeting at Islington Town Hall in Upper Street, near the Angel, starts at 7pm.