Walk East are recruiting participants for a free ten-week 'First Steps in Photography' course. The course is open to women living in Tower Hamlets who are currently unemployed or working part-time (up to 16 hours per week).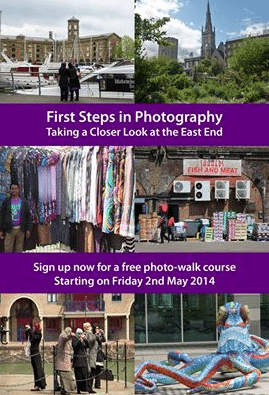 The course offers step-by-step photography tuition over a series of photo-walks around Shadwell, Whitechapel, St Katharine's Docks, Spitalfields and the surrounding areas. Participants work together to create a group photo-book, as well as building up their own photo portfolio to use online and for their own personal set of photo-cards.
No previous experience of digital photography is required, just a willingness to attend all of the sessions and engage with the project. The tuition is pitched at beginner level, though more experienced photographers will still get something out of it. Participants on previous courses have also enjoyed the opportunity to explore the neighbourhood, discover new places and meet other local women.
To flick through the group photo-book and the online gallery created by last year's participants please click on the links below:
(click on the blue 'Preview' tab and allow about 5 seconds for it to load)
The course runs on ten Fridays, starting on Friday 2nd May 2014, with sessions running from 10am-1pm. Help with childcare, travel costs and a Bengali interpreter are available upon request.
Anyone interested in applying should email or call Graham Barker as soon as possible with their contact details. Based on past experience, these courses can fill up pretty quickly. Please also feel free to get in touch with Graham if you need any further information.