Many of you will have noticed work going on on the old St Clements's Hospital Site at Mile End  (Venue for the Danny Boyle's first  Shuffle Festival in 2013).
New low cost housing is under-construction.  And for once the word affordable means what it says, as cost will be based on local average wages.  The scheme has just won two prizes.  Congratulations to the East London Land Trust.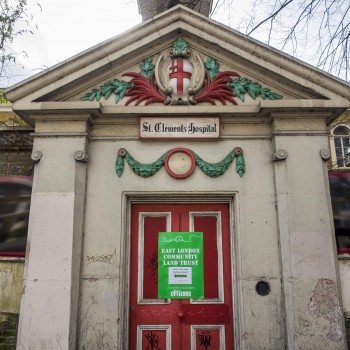 Here is how it was reported in the East London Advertiser.
Britain's first urban land trust project now under construction in London's East End has won two prestigious awards.
The former St Clement's Hospital site in the Mile End Road being developed by the East London Land Trust received 'Provider of the Year' and 'Best Scheme in Planning' titles at the National Housing awards.
The trust, a non-profit membership organisation, was born out of a campaign by Citizens UK's Whitechapel HQ to meet a need for low cost housing protected from the over-heated London property market.
Cost of the homes are determined by the trust based on average local wages. Prices are linked to earning, not the market rates, so remain permanently affordable.
Ownership of the land is held by the trust which sells just the property to home-buyers, which is then sold back to the trust if they later want to move away.
"The places we live should be affordable and their design should be driven by local people," the land trust's Andy Schofield said. "We hope to repeat the success of this scheme in other locations such as parts of the Olympic Park housing developments where we are actively campaigning for a community land trust to be included."
The St Clement's site at Mile End, originally the 19th century Victorian Bow Workhouse, includes an historic Grade II-listed building that is being restored for community use.
It is earmarked for 252 homes, including 23 for the land trust and 58 social rented properties for Peabody Housing.
The trust has been in partnership with Galliford Try Linden Homes and the GLA since 2012, as part of the Mayor of London's original manifesto to create more low-cost housing.
CitizensUK are pioneers in in developing community organising in the UK and have already notched up a number of success in building power from the bottom up and holding the-powers-that-be to account.
Check out what they do their successes on their website here.  It all started out in East London at a meeting in York Hall in 1996.