London's mayor, Sadiq Khan, announced last Friday that he plans to extend London's ultra low emissions zone on our side of town to include Enfield, Ilford, Romford, Bexleyheath and Croydon.
Owners of older cars would have to pay a £12.50 a day charge to drive inside the Greater London Boundary which covers 609 square miles (see map). The charge would apply to petrol cars manufactured before 2005 and diesel cars from before 2015. Check your numberplate here.
If the plan gets approved it would start in 2023.
The air pollution in London is dramatically reduced from when I was a child. Is this really about air quality, raising cash, or a job creation scheme. The Transport for London website says: "TfL don't make a profit and we are committed to reducing our costs. Any money received from the ULEZ will be reinvested into improving the transport network, including cycleways, buses and Tube…" They could start by installing lifts at Mile End and Bow Road underground stations.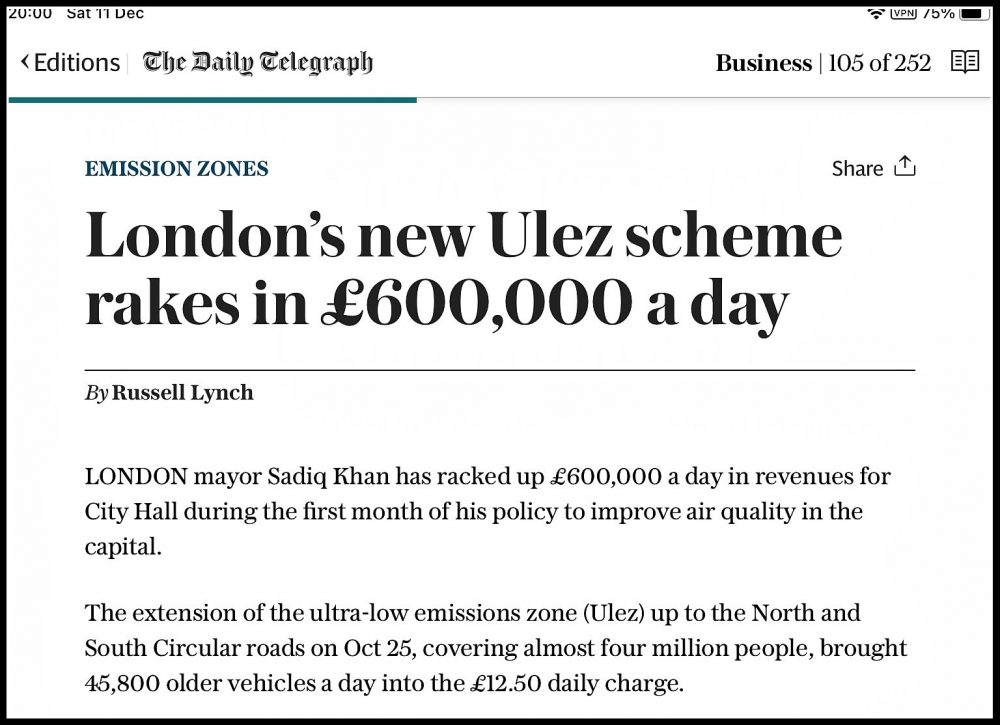 TFL spent £130m on installing extra cameras to expand the scheme out to the North and South Circulars. They'll need more people to administer the system and to issue those lovely £160 fines. So although TFL say they don't make a profit, there'll be plenty of jobs created.
The most polluting vehicles will wear out and be taken out of service in a few years anyway. Only 8% of vehicles inside the current outer zone have to pay the ULEZ charge.
Unlike most parts of the UK London's transport system is very good. People are driving cars out of necessity. Here's a comment from underneath an article in The Times: "Good luck carrying 100Kg of tools on public transport."
Alan Tucker