Caribbean Cooking Masterclass, Sat 6th April, Westfield
Discover Caribbean cuisine with the trailblazer himself – Levi Roots! Levi opened his first "Rastarant" at Westfield Stratford City last year. The course costs £50 and full details and booking are here.
Paddle a Kayak on the Thames
The London Kayak Company (top photo) provide everything and you travel from the Old Royal Naval College to the Thames Barrier and back. This event is on Sat 13th April – full details here.
Folk Duo playing at Gallery Cafe
St Margaret's House announced that Lunatraktors are performing at 21 Old Ford Road on Weds 17th April. Full details.
Ever thought about writing Flash Fiction?
Writer, Rebekah Lattin-Rawstrone, is running a Flash Fiction Creative Writing Walkshop. The walkshop starts from the Barbican on Sat 27th April. It celebrates the 300th anniversary of Robinson Crusoe by visiting significant landmarks in Daniel Defoe's extraordinary life. Read more, and booking here.
Sarah Chapman exhibition extended at Archives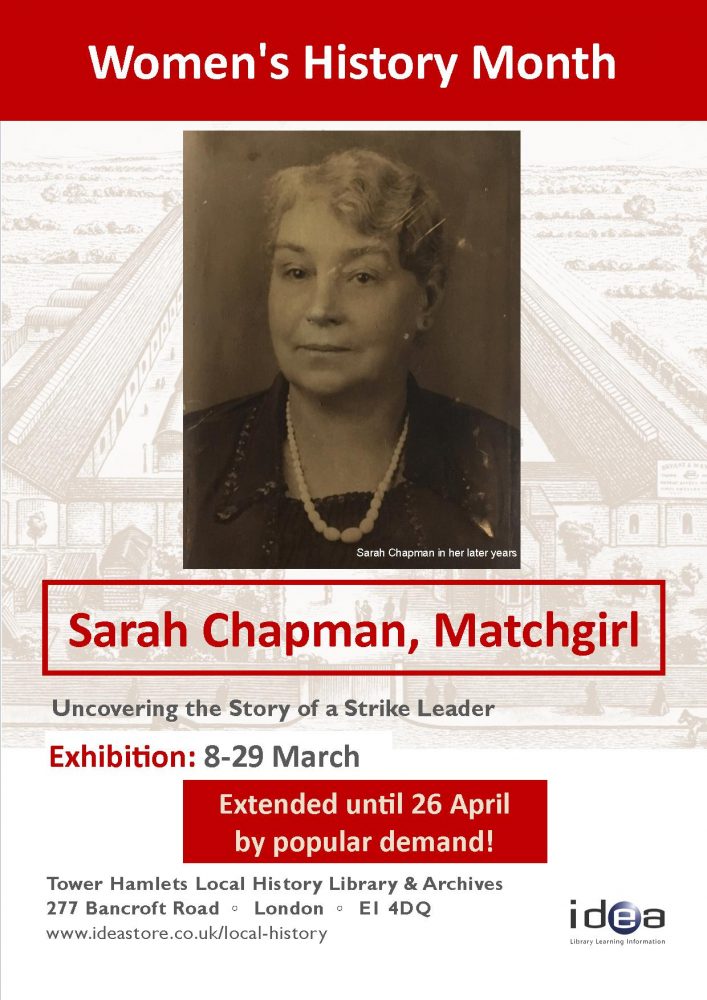 This small but fascinating exhibition is upstairs at the Tower Hamlets Archives in Bancroft Road. It's free and mostly open Mon-Sat 9-5pm. It opens at 10am on Tues, only on the 1st & 3rd Sats, but it is usefully open late until 8pm every Thursday. It will be closed over the Easter weekend – 19-22 April. I can thoroughly recommend this exhibition. The East End is full of amazing stories.
This great blogpost tells the story of this important suffragette who seems to have slipped from view. She was buried in a pauper's plot at Manor Park Cemetery in 1945. It is now intended to reuse the plot.Sign the petition to protect Sarah Chapman's grave here.
Snatch Thefts of Mobile Phones
Our local Neighbourhood Watch say:
"We are receiving increasing reports of phone snatches by youths on bicycles and mopeds who trail victims who are using their phone to text etc and wait for an opportune moment to ride by and snatch the phone from the users hands.
"We have also recently seen growing reports of individuals having their airpods (wireless headphones) being snatched from their ears by groups of youths who suddenly surround the user and cause a distraction while a youth either side simply grabs the earphones and the youths then 'starburst' i.e., run off in different directions.
"Please be vigilant of your surroundings at all times, if you are using your phone to text etc you are essentially holding many hundreds of pounds on open display. Please considered popping into a nearby open shop, or similar building to send a text or make a phone call. If you wear airpods or similar keep a watchful eye on your surroundings, if in doubt remove your airpods."
Tower Hamlets police are on Twitter – @MPSTowerHam and Instagram – MPSTowerHamlet. To report an incident please use 999 in an emergency, or 101 for non-emergencies.