On Weds 20th June the play Shebeen starts it's two week run at the Theatre Royal Stratford East.
"Inspired by the Windrush generation and set in the writer's hometown of Nottingham, Shebeen shines a light on a community under siege." Mufaro Makubika's play has been wowing audiences at Nottingham Playhouse and has had excellent reviews. Booking and info here.
---
The Great Get Together (TGGT) is a national event, inspired by Jo Cox, the former MP who was sadly killed on 16th June 2016. She was passionate about addressing loneliness and said 'young or old, loneliness doesn't discriminate'.
Tower Hamlets Council has recognised that loneliness and social isolation are a serious health concern that has a detrimental impact on health and wellbeing. They encouraged local groups to setup events, and there are two in Bow that anyone is welcome to attend (bring your own picnic).
Grove Hall Park Great Get Together
Saturday 23rd June 2018 11:30 – 16:00
Rigdale Street, London, E3 2TW
Anyone can attend – more info.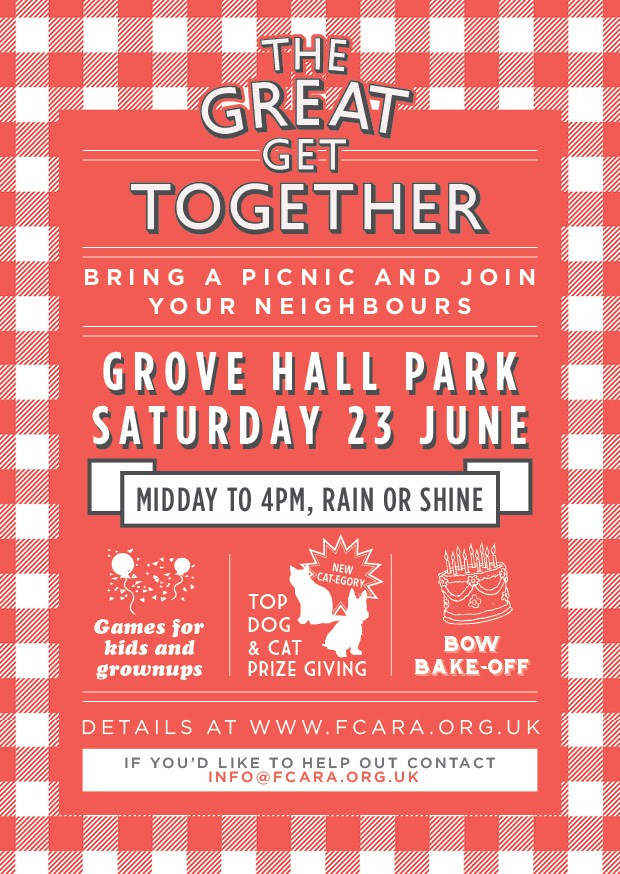 Vicky Park Great Get Together
Sunday 24th June 2018 14:00 – 18:00
Meet at the Bandstand, Victoria Park, London, E3 5TB
All welcome more info.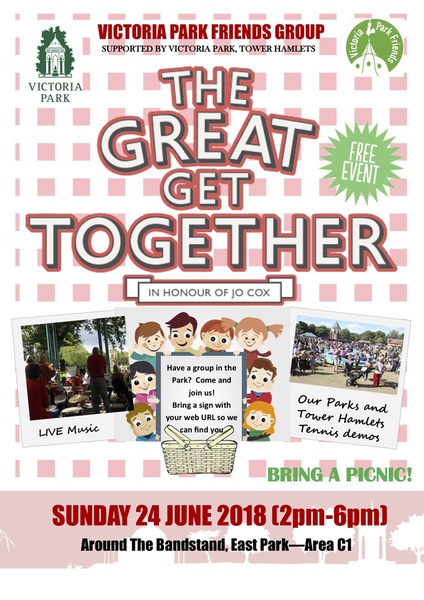 ---
Join the Crofton Singers for their Summer Concert on Sat 30 June 2018.
The concert starts at 7.30pm in St Barnabas Church, Grove Road, London E3 5TG. It is free to attend and there'll be refreshments afterwards.
The programme to includes Britten's Flower Songs, Swingle Singers arrangements and much more.
The concert is supported by Action For Bow.
---
Also on Sat 30th the Friends of Tower Hamlets Cemetery Park are holding a Summer Fair from 12-5pm. See poster below.