You may have noticed the new building springing up in Parnell Road on the site of the old Fire Station.  Its the new Mulberry UTC, University Technical College, which opens in September next year, 2017.
In contrast to the current retrograde clamour for grammar schools, the UTC's were one of the best ideas of a previous Tory administration.  Set up to combat the over emphasis on academic skills,  the UTC's provide an education where vocational and technical skills have the same status as academic achievement.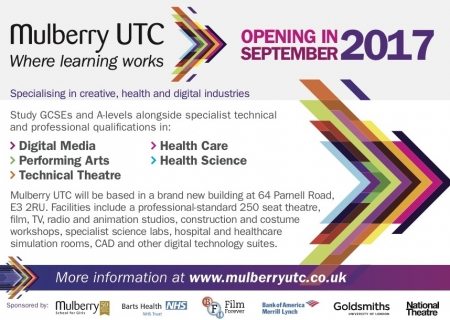 The curriculum will be closely tied into the the needs and practise of industry and business.  Mulberry will be offering specialist technical courses in four areas, Health Science, Health Care, Digital Media and Technical Theatre.  These courses are combined with GCSEs and A levels. The specialist courses are being developed with a wide range of employers and practitioners to ensure they are completely relevant to the working world to which there graduates will progress.  Learning will be project-based and practical.
What a good idea!  And one that is already practised with success in mainland Europe.
 The UTC is sponsored by Mulberry School for Girls, Barts Health NHS Trust, the National Theatre, the British Film Institute, Bank of America Merrill Lynch and Goldsmiths University.

Mulberry UTC is initially open to Year 10 and Year 12 students and their prospectus is available on their website www.mulberyutc.co.uk. applications are now being invited for September 2017.  You can download a form from the website or apply online there. The deadline is January 31 2017, after which you would be placed on a waiting list.
There will be an Open Day at Rich Mix on the 17th January
For further information, please contact Katharine Vincent, Principal Designate, on 0207-791-7256