Bow local councillor and Tower Hamlets cabinet member Mark Francis has quit the board of Circle Old Ford Housing Association slamming them for their record of repairs and maintenance.
He and other board members stormed out of the meeting  following concerns about a maintenance contract after a family of four were taken to hospital with suspected gas poisoning.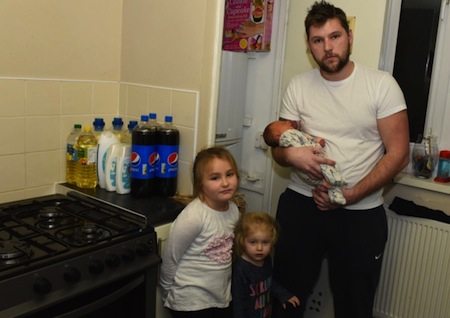 Gas leak family… Joe Mordey with his three children in their home in Waverton House
The full story is reported in the East London Advertiser.
This reflects a growing concern across the country that the increasing amalgamation and corporatisation of  the housing associations, who now hold the major responsibility for social housing in the country,  are becoming further removed  from their tenants and any notions of democratic control.
Often started as a result of local pressure, or developed to take over the responsibility for social housing from local councils, Housing Associations are in a process of ever-increasing amalgamation and expansion.  They would no doubt argue that they have no choice as the Government simultaneously asks them to take on more responsibility for social housing at the same time massively reducing the money available, forcing them into economies of scale.   But are they becoming part of the problem rather than part of the solution?
Some Housing Associations appear to be resisting this pressure.  How is it that Poplar Harca will not expand beyond Poplar and Tower Hamlets?  Is it time the Housing Associations stood up to the government?