Above – a couple of pages from the guide to what's on at Poplar Union this autumn.
Lots on at Poplar Union
I'd heard about the REFLECITY exhibition by Kaan Diskaya and went to see it today. If you walk south round Bow Common Lane and turn right just over the Limehouse Cut bridge it's facing you.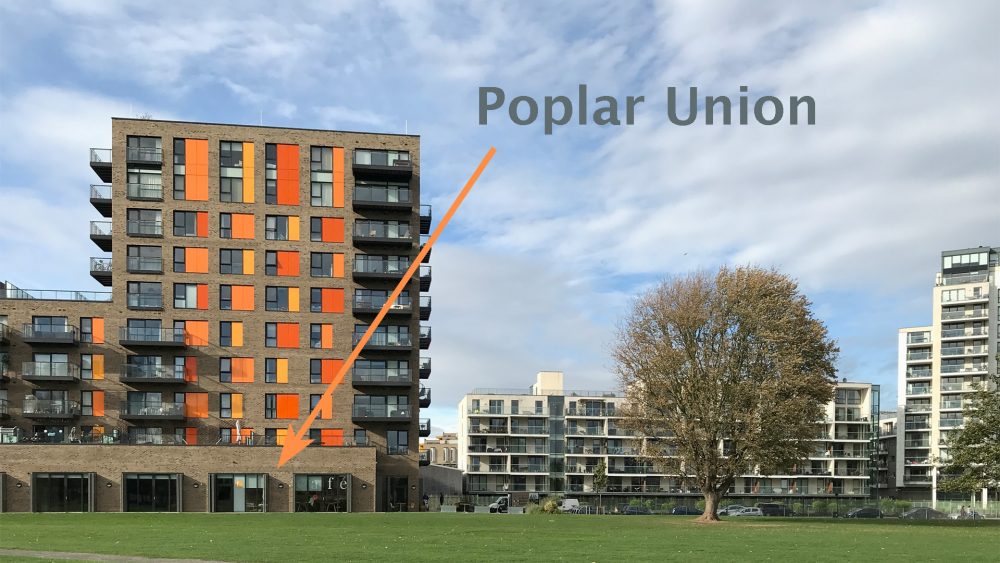 I thought the photos are creative and really good. The blurb says "Kaan creates superimposed images through window reflections, showing the changing moods of the London skyline…" The exhibition is open everyday until 4th Nov, 9am – 5pm, at Poplar Union, 2 Cotall St, Poplar, E14 6TL. See some of the photos here.
For some reason I'd never heard of Poplar Union. They've been open since Jan 2017. They're running classes and workshops, have theatre and film, music and comedy and children's events. Checkout their website here.
Mental Health Mates – Victoria Park
On Sunday 14th Oct at 11am a walk and talk to share about mental health starts from the Pavilion Café on Old Ford Road, London, E9 7DE. The event is free but please register on Eventbrite here.
Halloween Cinema Double Bill
On Thursday 25th October you can watch one or two films for free and have a light supper for a donation.
Night of the Eagle is a 1962 classic film. The New York Times review said: "Simply as a suspense yarn, blending lurid conjecture and brisk reality, growing chillier by the minute, and finally whipping up an ice-cold crescendo of fright, the result is admirable. Excellently photographed… and cunningly directed by Sidney Hayers… The climax is a nightmarish hair-curler…" You have been warned!
Dead of Night is a 1974 horror film. The original poster included the word comic on it, so one critics review at the time might be about right: "a light-weight spooker that starts off pretty slowly but builds into a good nail-biter in the last half-hour." I'm sure it's great fun if you get into the groove.
The halloween cinema show is at The Brownfield Cabin, 82 St Leonards Road
E14 0QU. Booking is essential – email Jayne Clavering or ring 0203 069 7401.
See the poster below or visit Brownfield Cabin on Facebook.