Last week saw five of the Geezers attend a Learn My Way computing course at the Bromley By Bow Centre.  They were introduced to the basics of computing and had a great time.  A bonus was  lunch with the BBBC staff.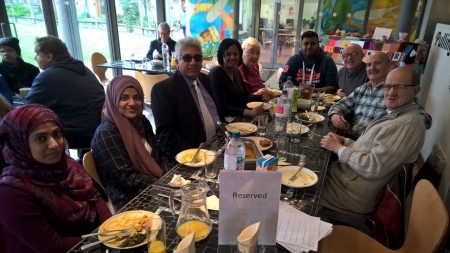 From left to right around the table the Geezers are Tony Basra, Charlie Wiggins, Ray Gipson, new Geezer Ricky Ayliffe and John McLaughlin.
Barrie Stradling, the youngest and most computer-literate of the Geezers here recalls his teaching at AgeUk and urges his fellow Geezers to get into the modern world of computing before they get completely left behind:
I used to teach IT in a group called Silver Surfers as a Volunteer, this was for Age UK East London in Appian Court where the Geezers are based.  This was several years ago and before I joined The Geezers club as a member.
This course was along the same lines as the Bromley By Bow Centre Course, where myself and the head teacher ran a course based on a BBC Course called First Click,  for beginners up to where you wanted to be in IT.
Most people who are new to computers want to be able to do things like write a letter on Word, do an Email to their friends or relatives and search online for their interests.
They do not want to feel like they are in a class back at school and being talked down to.  The premise of the course I taught and the one The Geezers attended on Wednesday 27th January was a one-on-one group, because to teach a diverse group of varying capabilities in a class as a whole is counterproductive.  Some people need face-to-face one-to-one help, whereas others who are more advanced want to learn how to do new things, like downloading for example.
At Bromley By Bow Centre which is not that far from where The Geezers are based, the people doing the Course learn on the computers in the Centre's IT suite,  they are also shown how to log on to the Learn My Way website and how they can get an Email Address set up.
I personally, along with other Geezer members who are a bit more advanced. have stressed to the club members and other older people that they MUST learn the basics, because the world is changing so much, and nearly always with a technological leaning, I have said Banking will disappear in Branches, as will Post Offices, Drivers will have to apply for their required documentation online, and if I am honest shopping itself will be pretty much run by online purchases, it is not like the old days when it was more personal, because unfortunately or otherwise the invention of the silicon chip has changed the world in to a technological jungle, and unfortunately whether you like it or not it will not go back to the old ways, consequently unless the older people be it The Geezers or anyone who is in their dotage have children or grandchildren they can rely on to do all the IT required stuff, they will be adrift if they do not at least learn the basics.
There is no need to be afraid think of Skype for example where you can speak to people, friends or relatives face to face across the globe, and you must realise that the Internet is a huge Library, that you can investigate anything that you are interested in, the Courses are not forcing you to learn how to do Excel Spreadsheets or PowerPoint Presentations or design Websites, but they are getting your foot on the ladder of something that is essentially invaluable to understand – do not be afraid!!