Sorry, we are a bit late with this posting about the Festival, but there's still a lot you can do.
The Festival celebrates a 100 years since Sylvia Pankhurst split from the Women's Political and Social Union (WPSU) to create her own independent group in Bow, called the East London Federation of Suffragettes.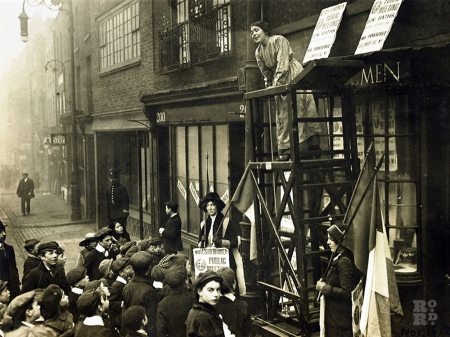 We've taken the programme from the Festival Website
Click here to visit their website
Programme
THROUGHOUT AUGUST
East Enders of WWI Exhibition
Tower Hamlets Community Housing are commemorating the centenary of the outbreak of the First World War by hosting an exhibition showing the faces and stories of many young people who lived or worked in Tower Hamlets when the war broke out, including the East London suffragettes.
See photos of the suffragettes' activities in Bow and learn about their remarkable wartime work.
9.30am – 4.30pm Mon-Fri               Free
Tower Hamlets Community Housing, 
285 Commercial Road, Stepney, London E1 2PS
SAT 2 – FRI 8 AUGUST
Suffragettes, Sisters and Struggles
An exhibition of radical posters of women's activism from various sources, including the See Red Women's Workshop.
10am to 6pm, not open Sunday or Wednesday           Free
Four Corners, 121 Roman Road, Bethnal Green, London E2 OQN 
WEDNESDAY 6 AUGUST
Minnie Lansbury 1889-1923: Forgotten champion of East End women and workers
Minnie Lansbury (nee Glassman) was the child of Polish Jewish immigrants, who in her short life was a school teacher, suffragette, campaigner for the victims of war, communist and rebel councillor. She died aged only 32, weakened by a six-week prison spell as one of thirty councillors who refused to collect excessive rates in the impoverished London borough of Poplar.
Janine Booth, author of Guilty and Proud of it: Poplar's Rebel Councillors and Guardians 1919-1925, tells the story of this remarkable woman, celebrating her memory and taking inspiration for present-day struggles.
6.30pm – 7.45pm         Free
Bow Idea Store, 1 Gladstone Place, Roman Rd, London E3 5ES
SATURDAY 9 AUGUST
Festival Main Event 
Free day of talks, workshops and performance about history, equality, and east London at historic Toynbee Hall. Cake, jumble, stalls and activities for kids too! Take a look at our packed programme.
** British Sign LANGUAGE INTERPRETATION will be available for the talks and panel discussions at this event **
10am – 5pm         Free         Facebook event
Toynbee Hall, 28 Commercial Street, London, E1 6LS
Festival Afterparty
More of an almost afterparty (don't miss our great events on Sunday 10 August!) but we hope you will join the festival team after our main event and raise a glass to the East London Federation of the Suffragettes with us.
6pm – 10pm
Free
The Culpeper, 40 Commercial Street, London, E1 6LP
SUNDAY 10 AUGUST 
Sisters, Rebels, Freedom Fighters: Walking in the footsteps of the East London Federation of Suffragettes  SOLD OUT
Join us on this history walk to find out who the East London Federation of Suffragettes were, what they believed in, how they won support for their ideas, and everything they achieved.
11am −1pm. Meeting point outside the Crown Pub, corner of Grove Road, Old Ford Road, E3 5SN (ends near Bow Road station).
Free/voluntary donation but please book your place!
With historian, writer and tour guide, David Rosenberg of East End Walks 
Sunday Lunch at G. KELLY's on Roman Road
Join us for a special Sunday lunch at G. KELLY, Roman Road MARKET. For less than a fiver enjoy delicious pie and mash, a cup of tea or coffee, and three fascinating short talks about food in the East End:
Harriet Payne will talk about the history of street food in London, from the Romans to the present day
Sue Vening, the current owner of G. KELLY, will talk about the history of the SHOP which has been run by her family since it opened in 1939
Sarah Jackson will talk about how the 'cost price' restaurants opened by the suffragettes in WWI to keep the East End fed
1.30pm – 3pm           Facebook event
Get your TICKETShere: https://gkelly.ticketsource.co.uk/date/116182
G.KELLY, 526 Roman Road, Bow, London, E3 5ES
PAST EVENTS
FRIDAY 1 AUGUST
Women's Activism Film Night   SOLD OUT
An evening of extracts and shorts focussing on images of women's struggle, political activism and filmmaking.
The first half of the programme presents extracts of films about women's activism in east London and beyond. The second half will screen a series of short films made in the spirit of the Suffragettes.
7pm      £4 / £2             Buy tickets             Facebook event
Four Corners, 121 Roman Road, Bethnal Green, London E2 OQN
SATURDAY 2 AUGUST
Explore Tower Hamlets WWI Archive
A day of talks, stalls and refreshments to launch Tower Hamlets' WWI commemoration.
Michael Berlin (Birkbeck, University of London) will speak on 'Pacifism in the East End during World War One'
Borough Archivist Malcolm Barr-Hamilton will highlight aspects of the collections relating to World War One
Author Sarah Jackson will speak about the remarkable wartime work of the East London Federation of the Suffragettes (speaking at 1pm)
11am – 5pm          Free
Tower Hamlets Local History Library & Archives, 277 Bancroft Road, London E1 4DQ
SUNDAY 3 AUGUST
Meath Gardens History Picnic
Join us for a Sunday afternoon picnic in beautiful Meath Gardens. Learn about the history of the park (formerly Victoria Park Cemetery) and its creator Fanny Wilkinson – the first woman LANDSCAPE GARDENER in Britain!
Meet at the entrance arch on Bullard's Place (map: https://goo.gl/maps/DYAbA) From there we'll walk a short distance to a good picnic spot or an alternative indoor venue if it's raining. Please bring a towel or blanket to sit on and food to share!
1pm – 3pm        Free