Victoria Park
The All Points East Festival comes to Victoria Park this weekend and next. See the lineup and book tickets here.
State Graphics in China 1960s & 70s
This interesting sounding exhibition is on at the William Morris Gallery in Walthamstow until 27th May (Tues – Sun 10-5). Suggested donation £5. The Gallery is in Lloyd Park, London E17 4PP.
Learn Family Cycle Skills in Victoria Park
FREE Family Cycle Skills sessions will be back next week in Victoria Park. Join them from 10am – 12pm over May Half Term and brush up on your cycling skills. All cycling levels welcome. For more info and to book your place visit the bikeworks website.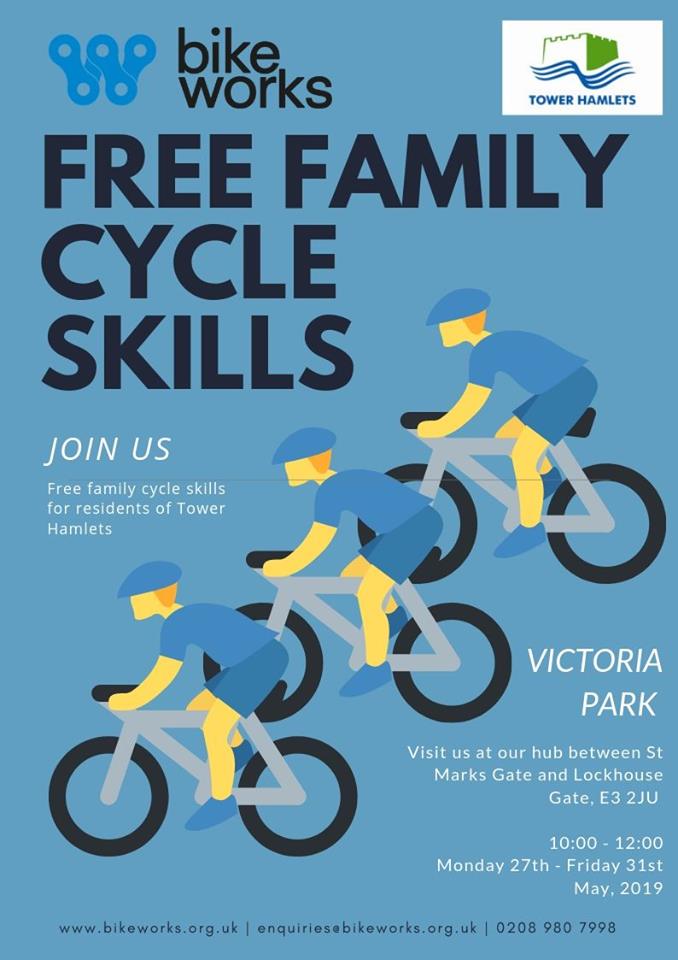 Day Trip to Hastings
The Leopold Area Regeneration Team are running a coach trip to Hastings on Sat 1st June. Tickets are £15 each and are available from the St Paul's Way Centre, 83 St Paul's Way, London E3 4AJ. Click here to email or ring to check availability.
The Chimneys of the Isle of Dogs
This is the title of a great blog post with lots of fascinating old photos in it which you can read here.
Gangs, Youth Violence and Knife Crime Community Event
The local neighbourhood watch are holding the above event at Aviva Digital Garage, 33-35 Hoxton Square, Hackney, N1 6NN on 13th June 2019 from 5-8pm. They say: The event is open to young
people, local residents, local businesses and parents, carers or guardians of young people who want information or support.
How to stay secure online
Our Neighbourhood Watch also sent us a warning about that scammers are targeting Snapchat and Instagram accounts by tricking users into handing over login details or two-factor authentication codes to fraudsters.
You can also download the latest edition of The Little Book of Big Scams. This is very useful.
Coffee and Conversations
Meet people in your local area at Old Ford Methodist Church,199 Armagh Road, Bow, London, E3 2HX. The next coffee mornings are on 14th June and 19th July between 10.30 and 12. All welcome, just turn up.