MISBEHAVIOUR,  a mixed media exhibition project curated by London Artist and Curator Katja Rosenberg taking place in the Art Pavilion, Clinton Road, Mile End, E3 4QY. 14-22nd February, 11am – 7pm.

The Project features contributions by members of CMR and other artists from Britain including London, Manchester, Cambridge and Margate, as well as from Germany, France, Slovenia, Portugal, New Zealand and the United States.

Of particular local  interest is artist Louise Gridley's  painting of local men's group The Geezers – THE LAST SUPPER which will be accompanied with a Where's My Pub Gone installation created by the Geezers with artist Lucy Schofield.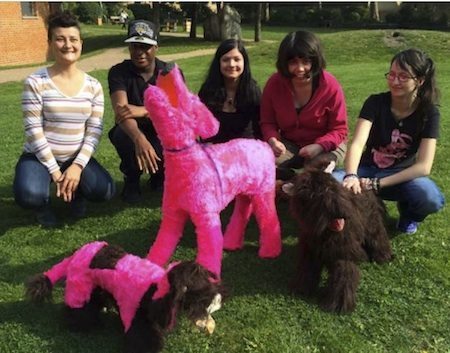 And ArtEast's PINK DOG AND BLACK DOG made of papier mache and fur.  ArtEast is a budding social enterprise based at the Bromley by Bow Centre led by Frank Creber.  It exists to develop creative, social and enterprise skills in individuals with learning and physical disabilities through collaborative work with artists and volunteers.
The Exhibition will have a number of events and workshops, with stuff  being added all the time, so check their website to keep up-to-date and for more information about the exhibition.
Friday 13 February 2015
8pm
Twitching
An opera happening by Catherine Kontz
The performance is a free aspect of the exhibition opening.
Saturday 14 and Sunday 15 February
2–4pm both days
The Book Thieves
Paper cutting workshops by artist Caroline Misselbrook. Books and craft knives will be provided for you to create literary mischief, cutting words and illustrations into pages and changing meaning and context.
This creative and mischievous workshop is suitable for beginners as well as those wanting to brush up their skills. All tuition, tools and materials are included in the contribution.
£5 per person
Booking and information
Tuesday 17 February
1–3pm
Mischief-Makers and Furry Dogs
A practical workshop afternoon with Arteast, a public art and enterprise group based at Bromley by Bow Centre run by people with learning disabilities together with artist Frank Creber. 
Arteast look forward to meeting you and involving you in their Papier Mache workshop, where you will design a misbehaving creature and learn the basic skills enabling you to realise your design in 3D. Suitable for families and children 5+. 
This event is free but voluntary donations to support the work of Arteast are gratefully received.
Booking and information

2–4pm
Where's My Boozer Gone
Conversational afternoon with The Geezers, a group of senior gentlemen who are running a project about the disappearance of pubs in the local area together with artist Lucy Schofield.
The Geezers look forward to meeting you and sharing their stories, and their findings of how the disappearance of social focal points affects the Bow and Mile area – as well as many others.
This event is free but voluntary donations to support the work of The Geezers are gratefully received.


Saturday 21 and Sunday 22 February
11am–2pm and 3–6pm both days
Screenprint Your Very Own Misbehaved Friend
Screenprinting and collage workshop by Jairo Zaldua and Nicola Green.
Join Jairo and Nicola to create your very own wild and whacky misbehaved characters.  A creative and imaginative workshop that combines screenprinting and collage and is also suitable for beginners.
All materials and tools are provided as well as the opportunity to complete and take home your eye catching creations.
£8 per adult, £5 per child
Booking and information