The Joiners Arms in Hackney Road is another East End pub under threat from the developers.  Although not in Bow,  as part of our Where's My Boozer Gone campaign we are featuring pubs in East London which are under threat, like our recent report on the fight to save The Spotted Dog in Forest Gate.
This is not a question of profitability, but greed.  In the interests of making more money property owners and developers are happy to ride roughshod over the needs and wishes of local communities.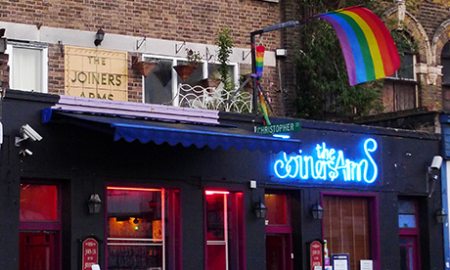 Here it is the Gay and Lesbian community who have lost, at least for now, their meeting place and community centre in the Joiners Arms.  But the fightback has started.  Here's how it was reported in the Hackney Citizen  January 16th:
Campaigners fighting to save The Joiners Arms are celebrating a small but significant victory after Tower Hamlets council awarded the pub Asset of Community Value (ACV) status.
Following one last blowout, the legendary Shoreditch establishment known for its anarchic parties and inclusive door policy, closed down last weekend to make way for property developers.
But Friends of the Joiners Arms, a campaign group seeking to turn The Joiners into "London's only LGBTQIA democratically-run, cooperative community centre" whilst also keeping the pub open, have secured the protective status.
The ACV listing means Friends of the Joiners Arms will have the right to bid on the property if it goes up for sale. The listed status may also impact decisions around future planning applications for the building.
However the owners do not have to sell to the group, and if they do the campaigners will then have to stump up the cash to purchase the building.
Friends of the Joiners Arms Co-Chair, Jon Ward said: "Myself and fellow campaigners are passionate about having the opportunity for the community to take ownership of this important space, and securing the ACV status means we have an even greater chance.
"It's about time that The Joiners returns to its rightful owners – the LGBTQI community and its allies. We want to build on the fantastic legacy of the Joiners and create a queer space with inclusivity as its core value.
"We are an ambitious group, but together – with the support of local politicians, Londoners and the wider public – we believe we have a good shot at taking on property developers who continually attempt to rip the life, heart and soul out of our capital city."
There are three other ACV listed buildings in Tower Hamlets; Turner's Old Star pub in Wapping, The Women's Library in Aldgate and Stour Space in Hackney Wick.
Follow the fight back on their facebook page