Hackney Wick and Fish Island are proving to be the next step in the Developers march East to provide luxury accommodation at the expense of existing residents and affordable commercial activity.  Although The London Legacy Development Corporation (LLDC) approved an extension to the Fish Island Conservation Area in April 2014, in order to introduce "extra protections against inappropriate development" and protect heritage assets, critics have condemned it as worse than useless.  Their current campaign is fighting the plans for the near total demolition of Swan Wharf and the redevelopment of Wallis Street.
Hackney Wick has been a site of innovation and invention since the industrial revolution, and as industry has declined, small businesses and the artistic community has taken it over and maintained this spirit.  As the Geezers discovered on their exploration of the area in their film The Geezers on Tour in Hackney Wick
Below is how the Hackney Citizen reported the situation. Keep up to date with the state of play with the planning applications and to sign the petition visit the East End Waterway Group newsletter.
A campaign group has slammed the extension of the Hackney Wick and Fish Island conservation area as a "waste of time" as developers reveal plans to demolish heritage buildings and build luxury flats.
The proposals have fuelled fears amongst the artist community that the regeneration will force them out as warehouses are pulled down to make room for large scale mixed-use developments.
Over 70 individual objections, including some from English Heritage, the East End Preservation Society and East End Waterway Group, have been submitted against the near-total demolition of Swan Wharf, Dace Road.
A petition against its demolition has gathered over 1,000 signatures.
If the proposals get the go-ahead, the Edwardian stable block, which is currently used as an artistic and cultural centre, would be reduced to just two of its exterior walls to accommodate 46 flats and workspaces.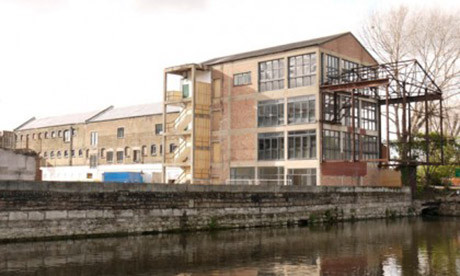 The London Legacy Development Corporation (LLDC) approved an extension to the Fish Island Conservation Area in April 2014, in order to introduce "extra protections against inappropriate development" and protect heritage assets.
But Green party London Assembly Jenny Jones, is calling for more protection for the industrial sites on Fish Island, and told the Hackney Citizen that the LLDC's assurances were "complete rubbish".
"His [Boris Johnson's] legacy corporation is letting developers replace a vibrant mix of industries with luxury flats and poorly thought-through commercial units.
"You can't put flats right next to noisy businesses, or expect the same ecosystem of scaffold yards, brewers, artists and bars to flourish in a few poorly-designed affordable workspaces."
East End Waterway Group, which encourages the beneficial use of the historic waterway ring and its structures, claims that if Swan Wharf was demolished the two extended conservation areas and the LLDC's planning policy would have been a "complete waste of time, effort and money."
Tom Ridge, coordinator of the East End Waterway Group, said: "We, the people of Tower Hamlets and Hackney will not only lose this historic area but the socio-economic benefits too.
"People have a sense of identity here and it's all to do with these old buildings and the waterways. There is a sense of ownership and of historic continuity. All this will be lost."
The developers for Swan Wharf did not reply to the Hackney Citizen's request for comment.
Wallis Road Studios
A short walk from Swan Wharf, near Hackney Wick Station, is Wallis Road Studios, a run-down cluster of former factories and warehouses that serves approximately 100 artists.
Developers Groveworld have applied to demolish all existing buildings, with the exception of 55 Wallis Road, to make way for over 125 homes.  The plans retain the existing workspace, but there is no mention of affordable housing.
The designs show residential units stacked on top of elegant studio spaces which Groveworld hopes will be managed by affordable studio provider and charity Cell Studios.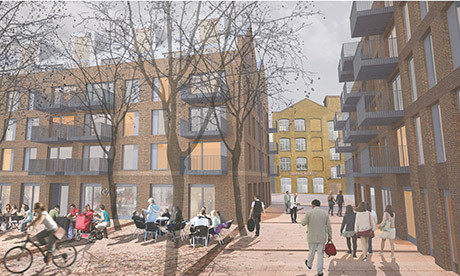 However, the artists of Wallis Road Studios must now vacate their workspaces by July 2015 and face long waiting lists for new studios.
Visual artist Natalie Ryde, 33, who has been in her shared studio for almost two years said: "I just want to be settled. As artists, we can't always rely on making lots of money and things can fluctuate.
"You can sometimes feel spoiled for saying 'I need somewhere to create art', but I don't think I could not be an artist, and I just need somewhere to work."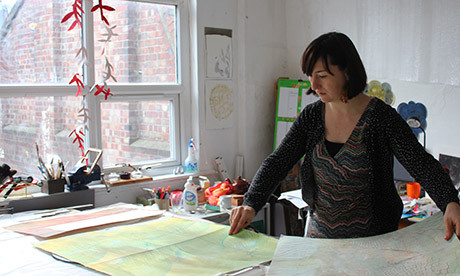 When asked about the possibility of having one of the new studios beneath a new-build flat, Ms Ryde said: "Realistically I don't think we will get to a scenario where that will happen."
Next door, 23-year old oil painter Michael Sydney Moore said it took him six months to find his 390 square-foot studio. It is cold, it has no sink and is "flooding everywhere", but Sydney Moore still describes his space as "very affordable" at £450 a month.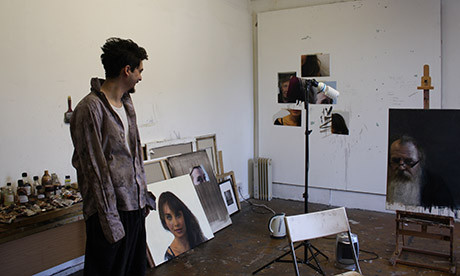 While his current arrangement might seem cheap, it is not cheap enough to allow him to rent a residential space: "I can't afford to rent a flat as well, I paint ten hours a day and then stay on friends' sofas.
"When you're in Hackney and you tell someone you have a studio they will say: 'Can I come and check it out?' They are not interested in your work but in how much you pay for the room. People are genuinely desperate for space."
Affordability
Richard Rothwell, Development Manager for Groveworld, said: "We intend to replace the existing temporary studios with high quality and flexible workspace for the cultural and creative industries that meets the aspirations of the Hackney Wick Area Action Plan and emerging LLDC policies."
"Our proposals will provide approximately 50,000 sq. ft of high quality employment space, a range of much-needed new homes and a pedestrian link between Hackney Wick Station and Wallis Road."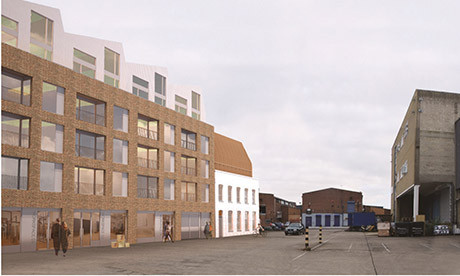 However, there is scepticism amongst artists and campaign groups about whether the promised workspaces in Hackney Wick and Fish Island will be affordable to artists.
Hackney Council, which was consulted as a stakeholder, has recommended that rates for the new studios should not exceed £10 per square foot all inclusive rent i.e. rent, rates and utilities, with a preference for £5 per square foot, for a minimum of 15 years.
Richard Brown, Director of Affordable Wick, a campaign group for affordable environments said: "The only thing that developers like about affordable workspace is that it offsets the affordable housing they have to provide.
"The overriding problem is that local authorities do not provide policy with any grit. A lot is said about preserving industry uses such as making and  entrepreneurship.
"It's OK to say that but when it comes down to policy it doesn't mean very much. It doesn't say 'X amount of floor area should remain unextended' and the developers won't sign any guarantees."
A spokesperson for the LLDC said it could not comment on ongoing applications.