I test out the new till-free Tesco in Holborn, plus the benefits of going (nearly) all digital.
Till-free Supermarkets
Back in June 2019 I tested out the Sainsbury's Smartshop app in their till-free store at Holborn. It worked well for me. It came in handy during the pandemic, as did the ASDA Scan & Go app which lets you scan and bag items as you walk around the supermarket. With the ASDA app you simply pay at the end using a dedicated set of machines, without queuing. These apps provided a way of avoiding too much contact in those pre-vaccinated times.
In July of this year Morrisons said that it had been trialling a till-free store inside it's Bradford HQ. The technology is supplied by AiFi who are based in California. They also work with other retailers including Carrefour in France. Morrisons plan to start implementing till-free shopping at other locations to see how customers get on with it.
Tesco have tested out a system by Trigo and last Tuesday opened a checkout-free Express store just west of Chancery Lane Tube. Customers first need to set up the Tesco Grocery app, sign in and add a credit card to it. They then walk in and scan the quick read code displayed on their phones over the lighted square on the right of my top photo. They pick up the items they want to buy, putting them in their own bag as they walk around the shop. Sensors, cameras and little weighing scales under the shelves identify what they pick up and charge their account. The customer then simply walks out of the shop – that's it!
With this store Tesco are competing with the mighty Amazon. The first till-free shop which didn't require you to scan barcodes in the UK was Amazon Fresh at Ealing Broadway in March 2021. They opened one in May at Canary Wharf, London, E14 5GX. Amazon Fresh at Dalston opened in September at 28-31 Kingsland High Street, between the two stations. They're interviewing for staff at Westfield. The grocery war is hotting up.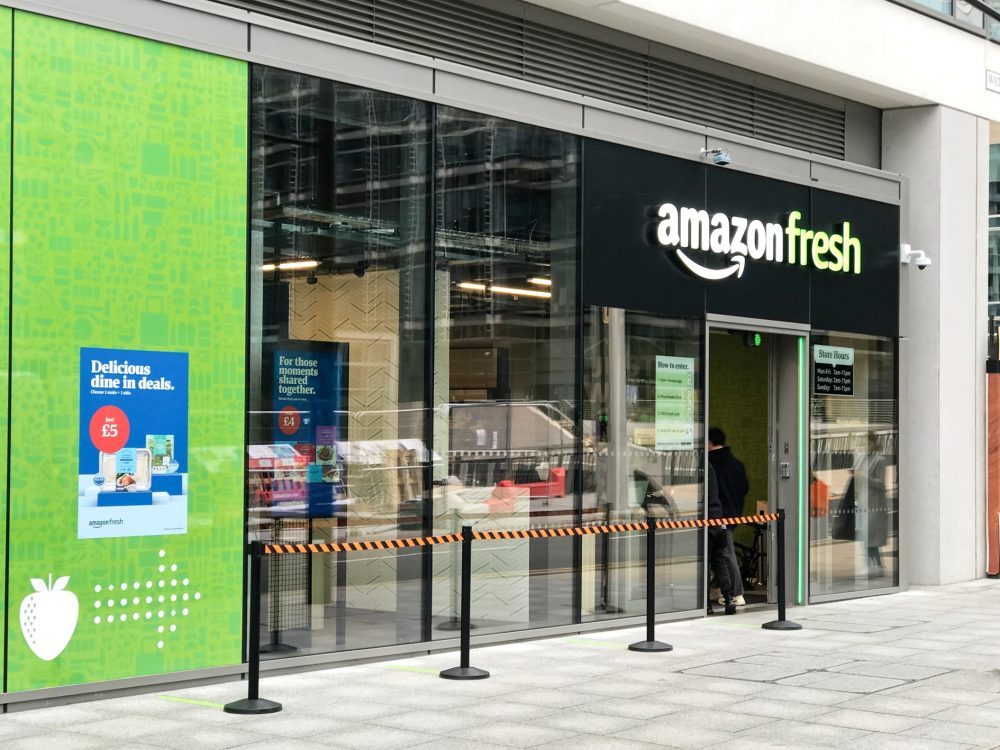 The ultimate goal in retail is to reduce the number of barriers that are in the way of the customer making a purchase.
---
Amazon Fresh update Feb 2023
Amazon are now closing the Dalston Store, but are opening two new ones in London: Monument and East Croydon. Commentators are suggesting that Amazon's Just Walk Out (JWO) technology is not a regarded as a must-have convenience by shoppers. Amazon doesn't appear to have made any significant increase in sales by opening the Fresh shops.
---
How was my first shop at the till-free Tesco in High Holborn?
The night before I downloaded and set up the Tesco app at home. Then I went down to Chancery Lane to locate the store. It looked like they had a queue outside, but when I got closer I discovered that it was just people downloading the app. It was when I went to enter the store that it became apparent that I'd downloaded the wrong app. I'd tried searching for GetGo in the Apple Store, but it didn't come up so I'd made the wrong choice. I joined all the other people standing outside the Tesco Express, hitting the forgotten password button, adding my credit card, and counting along my Clubcard number to find the 11th, 12th, 13th and 14th digits. The staff at the store were very helpful, but Tesco head office could definitely help everyone here by making it clear beforehand what you need to do!
The app you need to download is an old one called Tesco Grocery & Clubcard.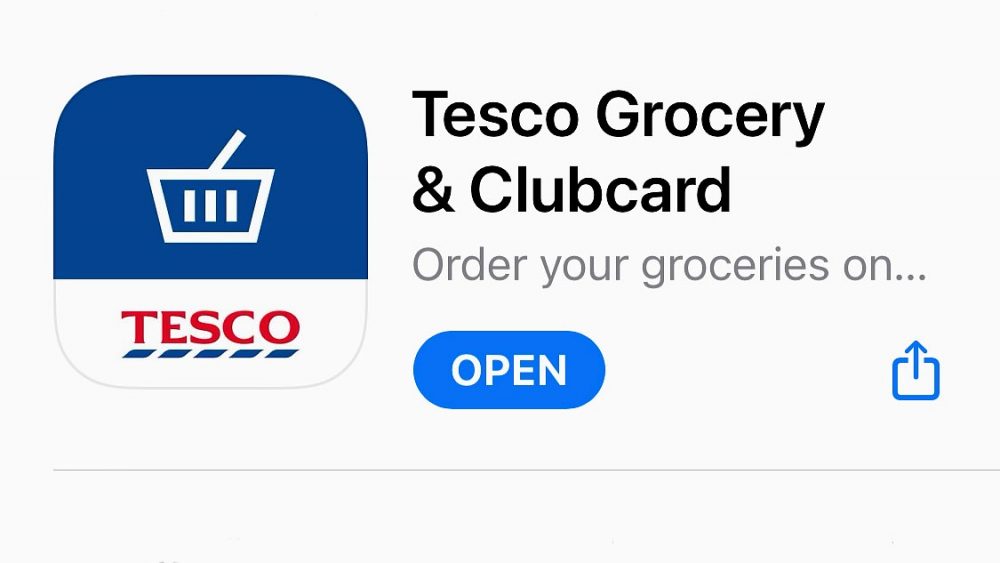 I'd avoided this app because it looked like it was about ordering online. To set it up for till-free shopping click on the little picture of yourself in the top right. Scroll down and tap App Settings and slide on the GetGo option. The app will guide you through everything else.
My actual shop
I launched the Tesco Grocery app and at the top of the Home Screen in the GetGo box I pushed the button marked Scan to enter store. I held the phone face down about two inches above the scanner and the gates opened to let me in.
I wasn't trying to see if I could catch the system out, but as in the course of a normal shop, I picked stuff up, then noticed the item I'd really prefer and swapped them over. It seemed strange at first, as there are no beeps or indications that anything is happening. My phone was in my jacket pocket, and I was just putting stuff in my bag. Taking the system on trust I picked up two one pint plastic bottles of milk with one hand and put them in my bag. Then underneath heaps of bananas I saw a sign which said bananas 25p each. I tore two off a big bunch and put them in my bag, wondering what Tesco's system would do about this.
When I decided to leave I asked a member of staff if this was OK. It was, you don't need to ask. I just walked out through the exit gates with my phone still in my pocket. It felt very strange. The app had said that it might take 20 minutes for my payment to appear. Since the shop was close to the steps down to Chancery Lane station I just got on a train and came home to Mile End. I started to feel slightly apprehensive during the journey, and as soon as I came out of the station I launched the Tesco App. It listed what I'd just bought, and was completely correct, right down to the two bananas. Wow – elation, a feeling of triumph, and total astonishment. Tesco had also emailed me a detailed receipt wth a mysterious 50p knocked off called savings. These were keen prices.
Once you're set up you just need to scan the app on entry to identify yourself. You walk round filling up your own bag and walk out. This is much faster than using a till or scanning barcodes.
---
After writing the above I woke up on Saturday to read that the Tesco website and app had been taken offline due to a hacking attempt. Stuff happens – customers could simply make other arrangements. Tesco will be improving their security and backup system!
---
These systems will enable weekday lunchtime shoppers in busy areas to whizz in and out of the shops. They offer a lot of pre-packed sandwiches. Retail insiders also say that they will provide "customer insight and analytics". I can confirm this works for customers too. Sainsbury's sends me weekly special offers based on what I've bought in the past to try to lure me in. One of the list of current offers is for 90 extra points (45p) if I buy a bag of easy peeler oranges. They give other special prices too if you use their Smartshop app. Shopping is cheaper if you play the game.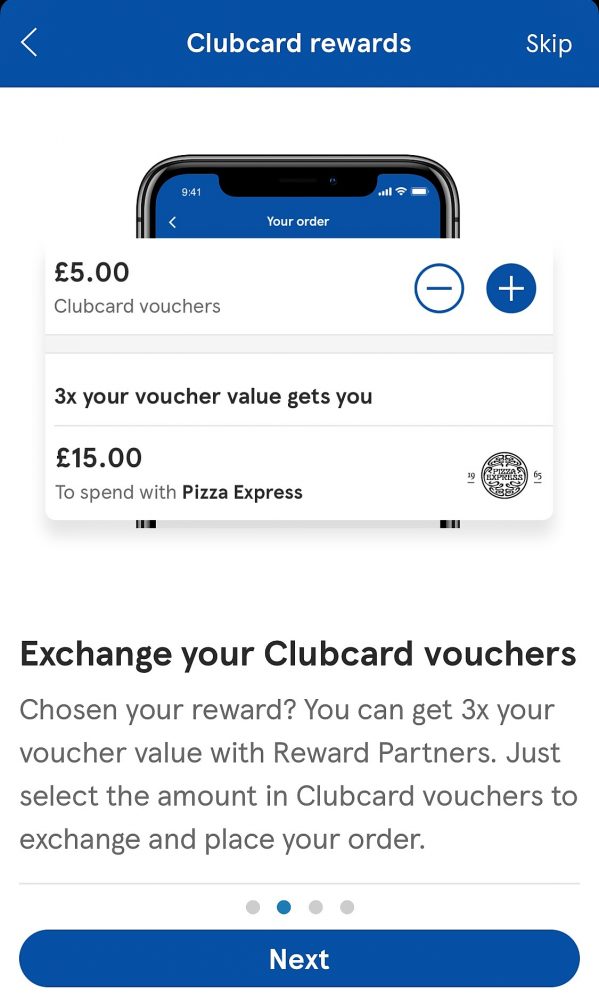 You can't pay with cash if you buy through an app. The apps remember your credit card. They are secure because they use facial recognition or need your fingerprint to both allow you to get into your phone, and then the app. Failing that they'll need your pin codes. Behind the scenes the software is assessing how far you are from home, seeing if you've shopped there before, and deciding if the size of the purchase is worth worrying about. If it has any doubts you'll be asked for more proof of ID. I expect the credit card I used with the Tesco app will make some checks.
Cash Machines
Banking is best done online – as is practically everything! Younger people already know this, they use digital all the time. But some older people need help in understanding the advantages. One of those is that online you can search for the most obscure things. In our house we were early adopters, and were on the internet 25 years ago. Abe books started then, two years before Amazon, and I was an early customer of theirs. I still buy from them. You can simply shove an authors name or book title into the search box and it searches the world's 2nd hand bookshops. If you are after something specific this is much better than touring bookshops. I'm into local history, and Abe Books recently, and cheaply, sourced the 1940 map of North East London, a section of which is below.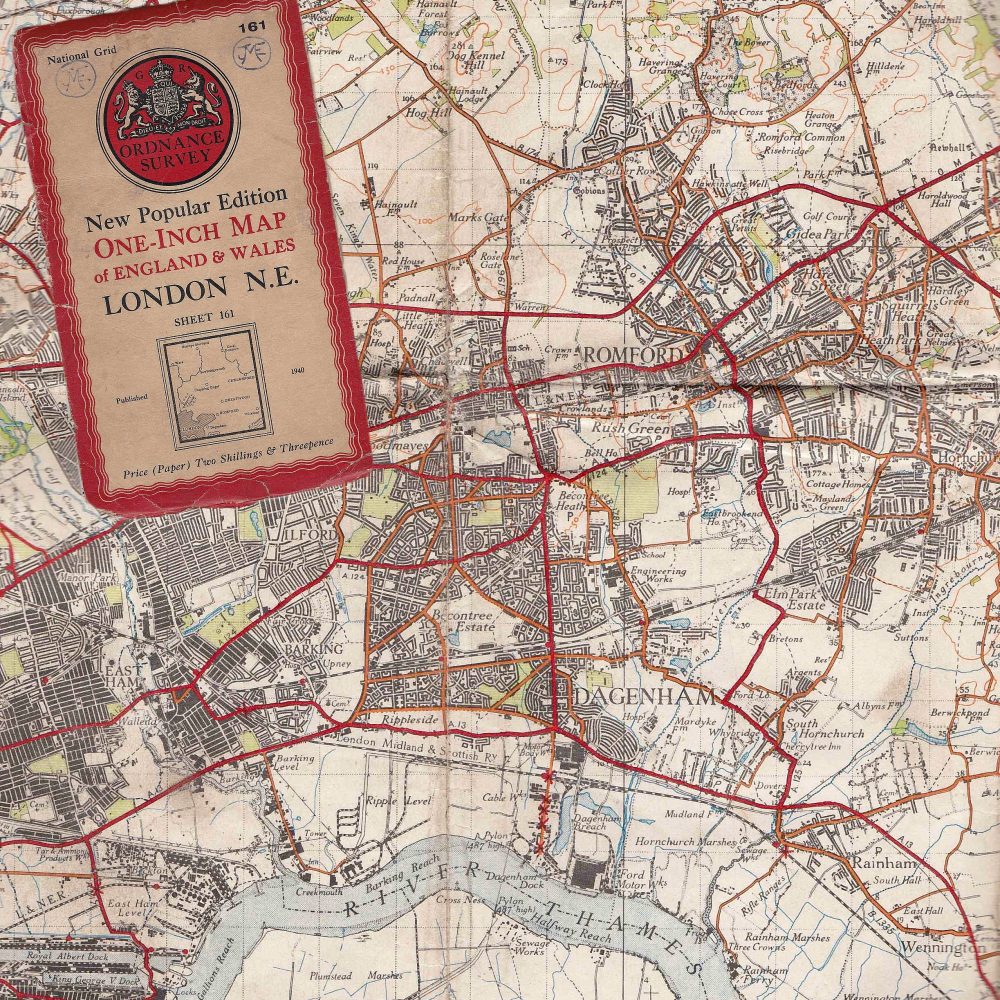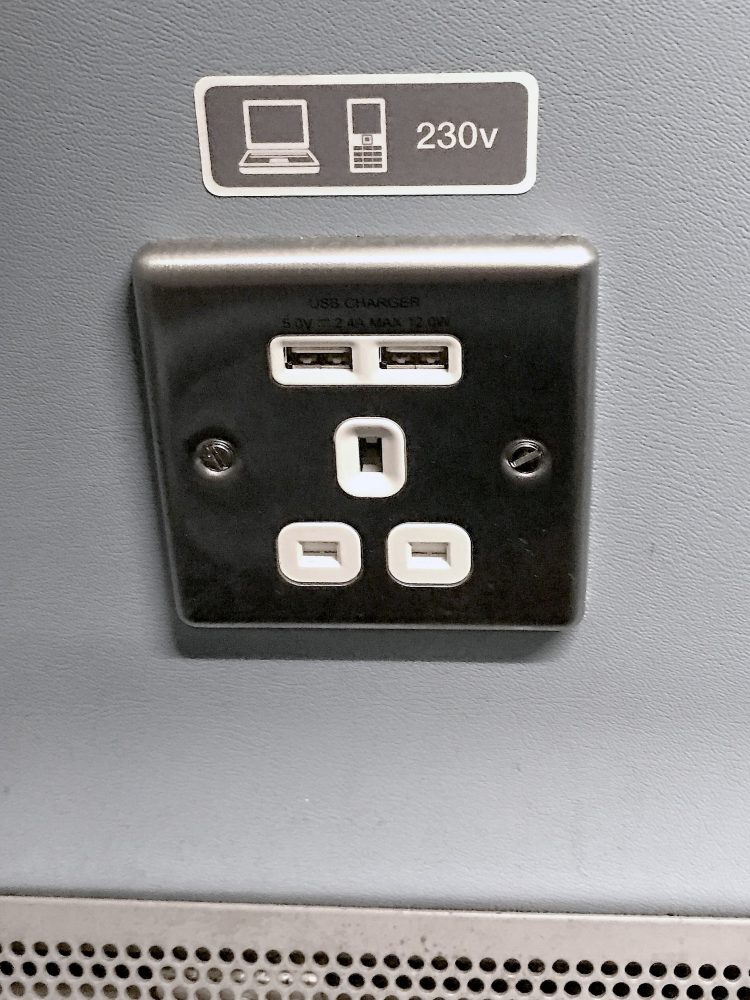 Ordinary citizens can't stop the switch to digital. It will become the only option in some cases. In the example reported in the Telegraph below, passengers can save time and aggravation by downloading the Eurostar app.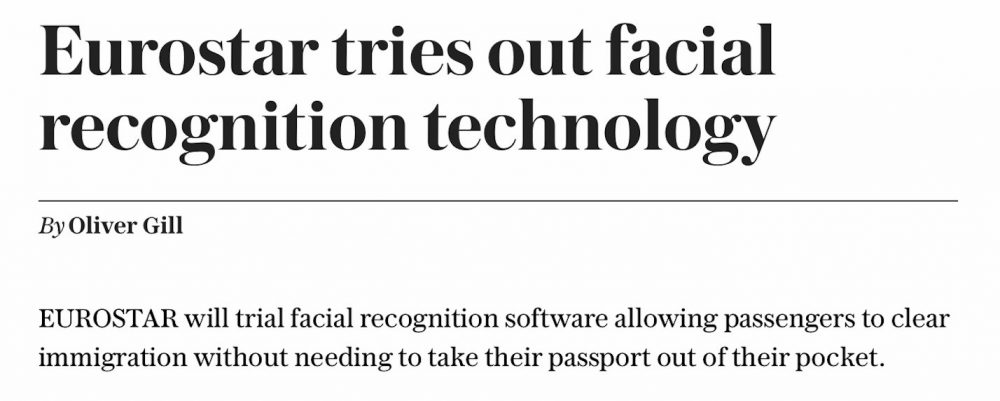 In the transition period, which we are in, using physical cash is sometimes more expensive. That's especially true of train tickets. If you are able to buy off-peak tickets a few weeks in advance you'll pay a lot less than simply buying at the station on the day. The Trainline app (below) only offered me trains from Liverpool Street to Southend Victoria because Fenchurch Street doesn't give such discounted fares.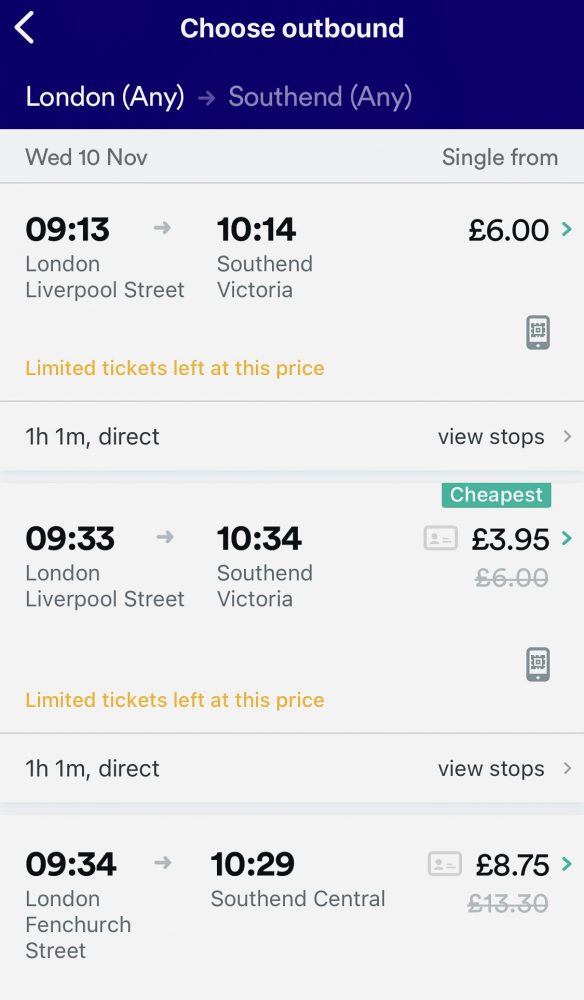 The Trainline app charges a small commission, but can sort out your best options from multiple operators. It can also handle complex journeys.
Out of curiosity I went to Liverpool Street Station and selected Southend on a ticket machine. You'd pay £18.30 single on the day.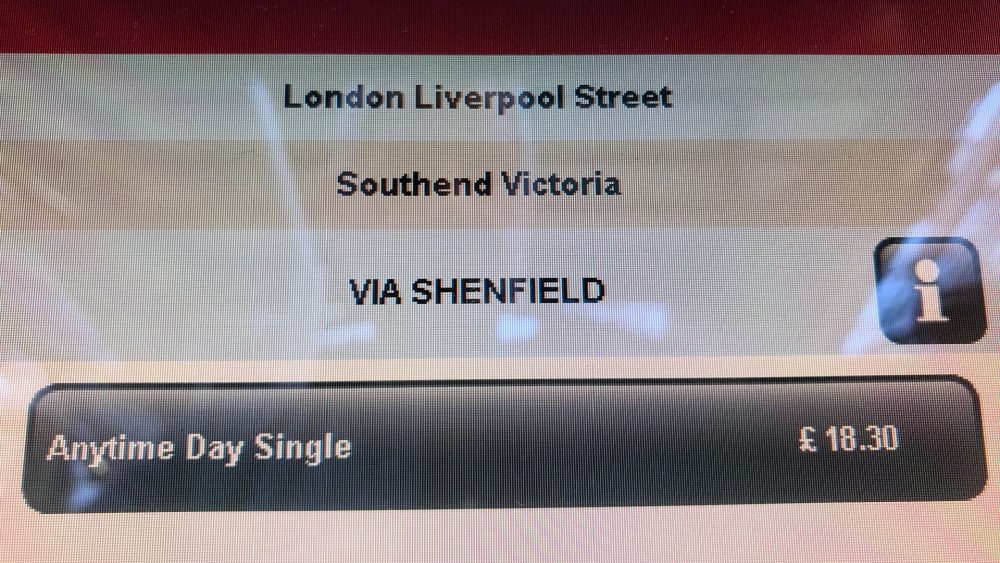 The discount train fares now available, especially for 50-100 mile journeys, have made day trips to many places viable.
Bank Branches and Cash machines
Bank branches are closing all the time. Whilst writing this Lloyds announced the closure of another 48 branches. It had already closed 100 this year. Lloyds said 3/4 of it's customers already bank digitally.
The British Retail Consortium said that £4 in every £5 was spent using cards last year.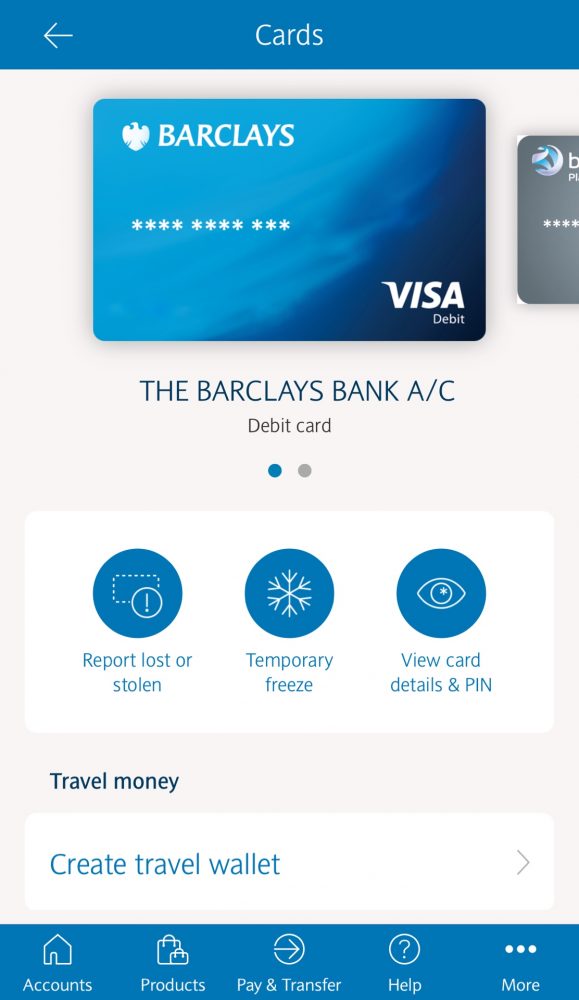 With interests rates near zero the banks can't make any money. If interest rates go negative they lose money by holding customers cash. There was talk a year ago at making people pay to have current accounts. The solution has been to get the customers doing their own office work using phone apps or through websites. Running high street shops, paying rent and rates and salaries is a loss making activity. Banks do make small transaction fees on credit cards from the retailers. Retailers who take cash have to pay staff to cash up and pay the banks to count it and take in. Digital is cheaper for them.
Although both banks and cash machines have been disappearing in Bow, I notice that there are lots of new cash machines in Canary Wharf and Westfield. They've also proliferated in the old Stratford Centre – there are plenty of cash machines opposite Iceland and just behind Burger King as you walk in from the station. Beware of the cash machines in Canary Wharf – which dispense £50 notes.
It's reported that people are now taking out £100 million a day less from cash machines in the UK compared to 2019. Link say that they have installed 70 new machines in areas lacking free cash machines due to community requests. A new initiative went through the Lords in April where shops will offer cashback without the need for people to make a purchase. It seems to be held up in Westminster.
Central Bank Digital Currencies
Central bank issued digital currencies are stable and secure – quite different from cryptocurrencies, like Bitcoin, which are a bit hairy for ordinary citizens.
The Bank of England says: "The Government and the Bank have not yet made a decision on whether to introduce a CBDC in the UK." It would be in pounds sterling and would work alongside paper money.
Meanwhile China is the first country out of the starting blocks with their digital renminbi currency. Ahead of the Beijing Winter Olympics (Feb 2022) China has asked McDonald's to take digital renminbi payments at restaurants across the country. It is believed that overseas sponsors of the Olympics, such as Nike, will be requested to do the same.
People here whose pensions or salary is paid into a bank, and who buy everything with cards or their phone would not notice any difference.
But be aware that the digital pound is on the way!
Update 9th Nov 2021. The Bank of England and the Treasury announced that they are launching a consultation into creating a "Britcoin". It's reckoned to be about 5 years away.
Alan Tucker