See update May 2021 at the end of this article.
On Saturday I downloaded the Sainsbury's SmartShop app to my phone and signed up for a Nectar card. Then I headed along to their Holborn Circus store to educate myself on how to buy groceries in a shop with no tills – not even self-service checkouts. I mentioned this in a recent post.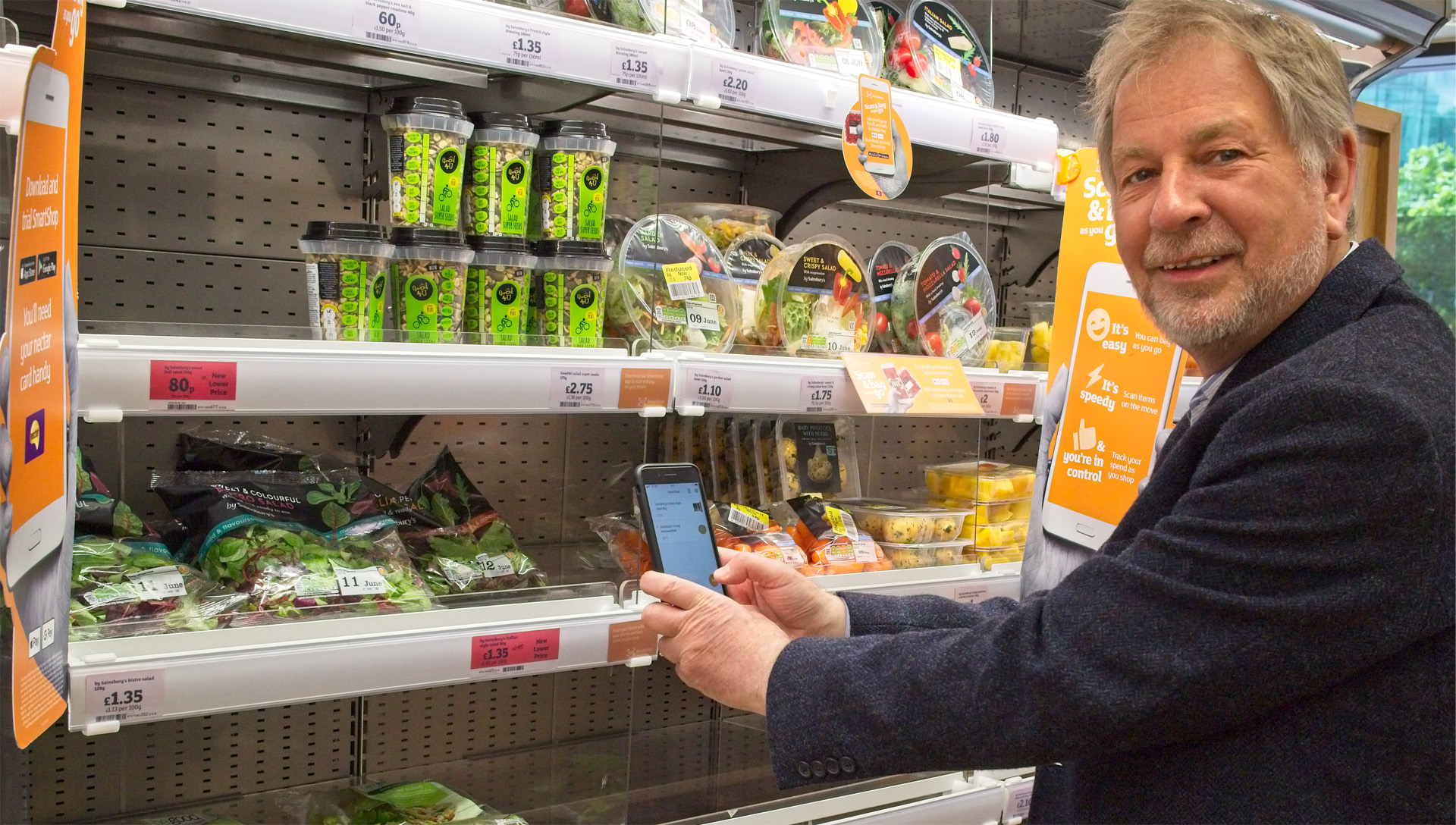 You can write your shopping list in the SmartShop app, but otherwise it's not going to function until it detects you are in one of the Sainsbury's stores which will work with it. Pick up a basket and scan the items you are buying with the phone app.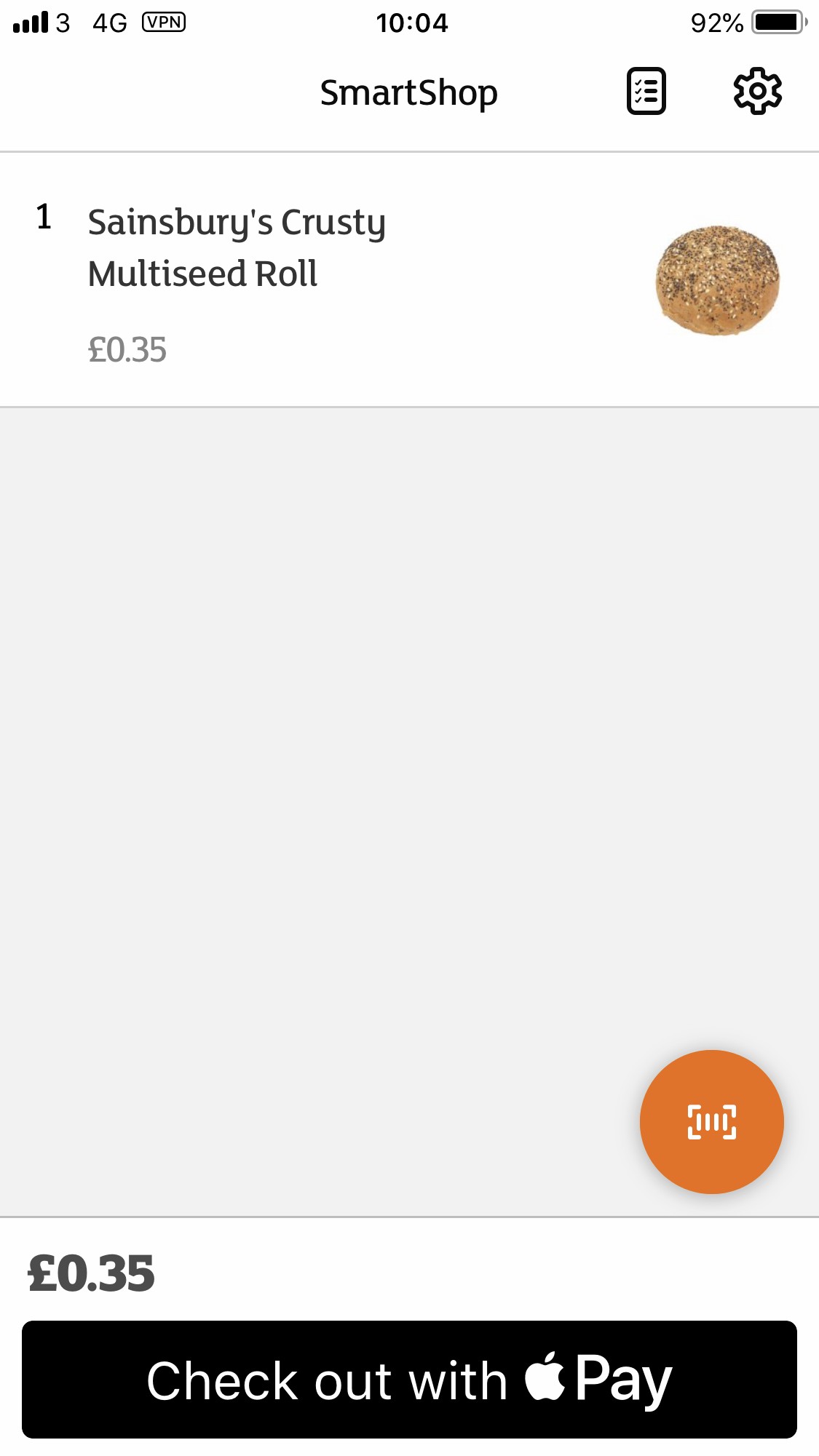 I went down deliberately on a Saturday morning when it was quiet. It's rammed full of people in the week. The staff were very helpful, and one kindly took the photo of me scanning a bag of lettuce. To buy more than one roll I had to scan the 2nd one in, then plus and minus buttons appeared. The screenshot above from my phone shows you how it works. You can tap on the item to delete it if you change your mind. To scan the next item you push the orange button bottom right. When I'd finished my shop all I had to do was push the checkout bar at the bottom and use my fingerprint on the phone to pay.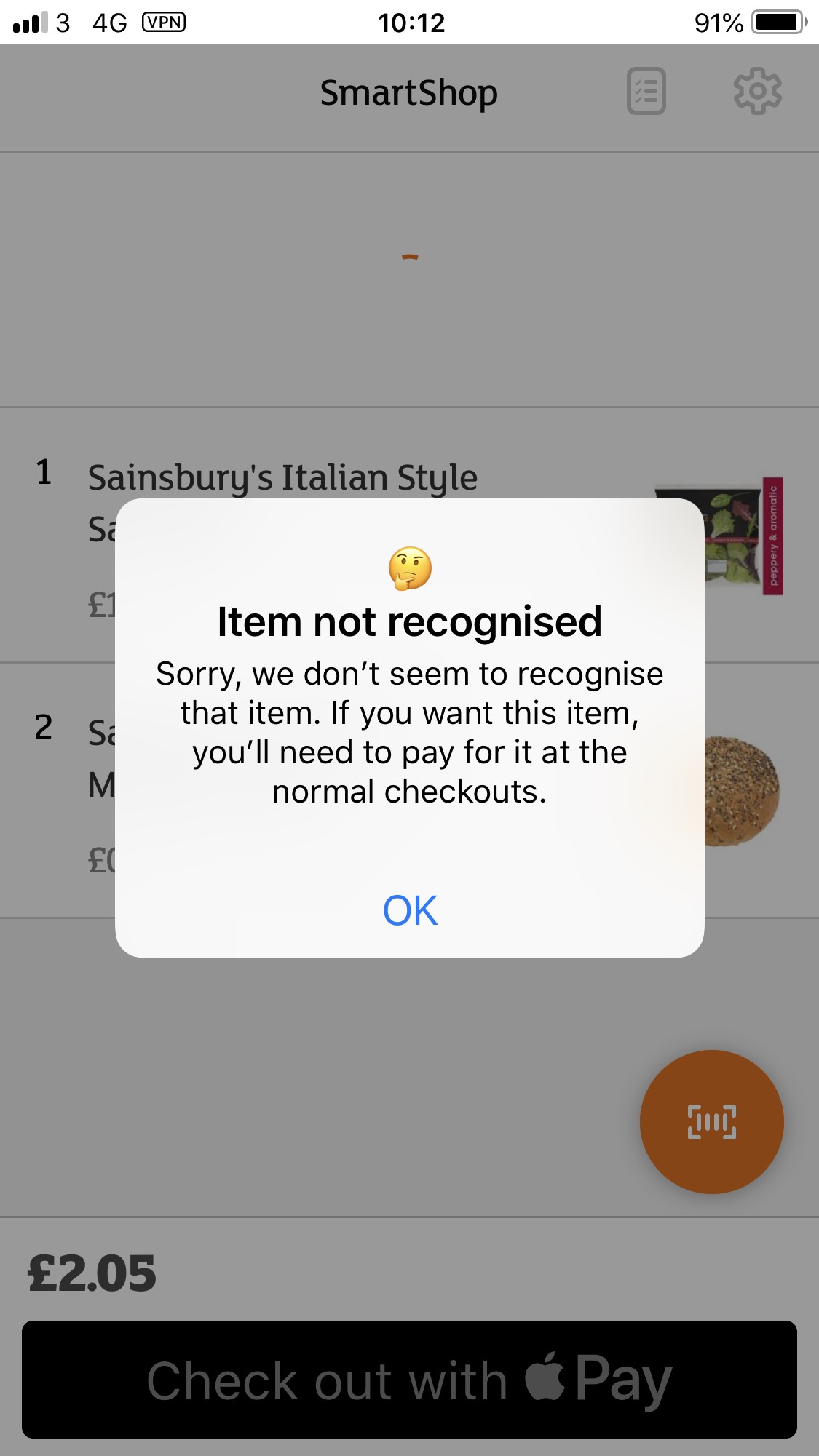 I'd started out by scanning the barcodes on the edges of the shelves. When that didn't work, as above, all I had to do was scan the barcode on the item itself. This is early days here, it is a trial store, and they're still learning and making adjustments. When I'd done my shop I paid on the phone. Then I scanned the QR code near the door, packed my bag on a table and left the shop. Magic!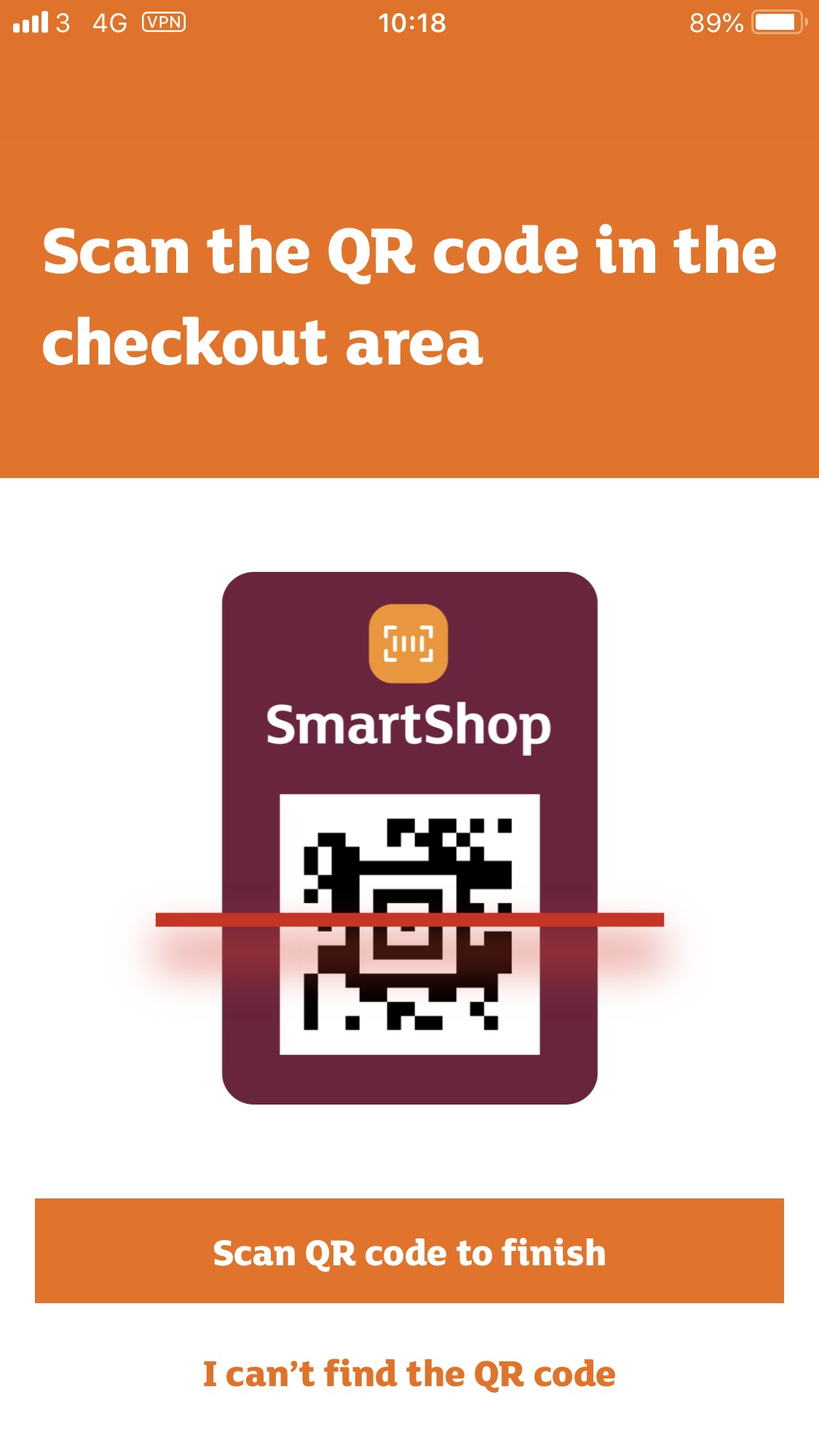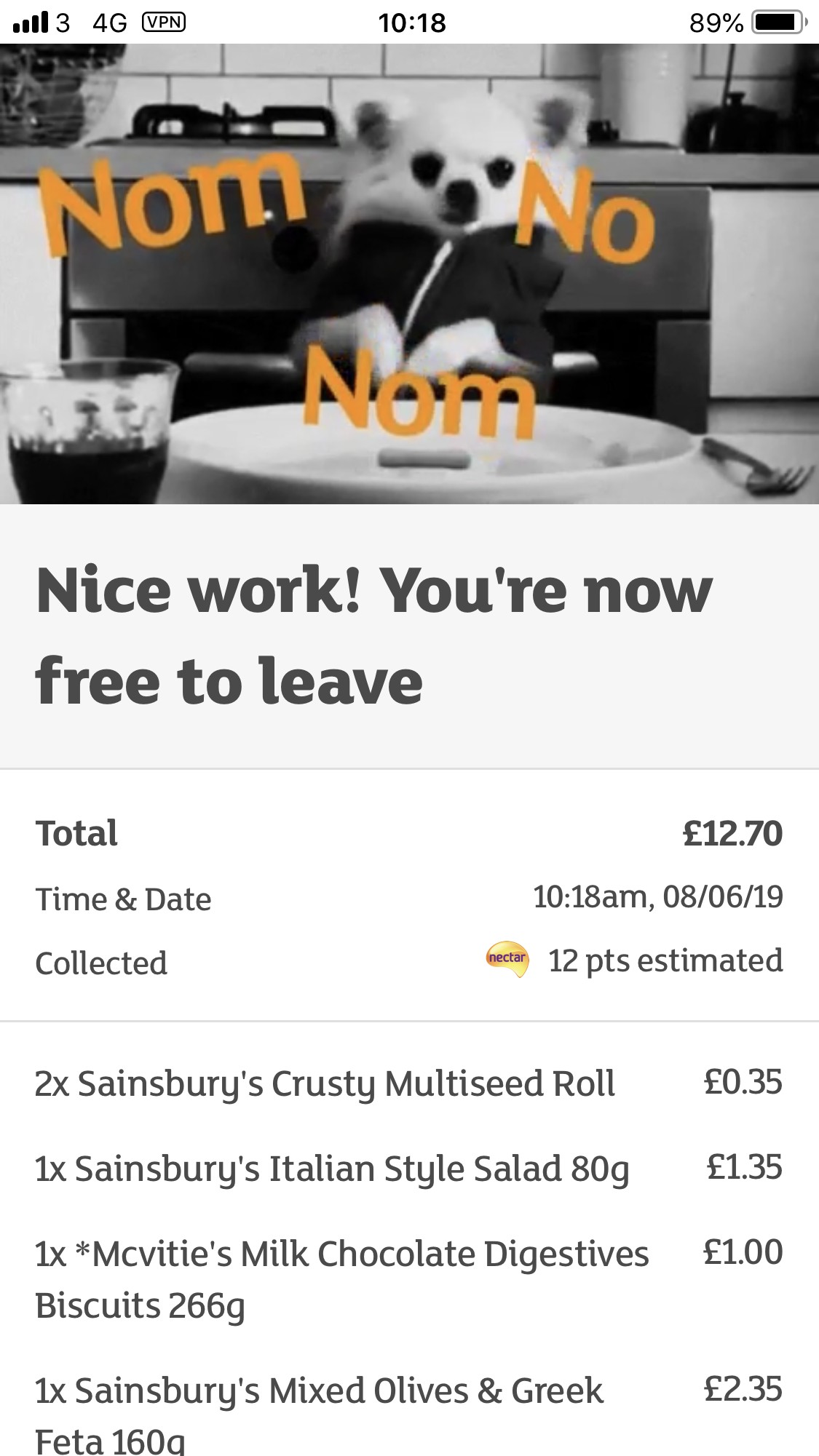 Did it work – yes. Would I do it again – yes. Next time I'll know what to do, and I think shopping using the Sainsbury's SmartShop app will be much faster than using either a checkout or self-service machine. I've stopped shopping in Poundland in the Roman Road in Bow as I think the way their self-service tills work (or don't) is dreadful. This didn't feel like that at all. You are not lectured by robotic voices, and the store is light, tidy, and clean.
You scan as you go round and then pay within seconds. Local workers during the week here at Holborn will whizz round this store in no time. If all they want to buy is a sandwich, they can literally walk in, pick one up, tap their phone a few times, and walk out. It's as quick as that. Sainsbury's will benefit from gaining extra display space, and a higher throughput of customers. Their rent and rates at Holborn must be astronomical. Prices were no different to Tesco in Gladstone Place, but for some items, such as the salad and the rolls, Sainsbury's were more expensive but better quality.
It's heading east
I believe the nearest SmartShop store to us, in the East End of London, is the Sainsbury's Local opposite the Rich Mix at Shoreditch. I dropped by on the way home. I saw SmartShop posters in the window, and found the QR code behind the door.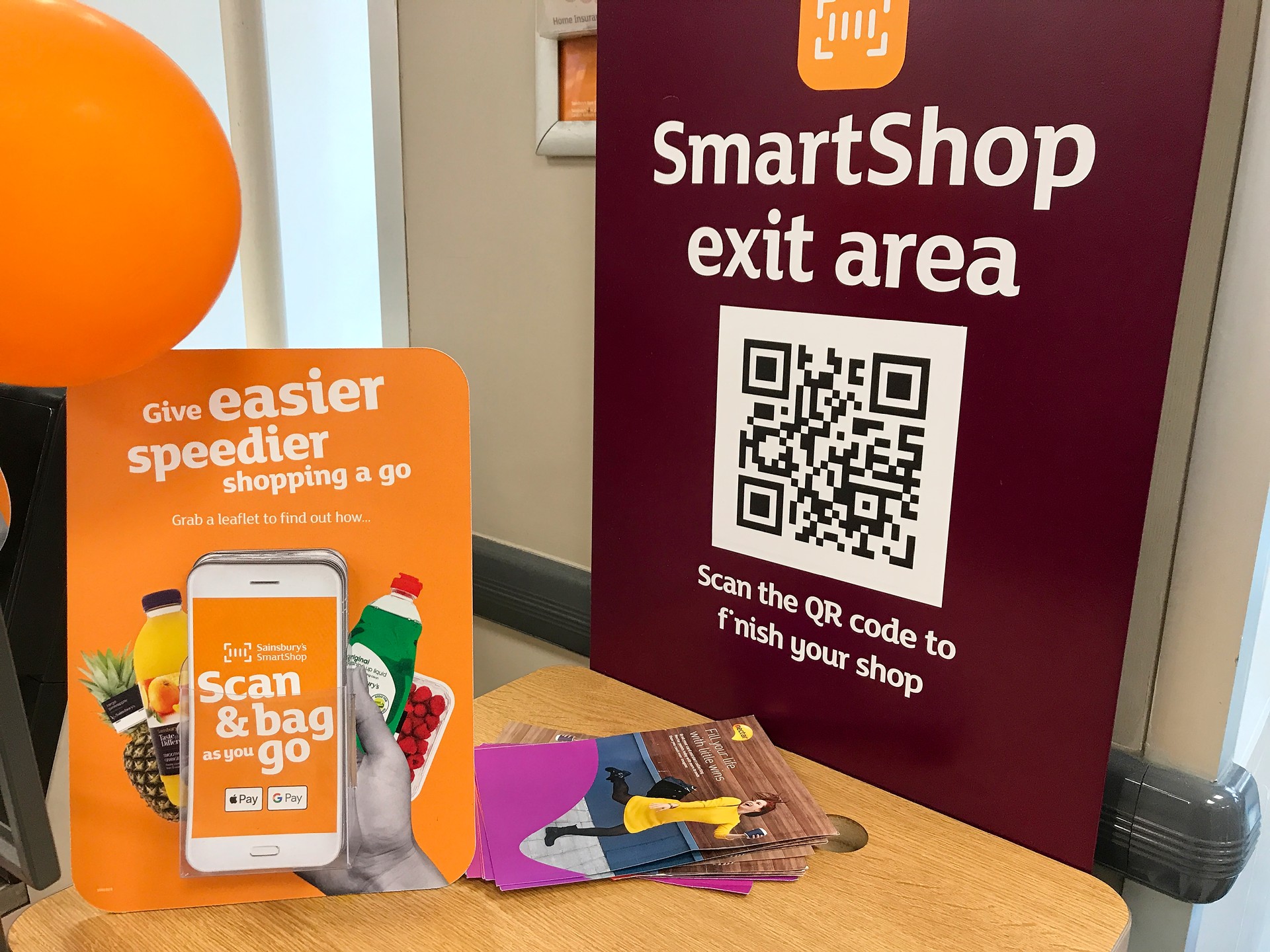 I could have shopped exactly as I had in Holborn here. The only difference is that this shop still has the tills. You can guess what's likely to happen next. Sainsbury's have quite a number of these small stores already kitted up.
When I walked out of the Holborn store with my shopping a woman passing by said to me, "That shop scares me. What happens if you lose your phone? You won't even be able to buy food." Fortunately there is competition, and the independent shops in the Roman Road market will be pleased to take your cash.
Shoplifting is unlikely to be successful in these stores. Discrete surveillance cameras will be everywhere. Customers' phones identify where they are inside the store, the exact time, who they are and their home address from the payment system.
What happens next?
Off-peak train tickets booked online in advance are, on average, half the price of the cash price you'd pay at the station. In many areas competition has driven down prices on the internet. Currently there is no price advantage in grocery shopping in the way that I've just described. But what if there was?
Alan Tucker
Update December 2021
This Sainsbury's near Chancery Lane Tube has now gone till-free. See my later article in Nov 2021on till-free shopping.
Update May 2021
Soon after it launched Sainsbury's said that not all customers were ready for a till-free store. A manned till and two self-checkout points were reinstalled at Holborn Circus.
In May 2021 I reinstalled the app and have been shopping by walking round Sainsbury stores scanning and filling my own bag. You don't need a basket. When you come to leave you just pay from inside the app on your phone. You don't need to scan a QR code or visit a till, as you do with ASDA Scan&Go. I took to the ASDA app during the coronavirus pandemic. It works well. The staff are very patient and helpful in all the stores I've visited.
Check the list of what you're buying before you hit pay. Mistakes do happen – like scanning one item, tapping 3x in the app, but forgetting to pick up the other two!