I've concluded that market forces will end the TV Licence system. Personally I think the BBC will have faded away by the end of the decade.
Alan Tucker
Free TV licences for over 75s
20 years ago Gordon Brown introduced free TV Licences for people aged over 75. The government paid for them.
In 2015 this was reviewed and the BBC agreed to bear the £650 million cost. In exchange the BBC:
was allowed to increase the licence cost in line with inflation
had its requirement to fund rural broadband reduced
and the law was changed so that viewers using the iPlayer were required to have a TV Licence from Sept 2016.
At the time Tony Hall, BBC director general, said: "Far from being a cut, the way this financial settlement is shaped gives us, effectively, flat licence fee income across the first five years of the next charter."
In return for receiving the licence fee the BBC is not allowed to compete with other broadcasters for advertising revenue.
In Nov 2018 the BBC started to review the free licence for over 75s. In June 2019 the BBC announced that the concession would end a year later. It was moved forwards to 1st Aug 2020 due to coronavirus. Only over 75s receiving pension credit are exempt.
On 1st Aug 2020 the licensing website was overloaded and went down.
On 2nd Aug it was reported that some pensioners who got through on the phone were told to send in bank statements as proof of eligibility.
A whole section appears on the Age UK website on how to spot TV Licence scams
On the 5th Aug the BBC starts sending out overcomplicated 10 page reminder letters to over 75s. It says they might take until September to arrive and in the mean time pensioners should wait and not do anything until they get a letter. All those pensioners desperately trying to get through on 1st Aug were anxious to do the right thing. The BBC should have sent out the letters a month in advance.
On 6th Aug the Daily Express published an article headed: BBC splurges £38million on new staff to chase over-75s for £157 licence fee payments.
Following this unnecessary debacle a group of the BBCs most loyal customers feel they've been badly treated, and are bitterly disappointed. They've been cancelling direct debits. Collecting their licence fees will be a time consuming exercise.
I think the easiest solution now would be for the Government to increase the over 75s pension credits by the cost of the licence. The Government can then reclaim the money from the BBC.
BBC income for 2018/19 was £4.9 billion, of which £3.7 billion came from the licence fee. In 2017 the average BBC1 viewer was aged 61 (62 for BBC2). A quarter of those aged 25-34 hardly watch BBC television, viewing less than 15 minutes a week. But they do watch (and purchase) a huge amount of filmed material from elsewhere. It's easy to see why the BBC needs to charge the over 75s the licence fee.
The BBC is funded in a bizarre fashion. In 2015 one out of 10 court cases involved non-payment of TV licences. Thanks to the over 75s fiasco TV Licensing have setup new call centres, and taken on 800 "agents". They routinely send threatening letters to potential customers who don't have a licence registered at an address. If you fill in the form to say you don't need a licence you get a reply like the one below.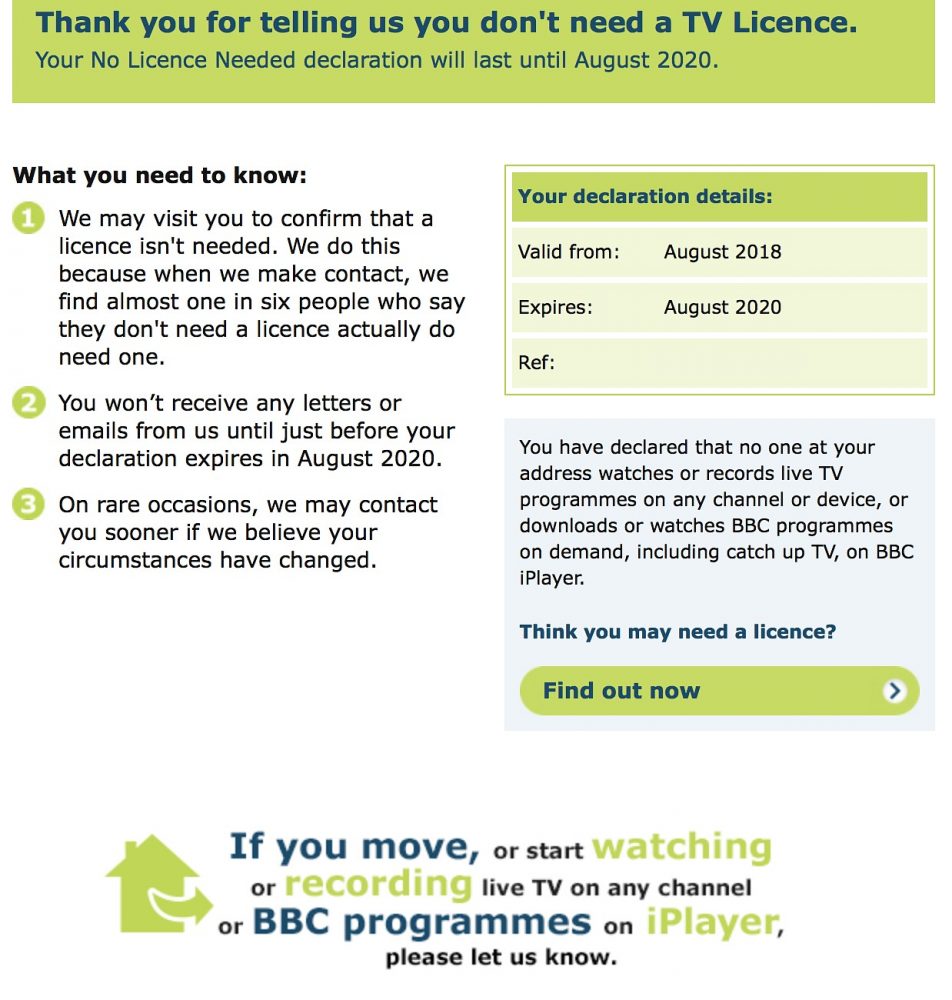 The person who sent me the form above does not have a TV at that address. TV Licensing did sent someone round from Capita to check. You can imaging the cost of all this. What happens if, say, 1/3 of households stop watching broadcast TV. Will Capita be paid to visit them all? It would be a lot simpler to require people to create an account and setup a method of payment. Once they've paid they can login to watch TV. Pensioners who are not so good online could buy something like scratchcards from supermarkets. When they enter the unique codewords they're granted access for the time period they've bought – 30 days /100 days?
Overall broadcast TV viewing is declining due to greater, high quality, consumer choice. You no longer need an aerial – a mobile phone signal can deliver a top quality picture. Additionally a smartphone can shoot, edit, and upload or livestream (broadcast) video produced by yourself. The over 75s are key to the industry being able to keep ticking over in the short term. The broadcasters may have already left it too late to cement in a big enough pay per view or subscription audience. Everybody thinks that the BBC will last for ever, but far bigger companies have gone bankrupt. Gone in a flash was the headline the Economist ran when Kodak failed in 2012.
For watching live sport Amazon Prime suggest selecting one or more of these options: a Smart TV: Samsung, Sony, LG and others; a set-top box from BT TV, TalkTalk TV or Virgin TV; a FireTV Stick, Google Chromecast, a gaming console such as a Sony PlayStation or Xbox; or a mobile phone or tablet. Notice the thing they didn't mention – a TV aerial. Of course you can watch live sport through an aerial. But for better options a paid subscription to Sky Sports offers up to 11 channels though Now TV and other providers. You can receive it via satellite, cable or broadband. As you can see there are endless great quality choices. All of them taking away customers from the old school broadcasters .
In March 2019 500 representatives of the arts signed a letter objecting to financial cuts at BBC Radio 3. This is how you lose your audience – especially at a time of increased competition.
Increased Competition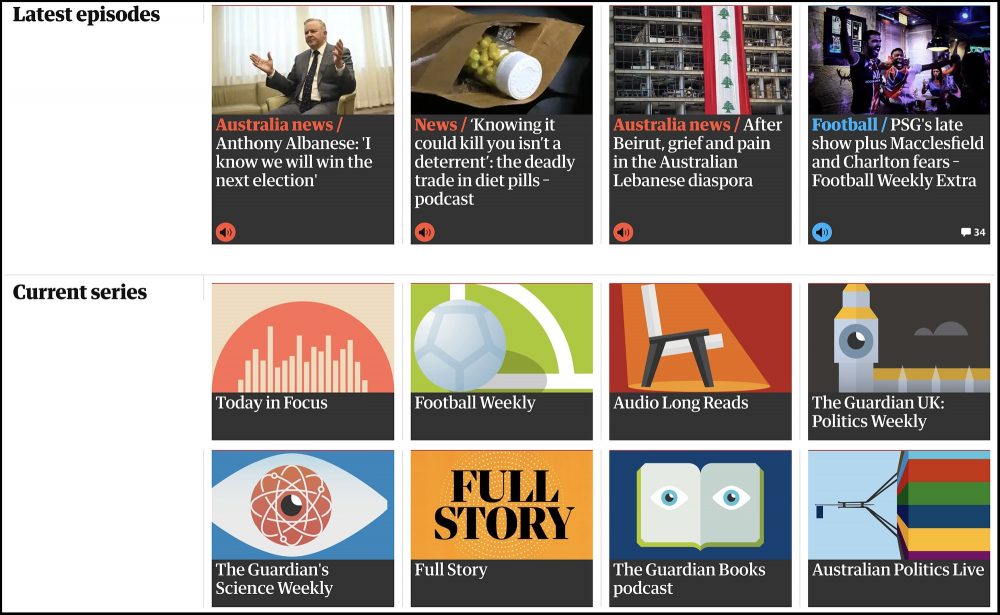 The Guardian newspaper has been producing podcasts for 10 years. Above is a screengrab of some of them.
The Telegraph has multiple podcasts running, and key figures from across public life feature in its pre-recorded chat shows. The Times has just gone one better by launching Times Radio which broadcasts live though an app, and also on DAB radio. If you haven't re-tuned your DAB radio you might need to press Auto-Tune/Auto-Scan to get access to more recent channels.
The future of Broadcast TV
In May 2020 Spiked quoted an article in the Telegraph which thought that the BBC wanted to close BBC Four to spend the money on the yoof audience. The average BBC Four viewer is aged 64. Spiked said that: "Auntie wants to scoop up more of the lucrative 16- to 34-year-old viewer bracket." If these rumours prove true (after Lord Hall has safely retired) the BBC will likely lose its existing audience, whilst failing to attract a younger one! Spiked pointed out that BBC Four was one of the few bits left which still provided high-brow programming and fulfilled the BBCs remit.
The screengrab below was taken from The Times newspaper app which had a video embedded in it showing Times Radio. It looks like they've already tooled up to ready to become Times TV. They would be a credible challenger to BBC News.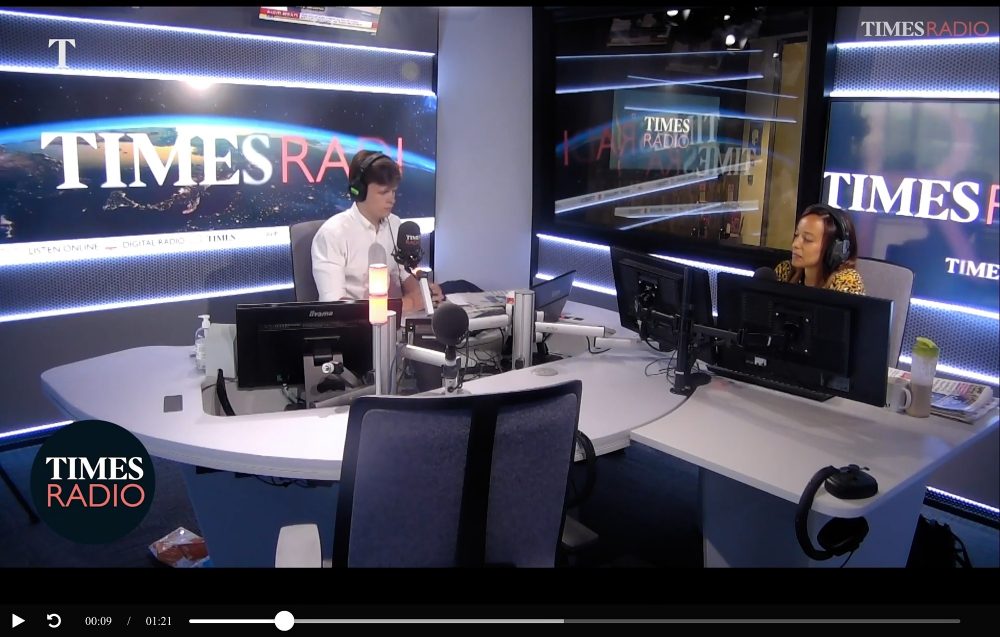 The owner of the Times, News Corp, had a 2019 revenue of US$10bn, compared to US$6.4bn for the BBC. Sky is now owned by Comcast ($109bn revenue), which has no connections to the Murdoch family.
The viability of old school broadcasting and the Licence Fee
The BBC iPlayer
The iPlayer was a great idea. It launched in 2007, five years before Netflix started streaming films in the UK.
Because it's funded by UK Licence Fee payers, and because of rights restrictions on some of the programmes, the iPlayer is geofenced so it's only available in the UK. You believe that, don't you? The BBC iPlayer runs a check on your IP (internet address) to make sure you are within the UK. Sometimes it gets it wrong. But there are millions who live outside the UK, and don't pay into the BBC kitty, who are able to access the iPlayer using VPN or proxy servers. There are lots of websites telling viewers how to do this. These viewers are deliberately selecting programmes that they want to watch. Most would pay, if they had to!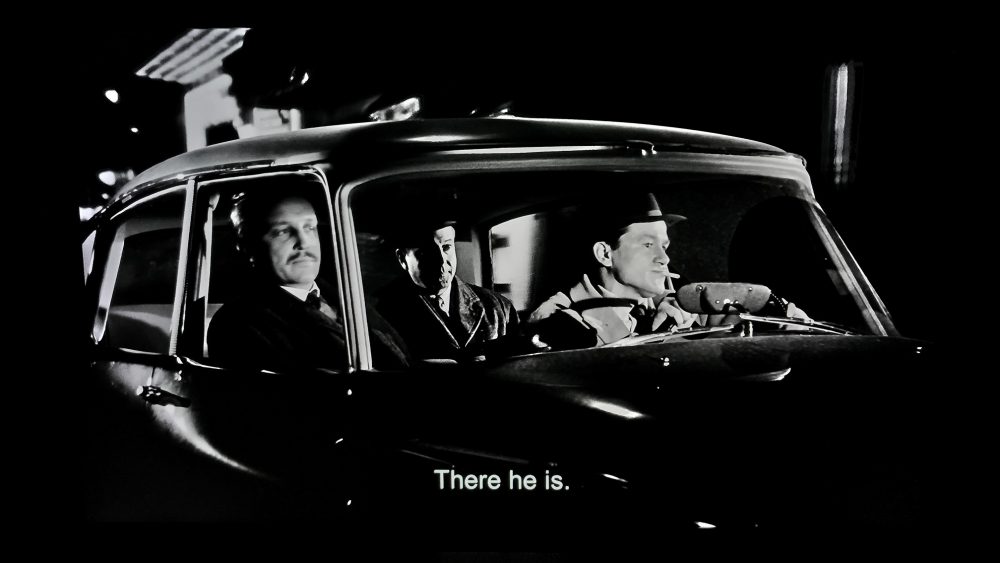 The Licence Fee is an anachronism from a bygone age. I think it's crazy that the BBC is paying Capita to run around the country chasing people. Everybody else wants my payment details in advance. If you don't pay you can't watch. The B&W film still above is from a 1961 French crime thriller called Le Doulos. It's one of hundreds of great films I'd never seen before. They're bundled in with the £4.99 a month BFI Player (British Film Institute). You don't need a licence to watch these.
The BBC launched a global iPlayer in 2011, but it closed it in 2015. It charged viewers around £4 per month, but failed to be carried by US networks.
The subscription model – Streaming
The BBC doesn't seem to be very good at monetising its huge back catalogue. The reason why is plain to see. We are paying it £157.50 per household. Meanwhile a huge array of subscription platforms have cracked all the various problems and have hoovered up the audience. Netflix alone are projected to spend $17 billion on producing content this year.
Earlier in 2020 Netflix had 183 million paid subscribers worldwide. Amazon Prime Video had 150 million.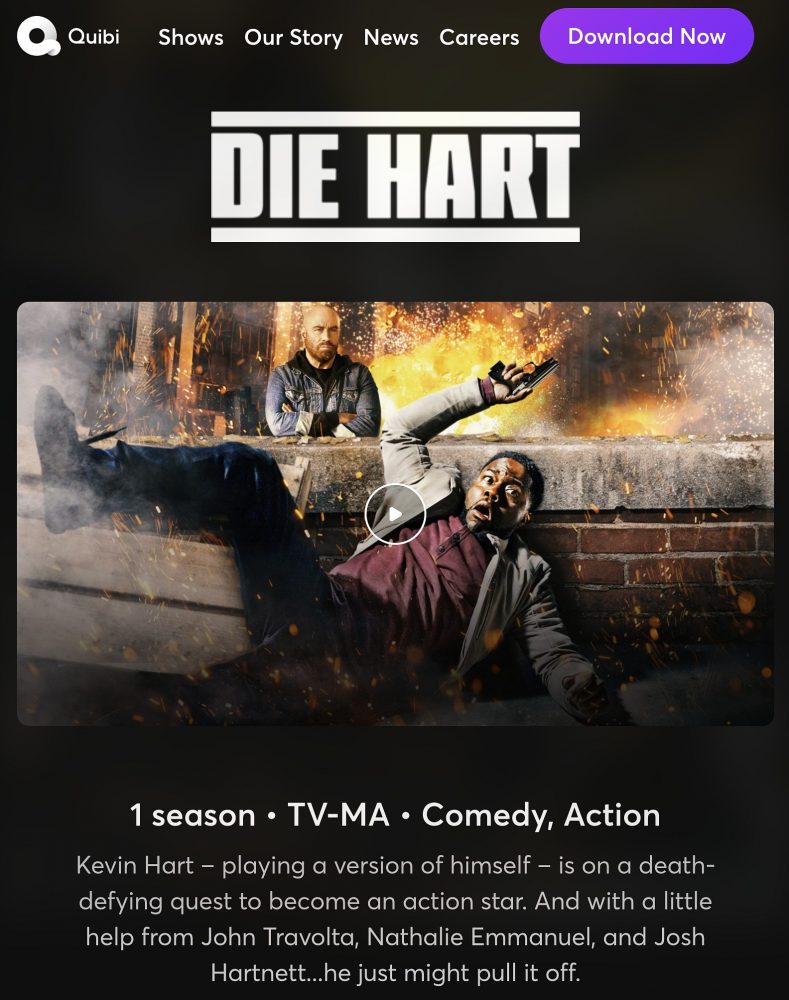 Quibi (short for quick bites) are producing 7-10 minute episodes for mobile phones to be viewed on the go by 18-34 year olds. They're spending up to $100,000 per minute creating unique content. Competing at a quality level with primetime TV shows they're signing up top talent. Before its launch in April they'd raised $2 billion. They're confident, unbelievably ambitious, and likely to be a big success. Quibi now supports Apple AirPlay which means you can stream content from an iPhone to a smart TV.
Quibi costs £7.99 a month in the UK without ads. I downloaded the app for the 90 day free trail. It worked superbly and you can watch upright or landscape – it's deliberately filmed that way. But the content on Quibi isn't aimed at my generation. It's aimed at the people the BBC is failing to connect with.
Competition from Social Media
The pirates never went away. In the 1990s there were hundreds of illegal radio stations broadcasting from the tops of Tower Blocks. I found an article from 2012 in the Islington Gazette headed Dozens of raids against pirate radio stations in Islington and Hackney. But that's not necessary any more – you'll find them on Instagram. Thanks to technology the mainstream broadcasters have lost their grip over of both music producers and the audience. These channels provide airplay for starting musicians. Radio Caroline was founded in 1964 by manager Ronan O'Rahilly, after he failed to get Radio Luxembourg to play Georgie Fame's records. They were tied in with major labels and kept everybody else out.
Instagram has business tools providing you with your audience insights, stats and analytics. You can create your own hashtags to target your audience, unify posts across social media, and benefit from user generated content (UGC). There are a ton of reasons why using Instagram for sales and marketing is much better than TV or newspaper ads. Here's how old fashioned advertising loses out to social media: it's untargeted, has no instant feedback loop, no customer engagement, and doesn't allow users to make near instant purchases. I have bought products which were crowdfunded via social media before they went into production. That's a whole new way of launching a business. I found out about them on Instagram. You can stream live video (and music) on Facebook, YouTube, and Instagram. The separate Instagram TV (IGTV) lets you stream events, host a Q&A session, show a behind the scenes video (up to 1 hour long) and host tutorial videos.
The UK TV viewing figures are compiled by BARB. They have 5,300 special boxes linked to TV sets which monitor viewing in households deemed representative. The results are then upscaled. I don't think that their data is in the same league as online.
Way back in 2011 Casey Neistat and a friend shot a three minute video in New York. It was in response to the New York police fining cyclists who were not riding in the special cycle lanes. It turned out the the NYPD was acting illegally. That video on YouTube has now been watched 26 million times. It hilariously subjected the local authorities to ridicule. Casey did his own stunts and they filmed it on two cheap point and shoot cameras in case they got broken. He now has 12 million subscribers on YouTube. The BBC is dull and boring compared to all the wonderful stuff available elsewhere.
This article is on what's become steam-driven media. I'm a bit that way myself, being retired. But I can see that there is no way that the younger audience on social media is going to need the BBC or buy a TV Licence. If they wanted to watch live sport they could go to a pub. For news there are online newspapers (paid and free) which have video embedded in the pages. There's a lot of news on or linked to by social media.
Challenging times for the BBC
With or without getting the licence fee from the over 75s there may simply not be enough people prepared to pay a licence fee for something they no longer watch.
The BBC is credited with finishing off Britain's Picture Post magazine. Circulation reached nearly 2 million a week in 1943 but declined to 600k in 1957 when it closed. Hollywood responded to the threat from TV by filming in colour, introducing stereo sound, and shooting widescreen. Annual UK cinema ticket sales reached 1,465,000 in 1946 but fell below 200,000 in 1970. Lots of cinemas closed in that time.
Today the pace of technological change is much faster. You can't fight the market. Will the BBC survive?
Challenging times for ITV broadcasters
The ITV companies traditionally got their income from advertising. As I mention above the nature of advertising has changed. Add in the fact that advertisers – people like M&S and John Lewis are struggling to survive, advertising revenue will not bounce back.
ITV advertising revenue fell by 43% April – July 2020, due to coronavirus. Fortunately it normally earns 2/5 of its income from its production arm (also hit) and from Britbox (£5.99 a month) the international subscription streaming service. Ownership of Britbox is split 50/50 with the BBC except in the UK where ITV owns 90%. Britbox is in a very competitive marketplace. The free ITV Hub offers live TV as well as on demand viewing of earlier shows. If you pay £3.99 a month you can go ad-free, but perhaps not for live TV?
The ITV companies are going to have to quickly adapt and charge users for watching their content. That means going for quality.
Conclusion
Last October Ofcom published its annual report into the BBC. The sub-heading of the article was: The BBC may not be sustainable in its current form, if it fails to regain younger audiences who are increasingly tuning out of its services.
In January a critical article in the Guardian had the sub-heading of: Young people want content shared on social media platforms they actually use. The BBC must keep up, or lose them.
A month ago a new book was published called: The Generation Game: Can the BBC win over today's young audience? My answer would be no!
In Feb 2020 Culture Minister, Nicky Morgan, said: "The licence fee will remain in place this charter period which ends in December 2027, however we must all be open-minded about the future of the licence fee beyond this point." I read that as saying that the Licence Fee will end in 2027.
But for all the reasons I've listed above I think that commercial reality might force it to end earlier. If the BBC has to compete properly for peoples cash and attention it will find that it is not as popular as it proclaims.
My next article is a history of the UK TV Licence.
Alan Tucker